Learn about growing, harvesting and cooking with oregano a delicious Meditteranean herb that is easy to grow and use in the home.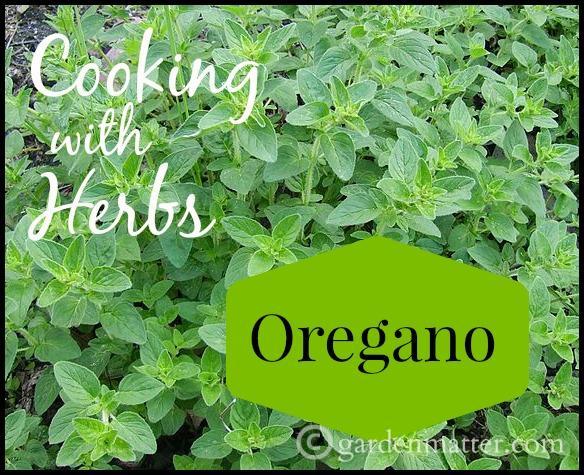 You might think of pizza or Greek food when you think of oregano. This spicy and slightly fuzzy leaved herb is very easy to grow, adds great flavor to many dishes, and looks pretty in both the garden and, in flower arrangements.
Growing Oregano
Oregano is native to the Mediterranean and likes hot weather. It's an herbaceous perennial, which means it dies back to the ground during winter and regrows each spring. Like other Mediterranean herbs, oregano requires lots of sun and well-drained soil. It can be grown from seed but is readily available at local nurseries and since it comes back every year, you might just want to invest in one that is ready to go. There are several varieties to choose from, including some that are very ornamental like Origanum laevigatum or Origanum vulgare 'Aureum,' however, if you want to cook with it, stick to one that is labeled "culinary," like Greek oregano or Italian oregano. In addition, you may have heard of Mexican Oregano, which is actually Plectranthus amboinicus, a cousin to O. vulgare, used in many Latin American dishes.
Harvesting Oregano
Oregano can be harvested once the plant reaches over four inches tall. Simply snip a few stems as needed. Frequent cutting will make a nice, bushy plant and a longer harvest. Remove the leaves for cooking as the stems are slightly woody and can be bitter.
Preserving Oregano
Oregano is best known as a dried herb. It is easily dried on a screen or hung in bunches in a warm dry place. Once dry, defoliate the stems and place them in an airtight container or plastic bag. The freezing method also works with oregano. Chop up the leaves and place them into ice-cube trays with a little olive oil or water. Once frozen, you can pop out the cubes and then place them in a plastic bag and back into the freezer. This way, you can easily grab one or two when you need it.
Cooking with Oregano
Fresh oregano works with many dishes to add flavor and spice. I use it in vinaigrette for my salad and many tomato based pasta dishes. The dried form is just as good--maybe even better. Even though I don't grow Mexican oregano, I use it in chili. And when I make fajitas (a family favorite), I marinate boneless, skinless chicken breasts in olive oil, lime juice and lots of oregano. This hearty, peppery herb adds a nice punch to any recipe and has become a strong staple in our household.
Recipes for Cooking with Oregano
See more herbal dishes here: