It's been rainy here, so while I was stuck inside I thought I'd do some decorating by creating a summer mantel. If you are like me, then you have a lot of items around the house accumulated over the years. Things stashed in the basement or tucked away in a chest or cabinet.  Why not shop your home and use them to decorate your mantel? All you need to do is come up with an idea or theme and gather items with the colors and feel of that theme.
In my case I was thinking of the beach, with colors of sand and the cool blues and greens of the ocean.
I always have candles so I gathered them. A few white vases and some faux greenery. I also added blue mason jar and glass container with a starfish top, and my three little birds that always make it on the mantel.
Next I started looking for something with height, or something large for the center. I tried a couple of paintings and prints.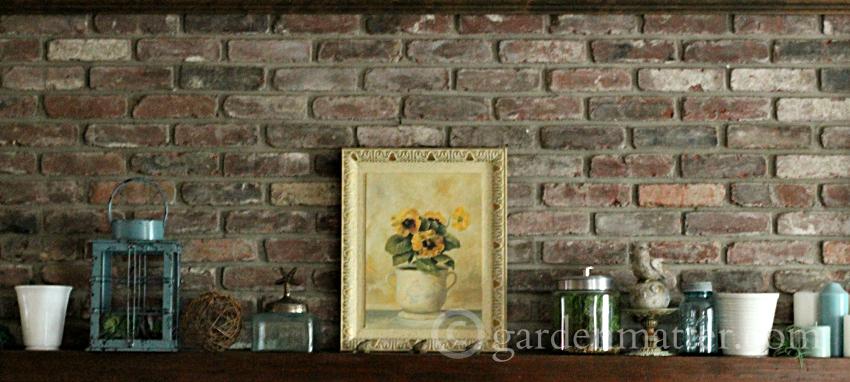 This one had a little too much yellow.
This blue hydrangea print looked pretty good but in the end I decided I liked the blue lantern with faux succulents best.
A little collection of cool summery colors, including my recent dried peony project and terrarium growing out of control. It was a fun afternoon project. Easy and affordable too.
I used several vases and containers but other good choices could be pretty teacups alone or stacked, plates and platters. You've heard of a gallery wall. How about a gallery mantel with lots of different sized frames.
You'll be surprised at what you can rummage up in your own home. Fair warning; there's a good possibility that you will get sidetracked when you come across old photos or other sentimental memorabilia, but you'll probably be glad you did.
Happy Hunting.