This tutorial to make a diffuser necklace is a great way to enjoy the benefits of aromatherapy everywhere you go.
More Essential Oil Projects:
DIY Clay Diffuser, DIY Roll-on Perfume, and Shower Steamers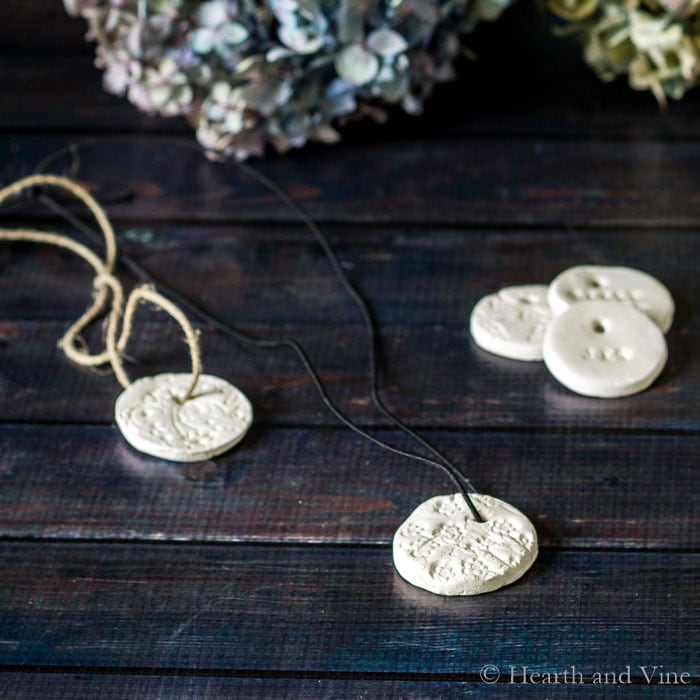 If you're into essential oils then I think you are going to love this easy project. It's a simple tutorial for making an essential oil diffuser necklace with air dry clay and a few other materials.
This post contains some affiliate links (that means if you make a purchase after clicking a link, there's no additional cost to you, but I will earn a very small commission.) Click here to read my full disclosure policy.
Supplies
Air Dry Clay in White or Terracotta

Rubber Stamps or letter stamps
Cording, twine, ribbon or chains for the necklace
Start by rolling out your clay. I made mine about 1/4 inch in thickness, but you could make it thinner or thicker if you want.
Find something to cut out your shapes. Here I used a cap from a travel sized hairspray can. Cookie cutters and glasses would work great too.
Next, make a hole to thread the diffuser on to the necklace. I used the end of a paintbrush. Anything handy and round would work. A straw, nail, or knitting needle, would make a good hole. Just remember to make it big enough to thread whatever you want to use as the necklace. You can also smooth any rough edges with water at this point.
Update: I reader kindly emailed a suggestion to me. If you make the hole a little larger (or use a thinner cord), you can fold the necklace in half and pass the loop end through the hole. Then thread the ends through the loop to secure the cord onto the diffuser. This will allow it to lie flat on your body. Great idea, huh?
Next add some character with rubber stamps, metal lettering stamps
or anything lying around that you can press into the clay to make a pattern.
Let the diffusers dry overnight, and then thread them onto your cording or chain.
The final step is adding the essential oil or blend of your choice. One to two drops will do the trick. Allow the essential oil to soak into the diffuser before you allow it to touch any fine garments.
DIY Essential Oil Diffuser Necklace
A final note: This type of clay, though very easy to work with and inexpensive, will break down in water. If you want a more durable clay try polymer clay
.
Another great gift idea?