These fun and colorful DIY fabric coasters are quick and easy to make with fabric twine and glue. A great way to recycle scrap fabric into something beautiful and useful.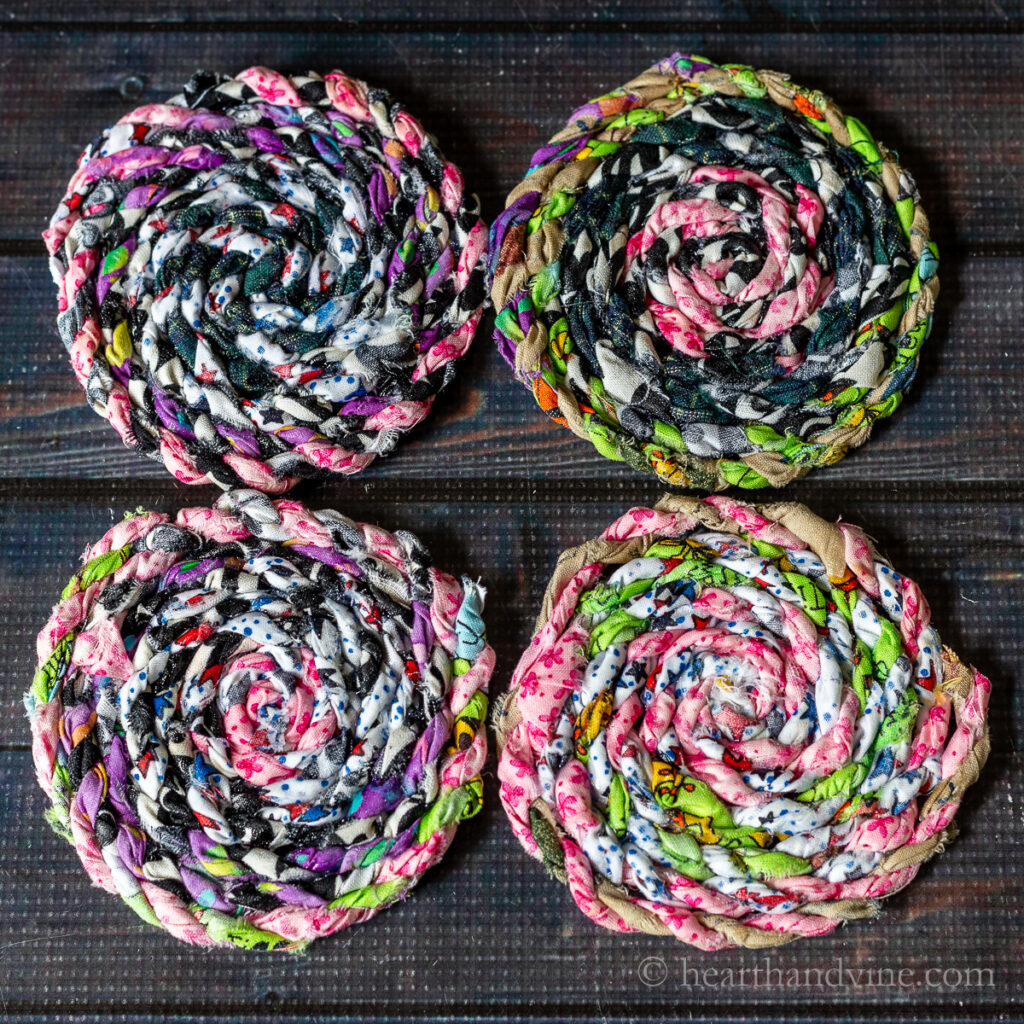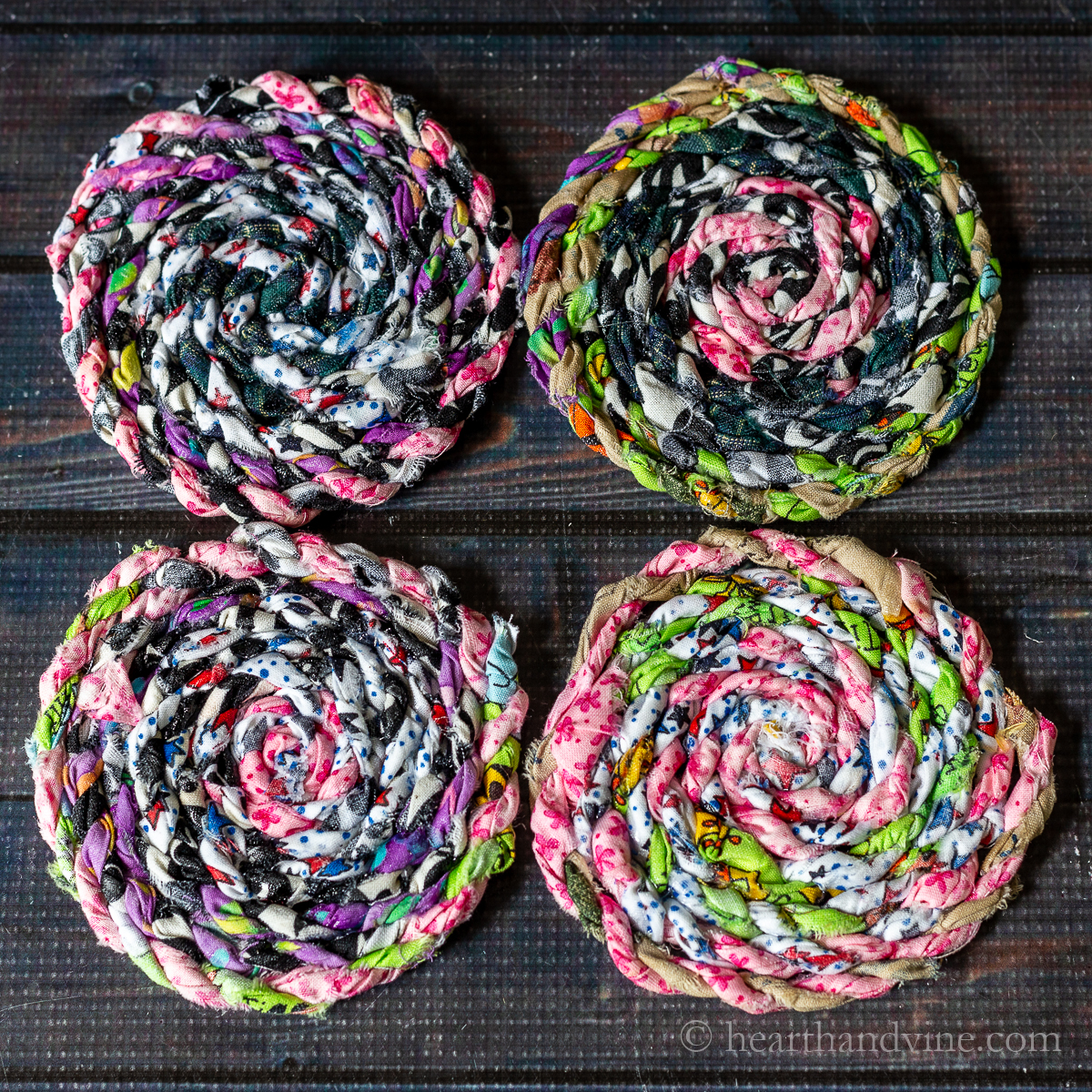 If you like to sew then you most certainly have a lot of scrap fabric around. However, this project does not require any sewing. It does require fabric twine that is made from fabric scraps. You could buy it online at Etsy but that sort of defeats the purpose of recycling and reusing leftover fabric.
What is Fabric Twine?
Fabric twine is a sort of recycled fabric rope made out of scraps of fabric. If you don't have fabric scraps perhaps you know someone who does. Or you could check out the clearance section of a local fabric store and buy just enough to make your own fabric twine. Here's a video on how to make fabric twine for your reference.
Making Fabric Coasters from Twine
To make coasters simply make a coil and use fabric glue all along the edge as you add more twine to make the coil bigger and bigger. Then use a large paper clip or binder clip to hold the end in place until they dry, usually overnight.
While drying, make sure to hang them somewhere or set them on wax paper so that they don't stick.
Then trim off the end and you are all set.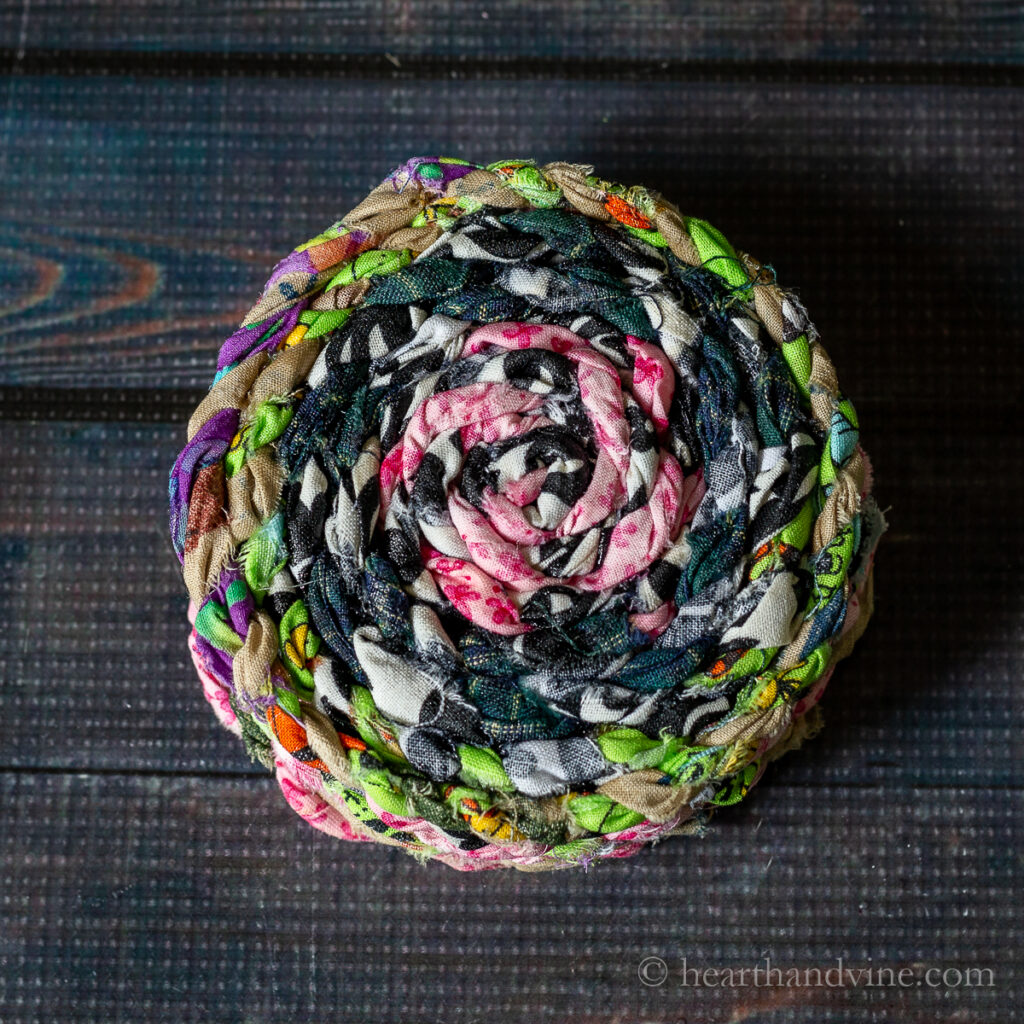 If you'd rather not use so much glue then you may want to sew the fabric twine together in the same manner as my Easter rope basket. Only this time you will leave the entire piece flat while you work.
I really like this colorful scrap fabric twine. It's not hard to make. You can create some while you watch TV at night. The fabric twine coasters are beautiful and I think that they would make a great gift.
Though I've already made a couple of projects with this fun twine (listed below) I'm looking forward to finding more projects to create.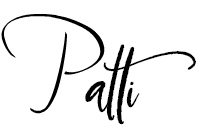 More Fabric Twine Projects
Print
DIY Fabric Coasters from Fabric Twine
These easy fabric twine coasters are a great way to use up leftover scrap fabric and create fun and colorful coasters.
Equipment
Scissors

Binder clips

Wax paper
Instructions
Coil fabric twine adding fabric glue along the edge as you continue.

When the coil is as large as you want, cut off the fabric twine and use a large binder clip or paper clip to hold the end in place.

Lay the coil on wax paper to dry overnight.

Remove the binder clip and cut off the end close to the coil.
Notes
Working with this much glue is extremely messy on your hands so you might want to wear gloves. If you don't make sure to wash them quickly to get off as much glue as you can.