Here's an easy spring DIY for your front door decor. It's a galvanized hanging planter filled with artificial flowers to greet everyone who enters your home.
After a long winter, nothing says "hello spring" more than a floral wreath for the front door.
Today is the fourth day of the Celebrate Spring Blog Hop. Each day we are celebrating a new spring decor idea. Porches, mantels, entryways all decked out for spring have already been posted live. Today we are celebrating Spring DIYs followed by tablescapes and centerpieces tomorrow.
If you are coming over from Zucchini Sisters, Welcome! Rebecca's vintage style is so inspiring. Sonja Burgess is next in this blog hop so don't forget to stop and see what she has created for spring.
A big thanks to Leen at Sand Dollar Lane for putting this tour together! See all the details at the bottom of this post.
But first, take a look at this easy beautiful DIY metal floral spring wreath tutorial.
How to Make a Galvanized Hanging Planter
Supplies
Artificial flowers and stems
For this project, I'm recycling some artificial flowers, stems, and garland that I have in my craft room. You don't really need too many for this project. You could easily purchase a "floral bush" and make it the highlight and mix it with some of your leftovers too.
1. Start with adding floral foam to cover the inside of the planter.
2. Add some of your largest flowers first.
3. Next add in some trailing garland or flowering branches in the front center.
4. Complete the spring flower arrangement by adding in mid-sized flowers and smaller trailing pieces from floral stems until you get a look that you like.
5. Tie a knot in one end of a piece of sisal rope and thread the other end through from the front to the back.
6. Determine your length for the spot you want to hang the planter and then thread the other end through the planter from the back to the front. Tie a knot and cut off any extra.
Note: Always give yourself extra rope to work with. You can always adjust and make it smaller but not longer, outside of starting over.
When you are finished hang the planter on your front door. Stand back and adjust the flowers if needed.
An easy project for spring that will bring a smile to all that see it.
More Spring Wreaths to Make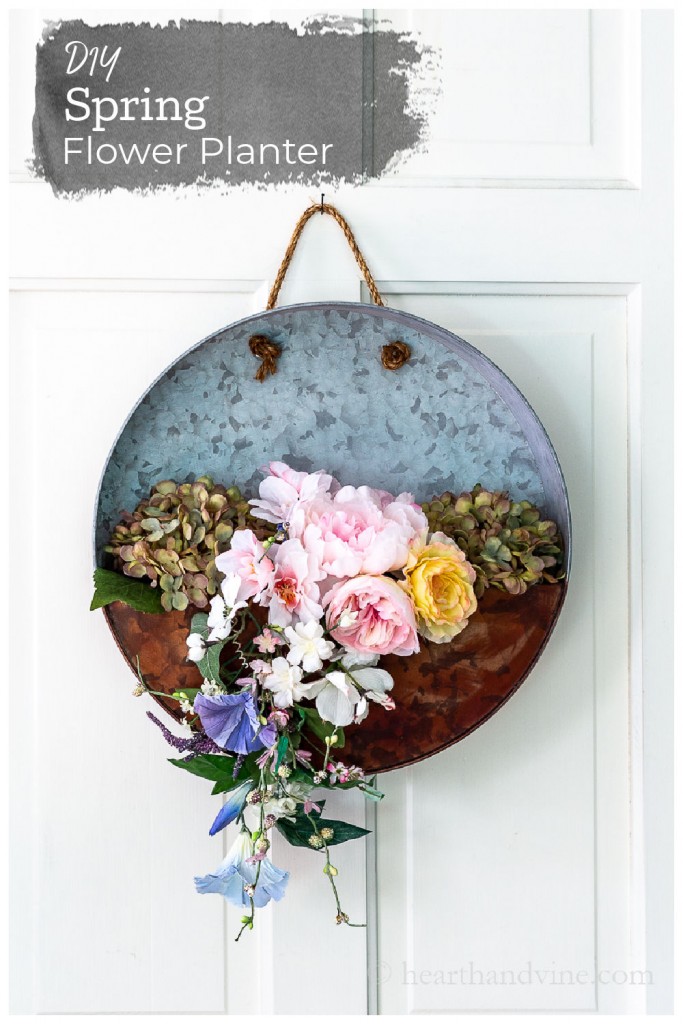 DIY Spring Galvanized Hanging Planter
Here's an easy spring DIY for your front door decor. It's a galvanized hanging planter filled with artificial flowers to greet everyone who enters.
Materials
Galvanized planter
Floral foam
Artificial flowers and stems
Sisal rope
Instructions
Fill the bottom of the planter with floral foam.
Place your largest flowers into the foam.
Next, add some trailing garland or floral stems in the center.
Then add mid-sized flowers to fill in along with smaller blossoms to round out the look.
To make a hanger use a piece of sisal rope. Tie it in a knot and thread the other end through the planter from front to back.
Then thread the same end from back to front and tie a knot at the length you want for the area you want to display the wreath. Cut off the excess rope and pull tightly.
Hang your creation on your door and stand back to see if you need to make any adjustments or just enjoy your handiwork.
Notes
You can use any kind of rope or wire for a hanger but start with something longer than you think you will need.
Recommended Products
As an Amazon Associate and member of other affiliate programs, I earn from qualifying purchases.