Have you started your Christmas shopping? It's that time of year where everything is exciting and hectic at the same time. To help you out I came up with a list of great gifts for the gardener in your life, or maybe some things that you would like to add to your own wish list. This gardeners gift guide has ten great gifts ranging in price from $12 to $50, something for everyone's budget.
This post contains affiliate links for your convenience.  For more information see my full disclosure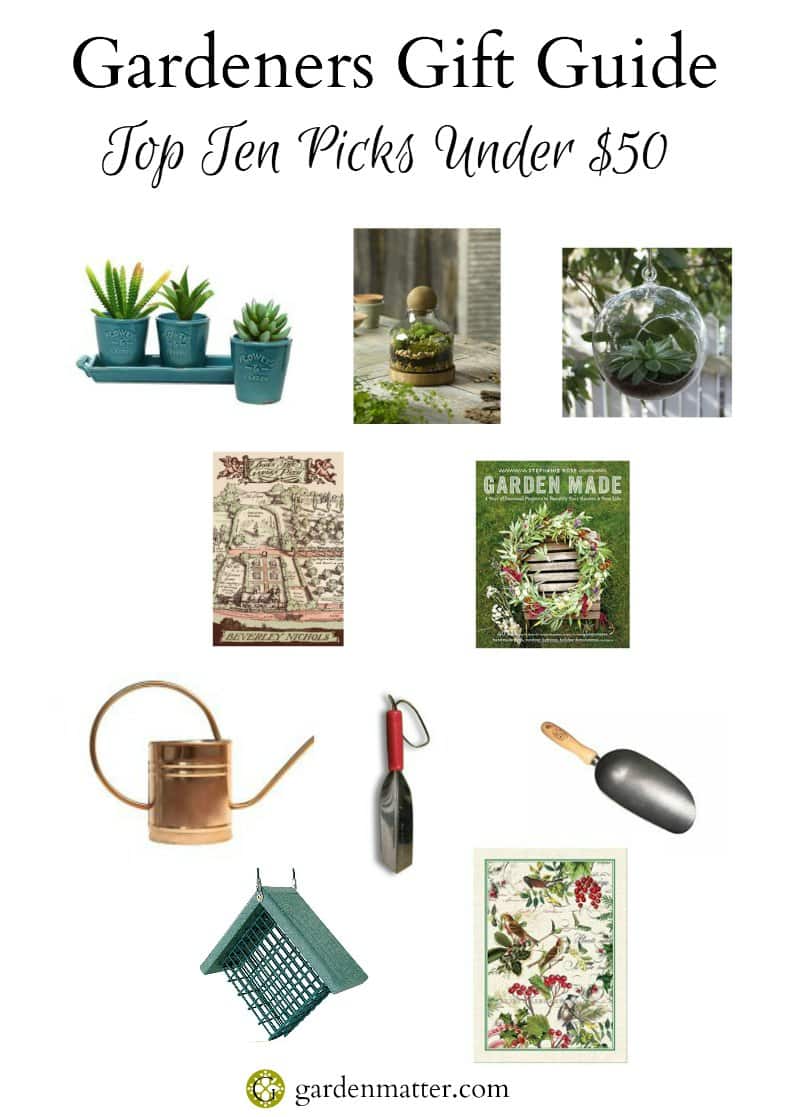 For more details or to purchase, simply click on the image below.
My first choice is this gorgeous tray of beautiful blue pots. Only $25.
2. I love the look of this little wooden terrarium. A little pricey at $50, but I think it looks like a small work of art.
3. Hanging plants is a huge trend right now, and you can easily grow a pretty succulent in one of these containers for only $12.
4. If you have a friend who loves to garden and lives in a cold climate, a book like this one titled "Down the Garden Path" by Beverley Nichols, may be the perfect gift. -$20.
5. Stephanie Rose from Garden Therapy, recently created this wonderful compilation called "Garden Made: A Year of Seasonal Projects to Beautify Your Garden and Your Life."  Also priced around $20.
6. The beauty of copper in this stylish watering can will look good inside and out. – $30.
7. A good hand trowel makes everything easier, and this one has excellent reviews for the best trowel many have ever owned. – $20
8. Do you use old nursery pots to dig out your soil when planting? I do too, but I would love a well made soil scoop like this one for $30.
9. Most garden people are bird people. This handsome suet container from Audubon boasts a recycled roof, for birds to perch on and enjoy the feast. $16.
10. Last but not least is this pretty cotton kitchen towel. At $12 it would make a great gift for anyone. Use it to wrap a bottle of wine for a gift within a gift.
If you enjoyed this list you may want to browse through some of my list from the past: