Learn a few ways to make handmade rustic decorations for your Christmas tree. All are easy to make and create a nice homey feel.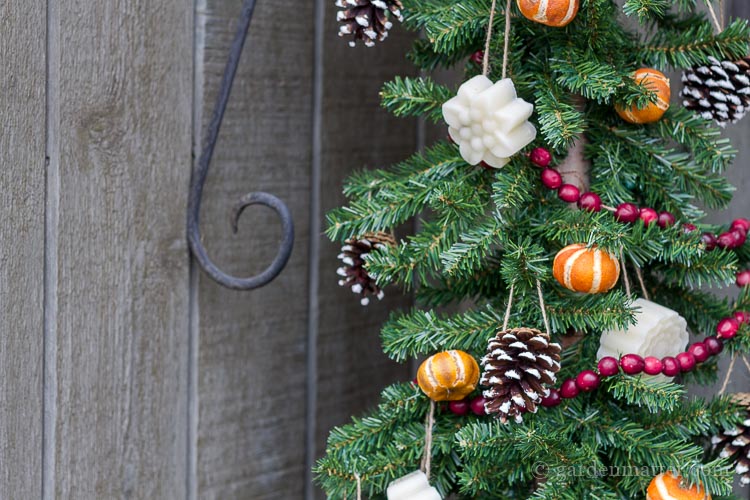 I have this cut pencil tree that I usually place on my front porch during the holidays. This year I thought it would be fun to decorate it with all handmade rustic decorations for a cozy country feel. You know, most pencil trees already have that primitive, country look to them, so adding more natural rustic decorations seemed like a good fit.
If you follow the blog you may recognize the cute little clementines and the pretty flower beeswax ornaments. They have their own posts, detailing how to create each one.
You can read about the Dried Citrus Ornaments and the Cinnamon Scented Beeswax Ornaments by clicking on these links.
Handmade Rustic Decorations
I'm a big fan of a rich Christmas red. So this cranberry garland is a must. You can easily whip one up with a bag of cranberries, a large needle, and some twine. Another idea is to string popcorn, however, I wanted that cranberry color, and since popcorn is white, I didn't really need it, since I already had the cream-colored beeswax ornaments.
One ornament not shared previously is a flocked, or snowy pine cone. Like the others, this ornament is super easy to make.
Start by sliding a piece of twine or string in between the pine cone scales, and tie a knot at the top for hanging.
Then paint the edges or tips of the pine cone with white paint.
Then roll it in glitter. How easy is that?
Doesn't it look like fallen snow? Rustic with a little sparkle.
A simple piece of burlap is wrapped around the base of the tree, for the finishing touch.
Sometimes it's nice to work with natural elements, and most of the time they don't take a lot of time or money to make. I also like that this tree would look good for several weeks after Christmas, so I can leave it up for a while. One less chore to tackle after a busy holiday season.
Just a few more ideas of using the beauty and simplicity of nature to decorate your home.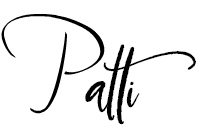 ---
P.S. You may also enjoy this Pine Cone Christmas Trees or these Scented Wax Pine Cones for the fall and winter. You can find them and much more on my DIY Projects Page.
Click Here to Save to Pinterest!