Italian stuffed peppers make a great meal or a delicious party appetizer. This recipe works with many different types of peppers for a dish you will love.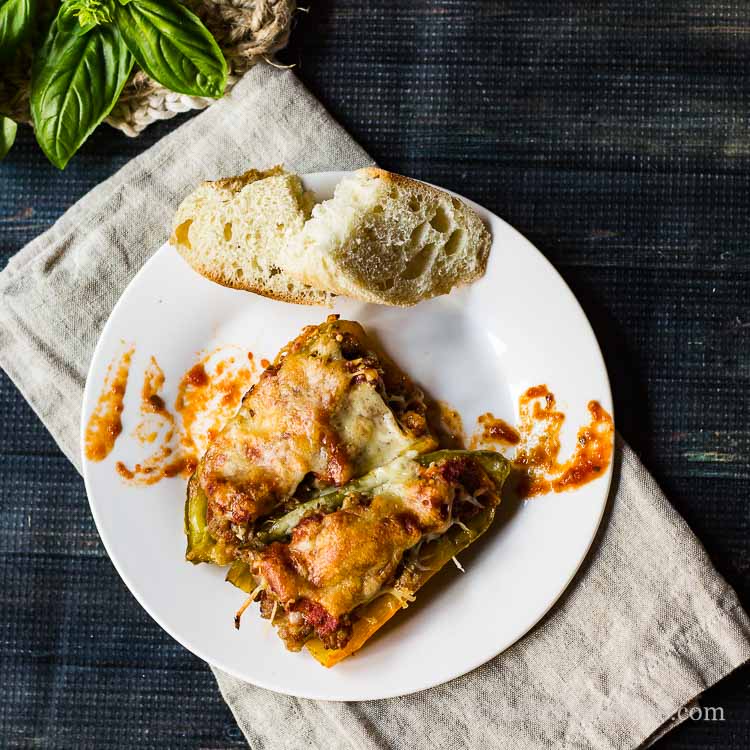 If you are growing your own veggies, or participating in a CSA like I am, then you'll probably find yourself with an abundance of peppers. Though they are wonderful raw, or cooked, in so many dishes, I decided to make Italian stuffed peppers, because they are one of my husband's favorite things.
Quite often when we go out to an Italian restaurant he orders stuffed banana peppers. Sometimes they're really hot, and sometimes not so hot. This batch, however, was made with my CSA basket, and they were sweet peppers.
First I blanched them in some salted boiling water.
You can stuff them with cooked, ground Italian sausage or any other ground protein. It could be pork, beef or tofu. Since the Italian sausage is already so flavorful, I did not add any additional spices. However, you could saute onions, garlic and herbs, and add them to your stuffing.

Top with a good quality marinara sauce followed by a nice helping of cheese. This is another place you could vary the flavor using, cheddar, swiss or another favorite. This one was a 5 Italian cheese blend.
Italian Stuffed Peppers
Serve with some crusty bread and a salad for a tasty meal and day of the week.
Italian Stuffed Peppers Recipe:
Italian Stuffed Peppers
Ingredients
1 pound Italian Sausage
6 small peppers
1 cup marinara sauce
2 cups Italian cheese blend
Instructions
Wash peppers. Cut off tops and slice in half lengthwise. Remove seeds and ribs.
Place peppers in salted boiling water for 2 minutes.
Remove pepper and dry on paper towels
Cook sausage. Drain fat and set aside.
Place a small amount of marinara sauce in the bottom of a glass baking dish.
Fill each pepper with sausage and place in baking dish. 
Top with marinara and cheese.
Bake at 350 degrees for 35 -40 or until cheese is browned.
Remove from oven and serve.
You May Also Like: