Learn how easy it is to make a dried hydrangea basket from cut blooms a little paint and an old basket. It adds a nice touch to any decor.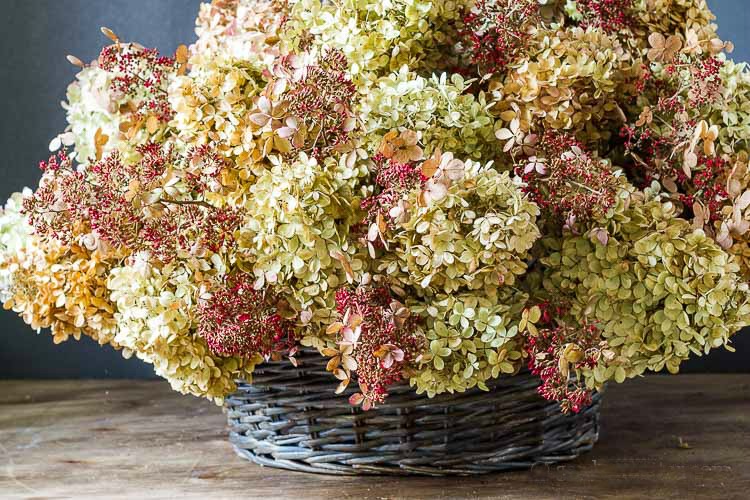 A great way to make use of a large bounty of hydrangea blooms is to gather them into a pretty display basket. After all, it's a shame to waste so many beautiful flowers.
They are easy to dry and last a long time. Easy, quick and basically free, those are the best projects, and I think you will agree that this dried hydrangea basket is pretty sweet.
I have this huge hydrangea shrub (h. paniculata 'Limelight') that blooms profusely every year. This is the absolute easiest hydrangea to grow.
It doesn't produce the huge blue or pink blooms of h. macrophylla, but it does bloom faithfully, even after the worst winters.
By the end of summer into fall, the blooms are just starting to dry on the shrub. This is the best time to cut and dry them, for use in your decor.
Learn how to dry hydrangea flowers in this post.
Maybe you have a plain vanilla wicker basket hanging around as I did. It just wasn't pretty enough to stand up to the hydrangea blooms.
I tried spray painting it with gray paint. Then I dry brushed it with white, and then black paint.
I still wasn't happy. Then I added this brown wax, and that gave it just the right patina and dimension.
In addition to the Limelight flowers, I cut some branches come from a Pee Gee hydrangea (h. paniculata grandiflora), another easy to grow hydrangea. I love their unique texture.
I tried spray painting the dried hydrangea flowers with a can of pink paint, but it looks fake and unnatural.
Instead, I opted for using some red craft paint, dabbing on the paint with a big brush so they look like red berries.
Use some tape for support. This will make creating the dried hydrangea arrangement easy.
Then just go to town, placing the limelight flowers all over. Then add in some of the painted pee gee blooms.
Dried Hydrangea Basket
This dried hydrangea basket fits perfectly on top of our antique cupboard in the dining room.
Originally I thought it would be a nice holiday piece. However, now I think I'll leave it here all year long.
Maybe I'll add a nice red or burlap bow for the holidays. This was a great way to use up many of the limelight blooms, and add some natural beauty to our dining room.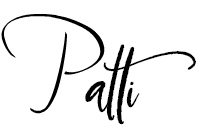 ---
P.S. You may also like this Square Hydrangea Wreath or this Roundup of Hydrangea Projects. You can find them and many more on my DIY Projects Page.
Click Here to Save to Pinterest!
Print
How to Make A Dried Hydrangea Basket
A great way to use of a large bounty of hydrangea blooms is to gather them into a beautiful display basket. It's a pretty display for any home!
Yield:
1
Dried Hydrangea Basket
Materials
Dried Hydrangeas

Basket

Red Craft Paint

Masking Tape
Instructions
Start with a pretty basket. If it's not the right color, spray paint it.

Gather your dried hydrangeas.

You can use some red craft paint to add faux red berries.

Secure some tape for support to the basket.

Place the limelight flowers all over.

Add in some of the painted pee gee blooms.