This easy technique is a quick and festive way to make patriotic cupcakes for Memorial Day, the 4th of July and Labor Day.
Every year the summer brings Memorial Day, July 4th and Labor Day celebrations. Typically that means several parties or cookouts with family and friends. It's nice to have a simple treat to bring or serve at any of the holidays, especially if we are invited to someone's home to celebrate.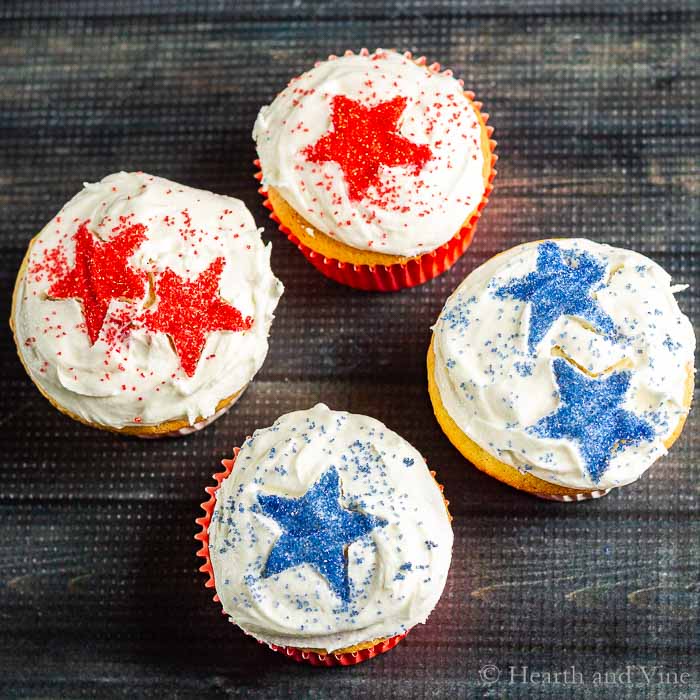 This post contains some affiliate links (that means if you make a purchase after clicking a link, there's no additional cost to you, but I will earn a very small commission.) Click here to read my full disclosure policy.
Okay when I say easy technique, I mean easy.
Using sanding sugar
and a star cookie cutter
you can make these adorable and patriotic cupcakes quick and easy.
Use a small spoon to place the sanding sugar inside the star.
Shift it around a bit for coverage.
Gently turn upside down and pour out the excess.
Sprinkle a few bits of extra sugar around the star.
You can make your own cupcakes with white icing, or for an even easier treat, buy some from the bakery and decorate them at home. This could also work with cookies, cakes or pies. You could call them "semi-homemade." I know everyone will love them either way.
Easy Patriotic Cupcakes
I found that I could fit two stars on one cupcake, but I liked the single star best. It's up to you. Get as creative as you like with your red, white and blue. Summertime is often so busy that a simple trick like this can really help when you are short on time.
You May Also Like: