Learn about this wildflower known as Queen Anne's Lace, its history, and the difference between it and some other dangerous look-alikes.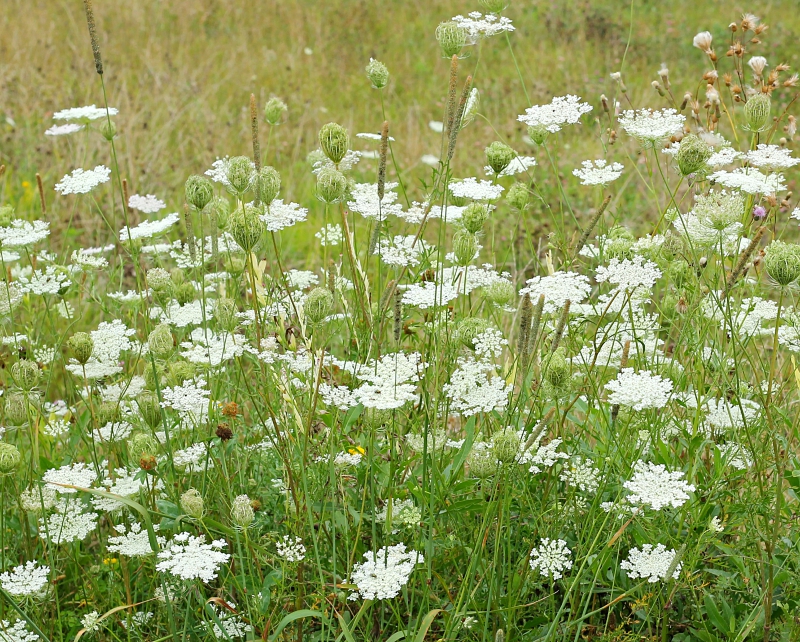 About Queen Anne's Lace
It seems like everywhere I go lately I notice Queen Anne's Lace. This delicate wildflower is growing everywhere in Pennsylvania. I was surprised to see it all over the place on our drive to Virginia Beach, through West Virginia and Maryland too. I've always thought of it as a native but apparently, it originated in Europe. Some consider this pretty flower to be a noxious weed while others try to cultivate it in their garden. Typically you'll find it in dry fields or roadside ditches.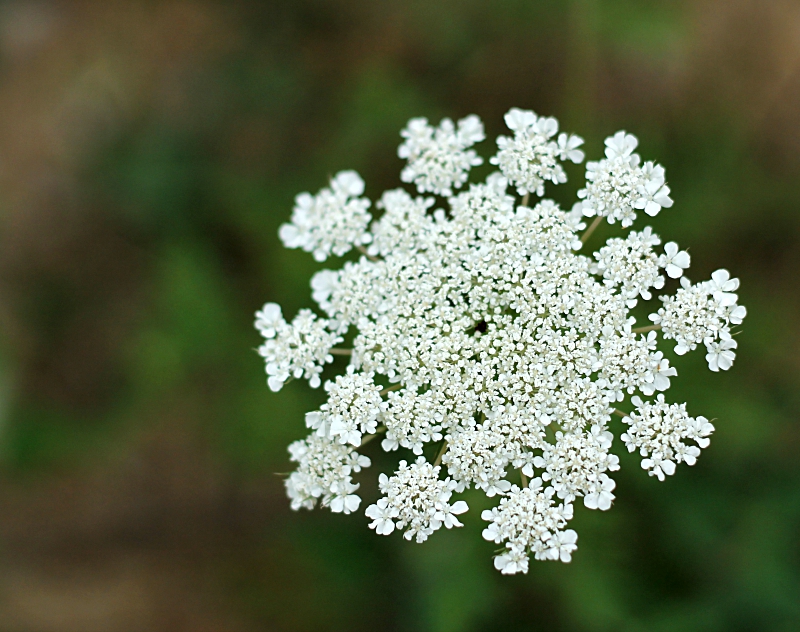 Somewhere along the way, I remembered a tale about the origins of the name "Queen Anne's Lace." I think it was Mother Nature, a wonderful woman from girl scout camp, who told us all kinds of stories about plant folklore. According to legend, Queen Anne pricked her finger with a needle while making lace. If you look close you will see what looks like a drop of blood, in the middle of the Queen Anne's lace flower surrounded by tiny white flowers in clusters.
Queen Anne's Lace or Daucus carota, is also known as wild carrot because they are members of the carrot family. In fact, it was once used as a substitute for carrots. Some say that the carrots which we grow today were originally cultivated by this species. I also remember as a child that we would pull the plant out of the ground to "see the carrot." I remember that it smelled just like a carrot but it looked odd and was covered in dirt so I never actually tasted it.
Another common name for this plant is "bird's nest", due to its nest-like appearance when the flower curls up as it goes to seed.
I like to pick Queen Anne's lace for flower arrangements. The cut flower will last for several days and the white color and lacy shape pair well with many other flowers. It even works well on its own.
Beware of Queen Anne's Lace Look-Alikes
A word of caution, while I was writing this post I found several articles mentioning the danger of mistaking this harmless, though maybe a somewhat invasive plant, with similar-looking plants.
One most notably is Poison Hemlock or Conium maculatum (above). Its flower have a similar umbel flower cluster shape. However, Poison Hemlock as the name suggests is deadly and many people have died after eating what they thought was a wild carrot.
Caution: Never try eating something in the wild unless you are absolutely sure you know what it is.
Another similar looking plant is Giant Hogweed or Heracleum mantegazzianum. This highly toxic lacy white plant will burn your skin causing blisters. It may also cause blindness if the sap touches the eye. Of course, as the name suggests, Giant Hogweed grows about 8 feet tall. Queen Anne's lace is only about half that height.
Caution: Always be careful when dealing with plants in the wild.
Resources:
For details on differentiating Queen Anne's Lace from other toxic plants check the following articles:
http://www.foragingtexas.com/2008/08/queen-annes-lace.html
http://www.nwplants.com/information/white_flowers/white_comparison.html

---