See how easily and inexpensively you can create a pretty aged looking faux concrete planter. Perfect for showing off your pretty indoor plants.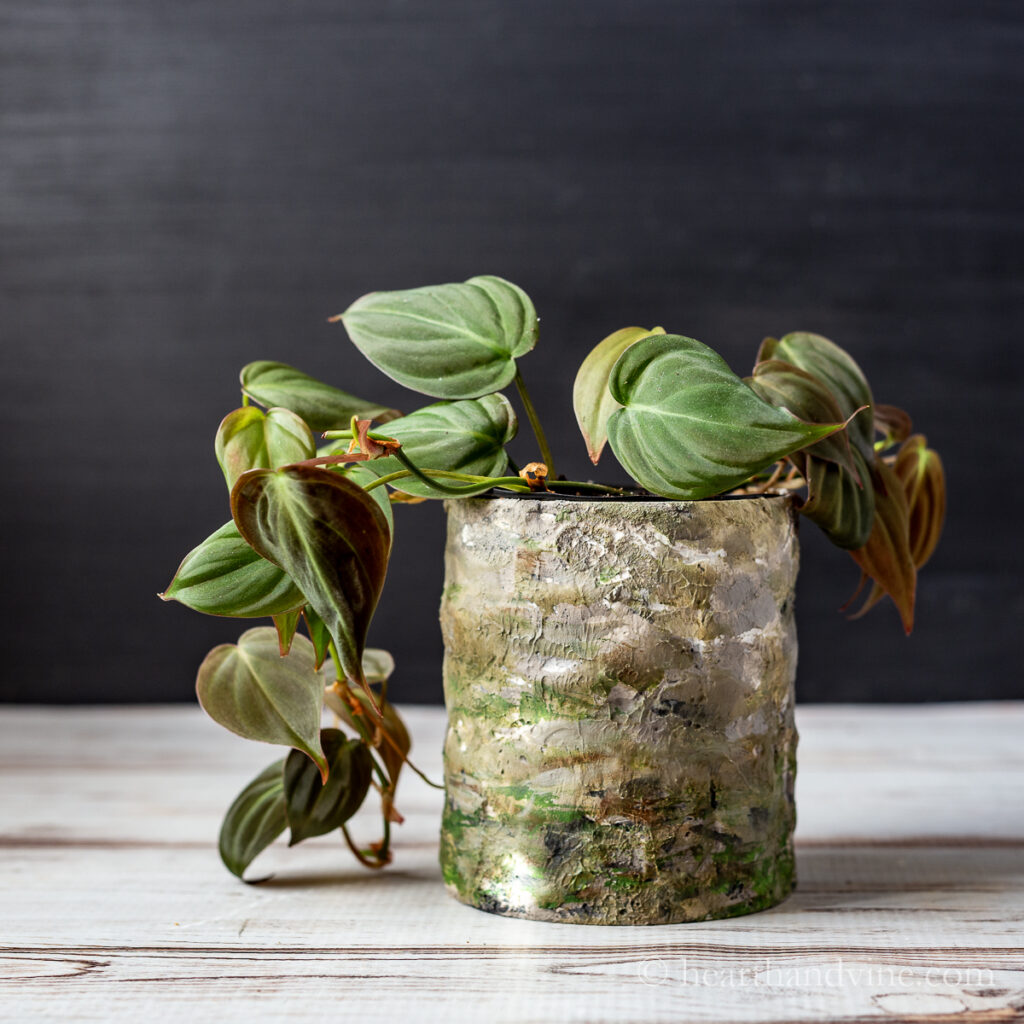 My daughter gave me a cutting from her Philodendron micans plant. Isn't it beautiful? The leaves have a velvet texture and I love the shades of bronze on the leaves.
Like most Philodendrons, it's easy to grow so I really needed to re-pot it in a larger pot and hang it somewhere that it can vine down and show off.
I have many leftover plastic planters in our garage (much to my husband's chagrin), but I wanted something prettier to hang from my plant hanger. So I thought I'd upcycle an empty tomato can into a cute faux concrete planter.
This post contains some affiliate links (that means if you make a purchase after clicking a link, there's no additional cost to you, but I will earn a very small commission. ) i.e. as an Amazon Associate, I earn from qualifying purchases. Click here to read my full disclosure policy.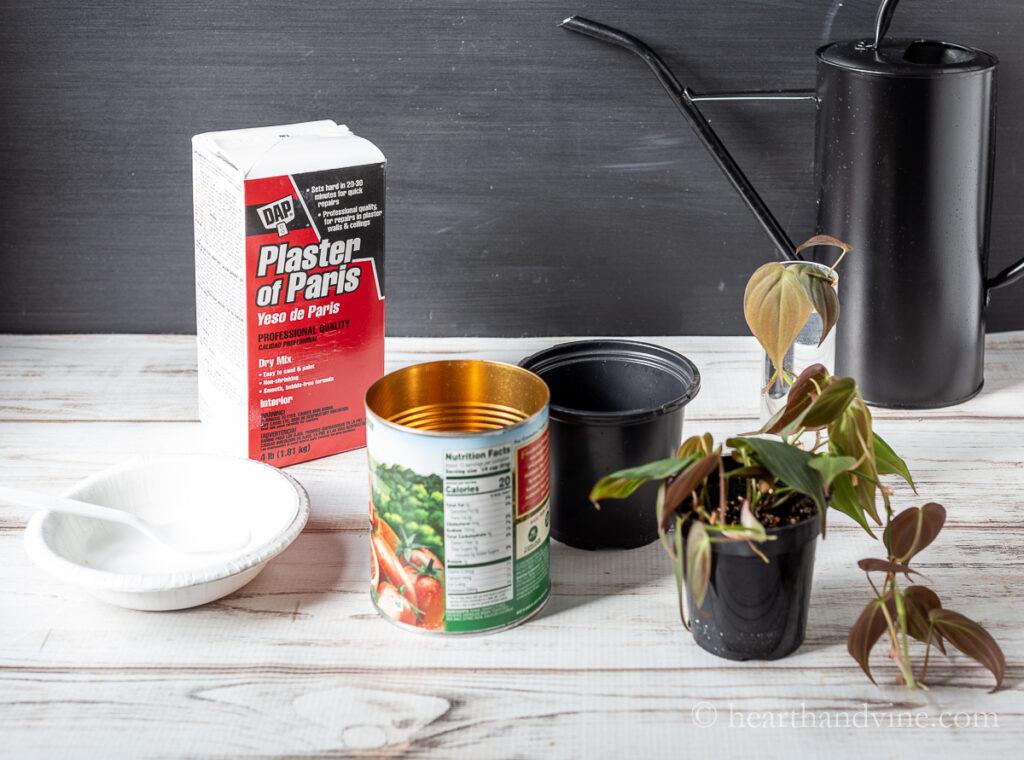 Plaster of Paris is the key to this upcycle. You may remember when I used grout to cover a nursery pot to make a cheap flower planter. It worked great for outdoor use but this was going to be used indoors so I didn't need the product to withstand the elements. Plus Plaster of Paris has a less grainy look that I like.
Recycling a can with this technique gives you a concrete look without the price of real concrete pot planters. Also, I wanted this to be a lightweight shell to place the plastic nursery pot into. This way I can interchange pots as smaller plants and cuttings grow.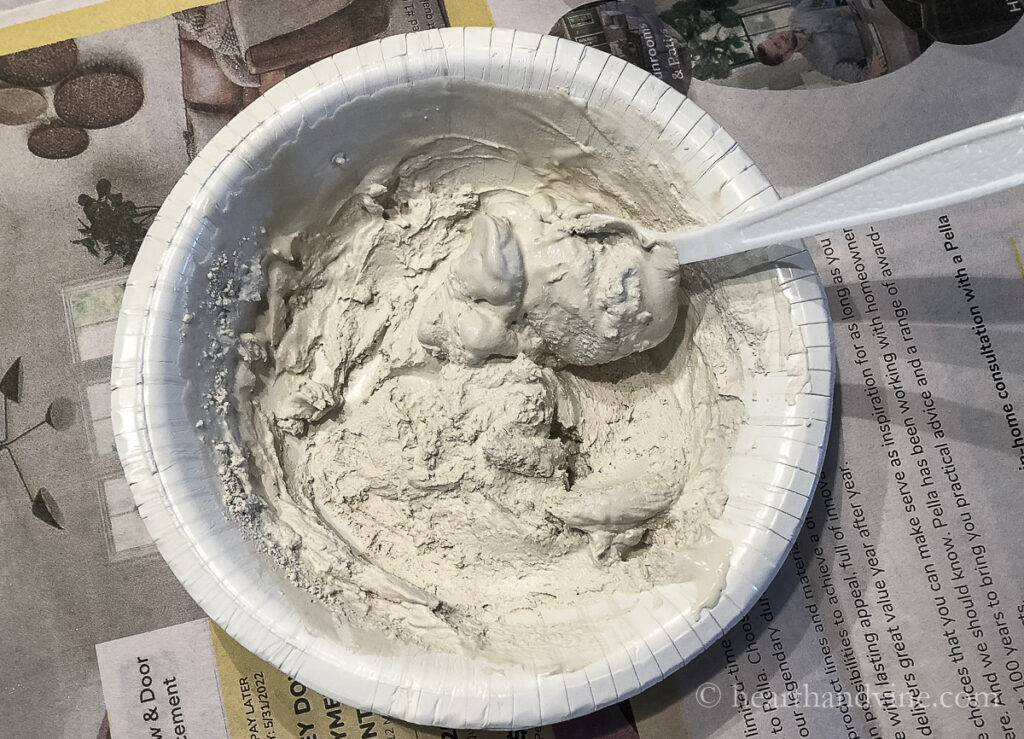 How to Make a Faux Concrete Planter
Start by mixing Plaster of Paris with water. You want your mixture to be thick. I used a 3:1 plaster to water ratio but you can just eyeball it if you want.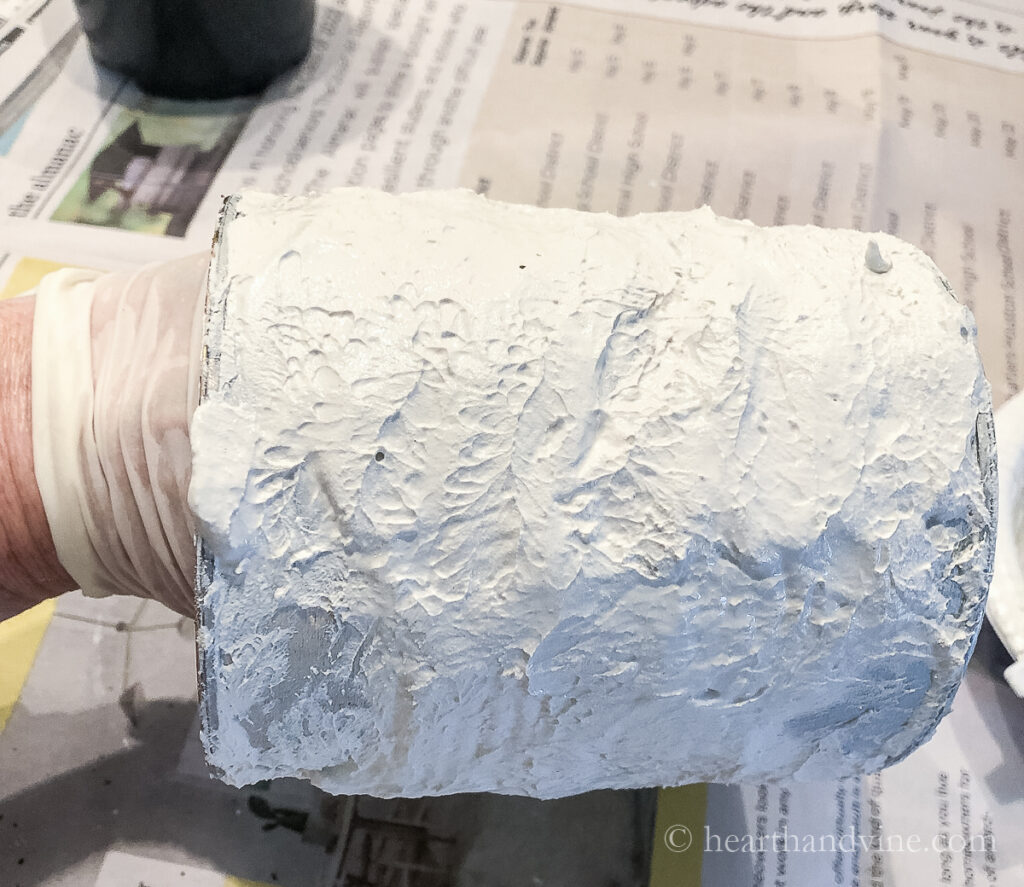 Start smearing the plaster all over the can. Play around with creating different textures.
Tip: Use gloves for this one. It's rough on your hands.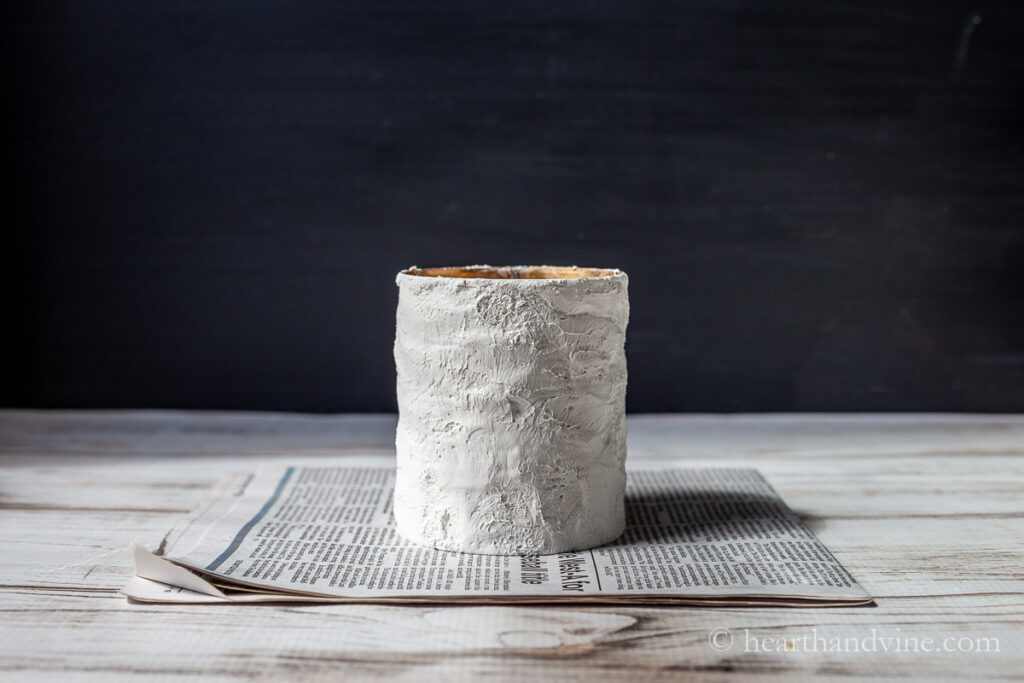 When you have the texture of the plaster looking how you want it, let it dry for several hours or overnight.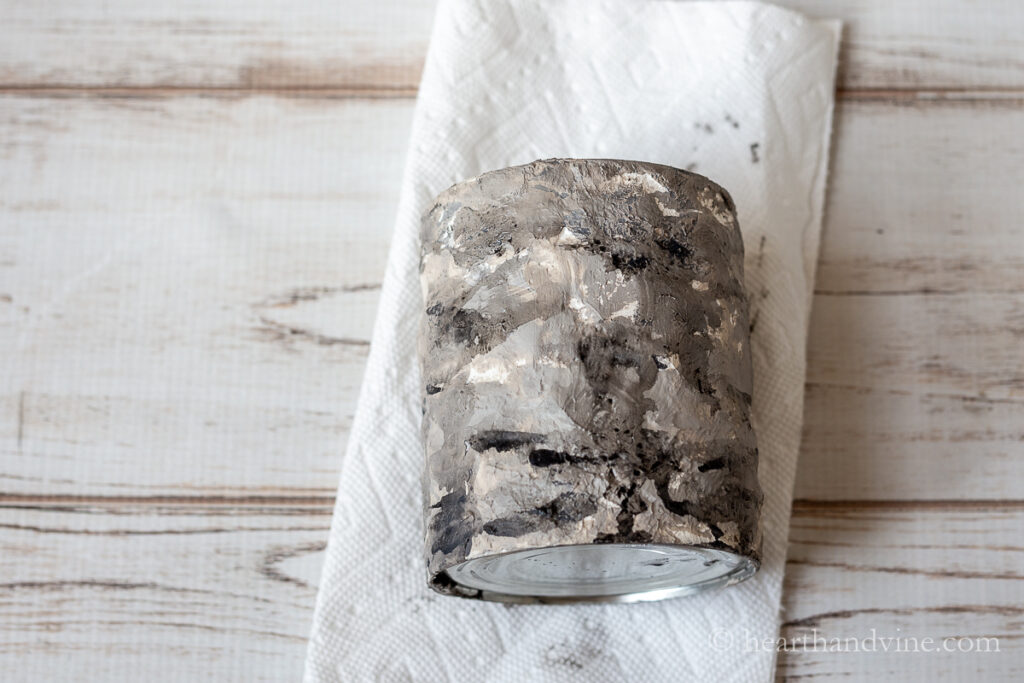 You can stop there. I actually think the white plaster looks pretty. However, I wanted to go for that aged cement that's been hanging around the garden for years look. So I used regular acrylic craft paint starting with gray and black on the watery side using a sponge paint brush.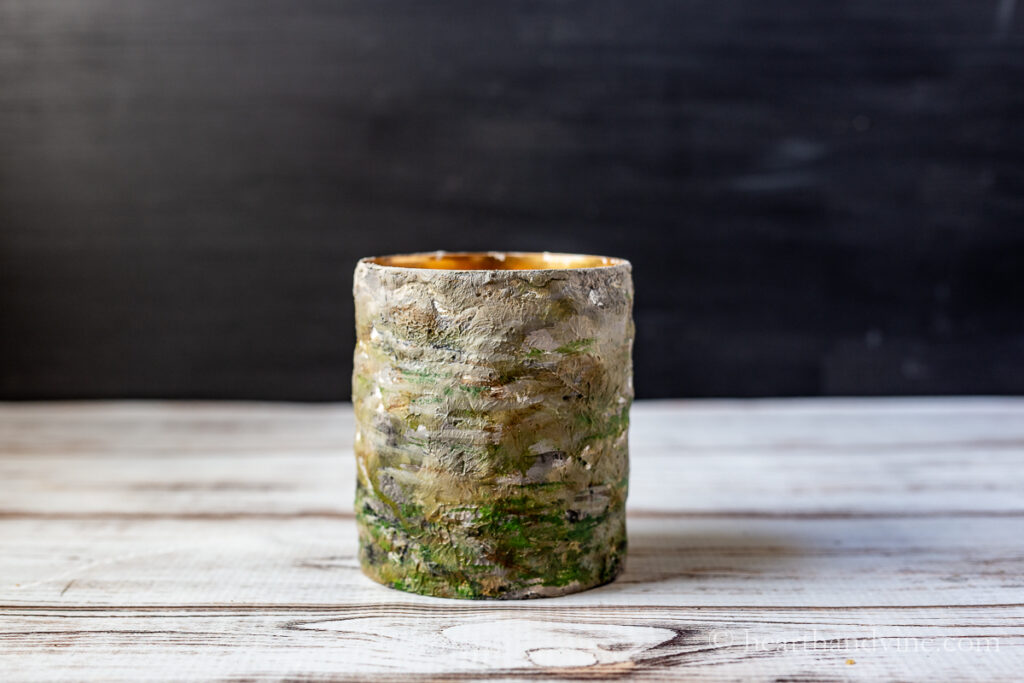 Then I added some browns and greens to create dirt, moss, and lichen. It's all up to you and what you like.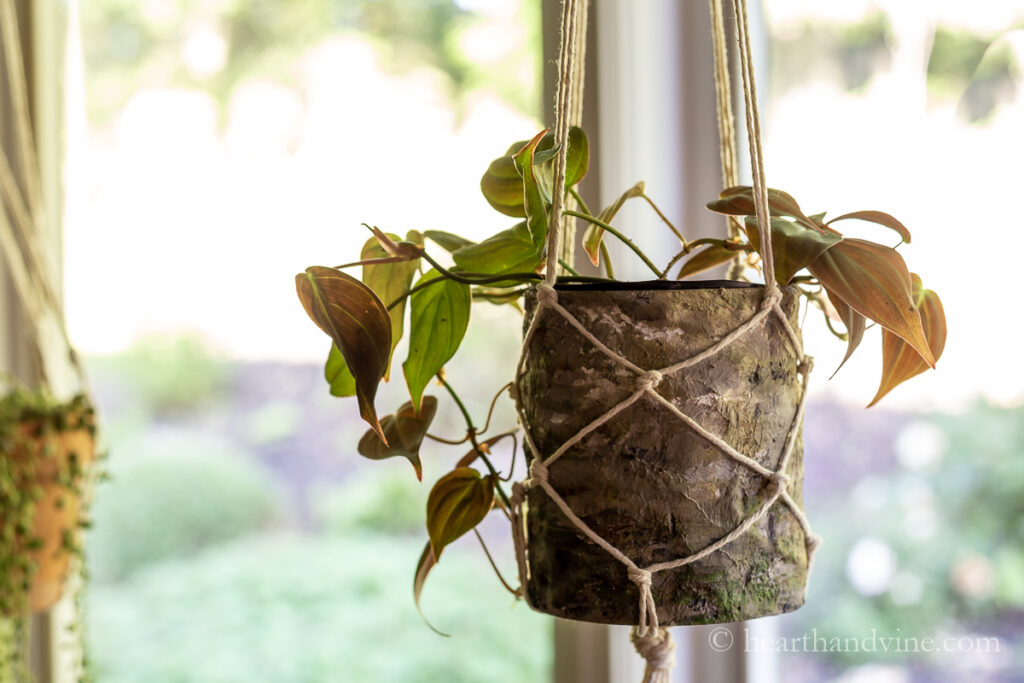 Here's the end result hanging with a simple macrame hanger and the Philodendron micans is all set to grow and grow.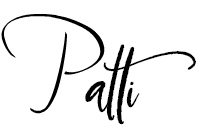 Print
How to Make a Faux Concrete Planter
Have a blast making this easy and inexpensive faux concrete planter to house your indoor plants with this step by step tutorial.
Equipment
Plastic gloves

Sponge brush

Disposable bowl and spoon
Materials
Clean 28 oz. vegetable can with lid removed

Plaster of Paris

Craft Acrylic Paints
Instructions
Mix Plaster of Paris with water about 3/4 c of plaster to 1/4 cup of water. You want it to be pretty thick.

Cover hands with gloves and start scooping up the plaster and placing it on the can.

Once the can is covered look for thin spots and create a rough or smooth texture with your hands as you like.

Allow the plaster to dry. This may take as long as 24 hours.

Paint the plaster with craft paints using a mix of black, and gray paint. You can also use brown, and green to create dimension and give it the look of an old cement planter that has been aged outdoors for years.

Pop a plant inside with its own nursery pot for a new look.
Notes
You can leave the planter white if you like the look. Or simply paint it gray without the aged outdoor look.
You can punch drainage holes into the bottom of the can if you want. This works best if you are setting the plant on a surface so that you can put a plant saucer or plate underneath.