A carefree, incredibly easy houseplant to grow, Sanseveria trifasciata, commonly known as the Snake Plant, is a sure bet. This beauty comes in several varieties giving you lots of options to choose from while still enjoying a plant that's hard to kill.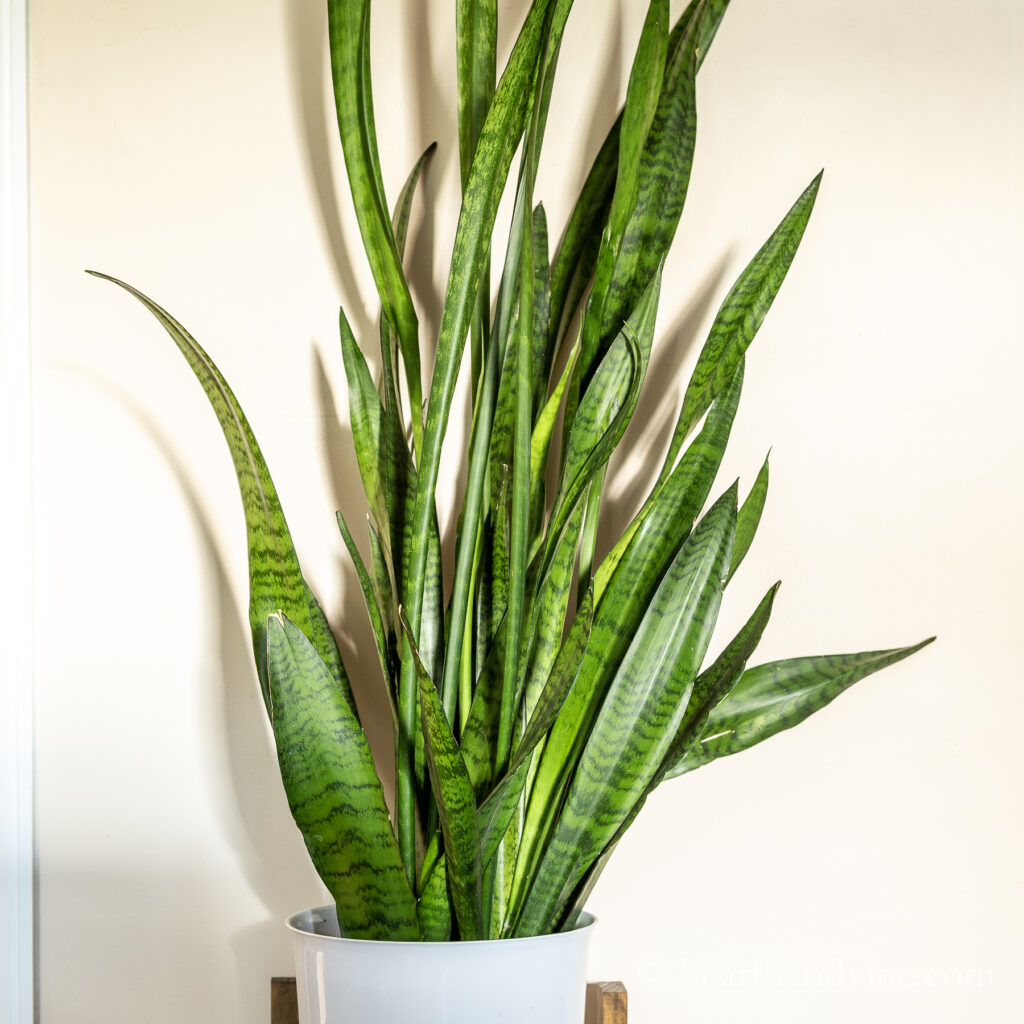 The genus Sansevieria includes about 70 different species. Commonly known as The Snake Plant or Mother-in-Law's Tongue (though I don't like that name). It's native to Africa and lasts for years.
Note: In 2018 taxonomists changed the genus name from Sansevieria to Dracaena. Changing the genus of plants has become more prevalent lately for clarification. However, most people will probably continue to refer to this plant as Sansevieria trifasciata and not Dracaena trifasciata.
Here's my snake plant happily growing in our family room, at the opposite wall from the windows with very little light. It may look like there's a fair amount of light in the room from the picture but that's due to camera lighting.
The standard common Sansevieria trifasciata plant has pretty stiff sword-like leaves, with horizontal striations that grow from rhizomes.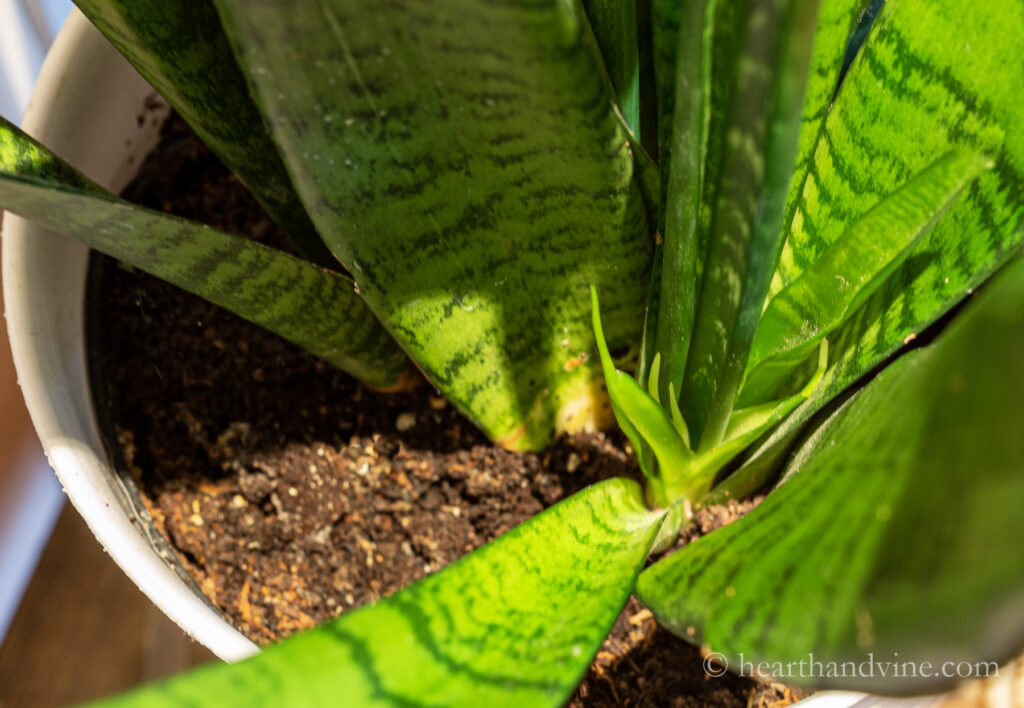 How to Care for Sansevieria Trifasciata
Light - Snake plants, especially those with dark foliage, can adapt to low light conditions. As I mentioned, mine gets very little light in our family room. However, this plant ideally prefers a medium-light source and if you have one of the lighter leaf varieties it will perform better with some light.
Water - You hardly need to water this one at all. Some people even consider this a succulent plant, known for needing little water. In fact, the one way that you can kill it, as with many houseplants, is over-watering. I typically water every 2 - 4 weeks, sometimes less during the winter months.
Soil - Since overwatering could be an issue consider planting this one in a fast-draining soil mix. Make your own homemade potting soil by taking a good soilless mix and add some perlite or bark to lighten it up.
Fertilizer - I don't fertilize this one much. Just a regular all-purpose plant fertilizer about once a season or a couple times a year.
Sansevieria Trifasciata Varieties
The species S. 'trifasciata' is the most common of the Sansevieria. Here are just a few of many cultivars showing the range of this popular houseplant.
Laurentii - This is a variegated form with beautiful gold edges shown above.
Moonshine - This one has a broader leaf with a silvery sheen. Sansevieria 'Moonshine' won the coveted Royal Horticultural Society's Award of Garden Merit in 1993. Note: Though Moonshine will grow in low light it will start to lose its pretty silver color. Best to keep it in indirect light.
Hahnii - For those of you who like miniatures or have limited space try 'Hahnii.' Sometimes called "Bird's Nest," because it forms a pretty rosette pattern and grows to a height of only 12 inches.
Twisted Sister - Another short snake plant this cutie has interesting twisted leaves.
The new growth on this snake plant cultivar 'Moonshine' is especially beautiful.
This last image is Sansevieria cylindrical, not S. trifasciata. However, I thought I'd share this image of my daughter's plant. Commonly known as the African Spear Plant, it has round cylinder leaves that come to a point. Sometimes you will find the leaves are braided in the nursery making for a very interesting look.
Overall, the snake plant is a must for anyone who loves gardening. Perfect for a beginner, black thumb, or anyone who has the slightest interest in plants.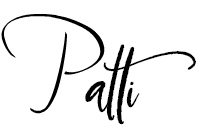 More Easy to Grow Houseplants