Learn how to create a simple wood, candle, cranberry and fresh evergreen centerpiece for your holiday table.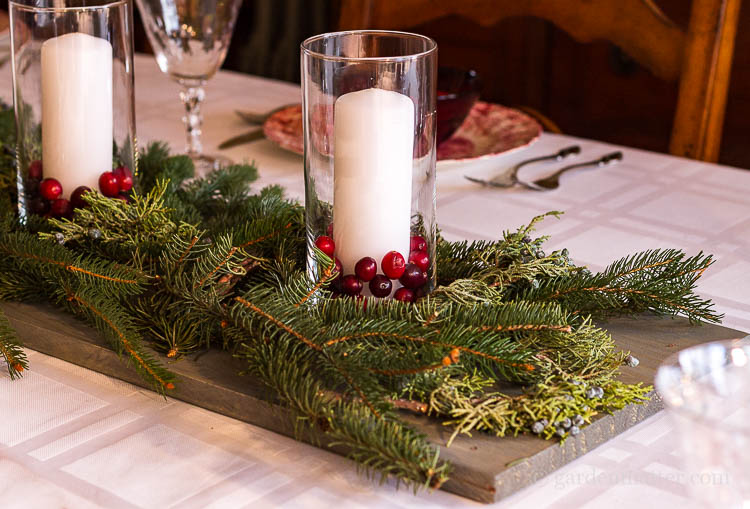 A simple 2 x 10 piece of pine from home depot, is the base for this simple wood, candle, cranberry, and fresh evergreen centerpiece. Having a pretty centerpiece on the dining room table is something I love to create, especially at the holidays.
In the summer, flowers from the garden are a must, but at this time of year fresh evergreens are always available, and a perfect long-lasting choice.
I really like the look of rustic gray wood with white so I stained the wood base with a Minwax gray stain, but you could also paint it, or leave it in its natural state.
Another example of the gray vintage wood look is this dried hydrangea and eucalyptus centerpiece.
The glass vases were purchased at Dollar Tree, and the cranberries were leftover from my garland for the rustic tree decoration post. I picked up the pretty blue juniper at home depot. The other greens come from the backyard. The candles were purchased on Amazon because I wanted to make sure they fit the vases. You could also use regular thin dinner candles, that you may already have on hand.
When you are having guests over, it's always great to be able to work ahead. This should last a good two weeks before the needles start to fall. Just one more thing you do not have to do to get ready for your party.
When we sit down to eat, I plan to move the centerpiece to the buffet shown in the background. It's not hard at all to move, though you may have a little scattering of needles.
More importantly, I really need to clean up the clutter on the buffet. 🙂
You May Also Like:
Hydrangea & Eucalyptus Centerpiece