Welcome to week 2 of the $100 bedroom makeover challenge where we tackle bedding, the headboard and how to create wall art.
this post contains affiliate links for your convenience. Click here to read my full disclosure policy
Welcome back to week 2 of the $100 bedroom makeover challenge. This week's update will use a good chunk of the budget, and show you a fun and easy way to decorate a wall for next to nothing.
$100 Bedroom Makeover Challenge - Week 2
The first order of business for this bedroom makeover was to purchase new bedding. So many people have commented on how pretty the original quilt was, and I loved it for a long time. However, it was time for a change, so in light of this makeover, new bedding needed to be purchased. I gave myself a budget of $50 because I did not think I would be able to find anything decent for a king-sized bed for less. Surprisingly this one came in under that amount, at close to $40.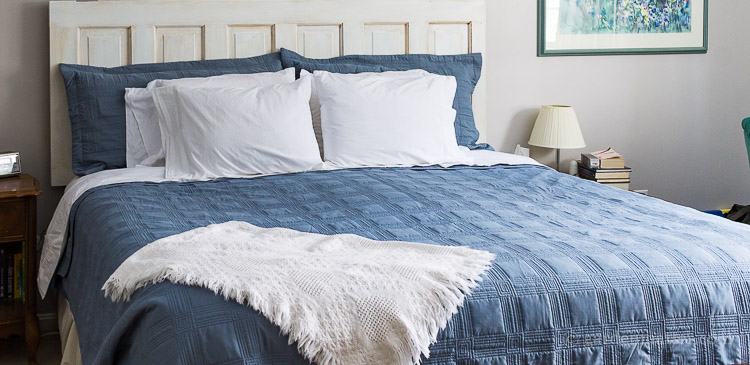 This quilt is nice and soft and I'm surprised at how warm it is, but I guess since we were already used to sleeping with a quilt that helped. My husband really likes it too. Not quite as busy as the old quilt, and a little more masculine for him. Also blue is my favorite color, and it works well with the inspiration painting.
Next I painted the headboard white and added a little antiquing paint to tone it down. Don't worry, I'm not going to touch any of the other furniture. They will all stay with the original wood finish.
The word art was made by projecting the saying Live, Laugh, Love onto the wall. Once projected you can outline the words with pencil, then fill in with craft paint.
Here's a look at the contraption I used. First I tried the box and magnifying glass trick that I've seen all over the internet, allowing people to watch movies by projecting their iphone. I could not get that method to work at all.
Finally, I tried this method and it worked!
Here's how:
Print out the words you want.
Trace them onto a piece of plastic sheeting from a sheet protector or some other see clear material. Hint: Waxed paper did not work.
Cut a hole in box big enough to fit your plastic and tape it on.
Inside the box use your iphone with the flashlight on, at the highest setting. I used two blocks to hold the phone in place.
Then move the phone forward and back to get the image to the size you want.
Place the box on a table or stack it up on your bed with just about anything like I did (see above) to get it the right height.
Sketch the words onto the wall with pencil, then fill in with paint.
This room needed some floral detail so I added a leaf garland.
I simply drew a wavy line for the branch with a pencil, then added a few leaves above and below.
Using 3 different shades of green and a good bit of water gave the leaves a nice texture.
When it all dried I used a good white eraser to remove all the pencil lines.
I have to say I'm pretty happy with how it turned out and if I can do it so can you.
That's it for this week. I hope you join me next week as I tackle the window and more wall art ideas.
In the meantime don't forget to check the updates from the other bloggers below in this $100 room makeover challenge.
week 1 | week 2 | week 3 | week 4