$100 Room Makeover Challenge is underway for this master bedroom. See what this blogger and many others are doing with their $100 budget.
A few weeks ago I mentioned that I was participating in the $100 Room Makeover Challenge with some of my blogging friends. This is the first time I have attempted to makeover a room on a specific budget. However, since I am basically cheap, and love getting creative with a challenge, I felt I was up to the task.
$100 Room Makeover Challenge
I chose my master bedroom for this challenge. Mainly because we have done very little to this room since we moved in 12 years ago, and it really needed an update.
We were told that this house had a lot of wallpaper in the rooms when it first went on the market. It must have been a selling problem, because by the time we looked at it, almost all of the rooms and hallways were painted a basic white. The crew must have been in a hurry, because we could still see some of the glue from the wallpaper on the walls under the paint. This was especially true of our master bath. So one of the few changes we made early on was painting the bathroom, and since it is attached to the master bedroom we painted both in the same neutral gray.
The Bed and Headboard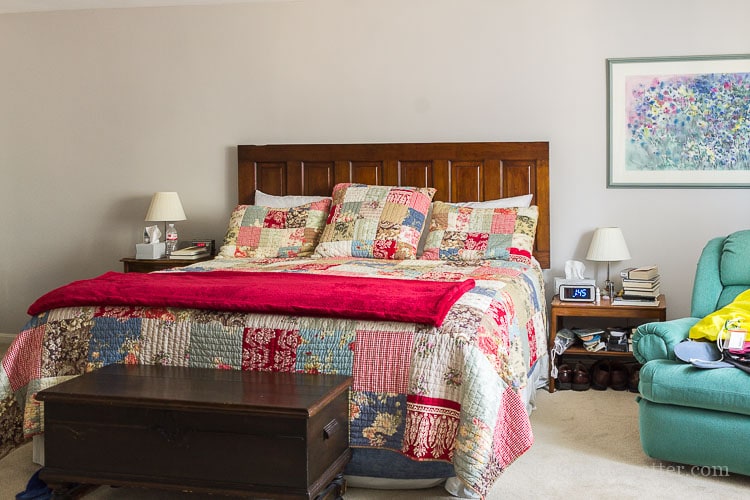 The only other change we made was to purchase a door at a thrift store, and cleaned it up to use as our headboard. I even wrote a post about using an old door as your headboard two years ago. That's all we have done, so now I'm trying to update the space on $100.
The Cluttered Dresser
The dressers and nightstand were my grandmother's and we've had them for years.
The Sad Window Covering
The room has one window which came with these blinds and sheers when we moved in. It faces the back of the house which is in the north west corner, so it's fairly dark.
The Final View
Here's one last view of the room showing another dresser, our armoire/TV cabinet, and the door to the master bath.
The Inspiration
For inspiration, I'm using this painting that my husband had commissioned for me as an anniversary present. An abstract garden with all my favorite colors, that's fresh and peaceful at the same time. He knows me well, and I think he will love having our bedroom all refreshed using his gift as the muse.
It may be quite a challenge to makeover the room on a $100 budget. So far, I have a few inexpensive and free ideas up my sleeve, so I hope you check back each Wednesday for the next three weeks to see the new room as it changes.
week 1 | week 2 | week 3 | week 4