Butternut squash recipes are perfect to make in the fall. Here are a baker's dozen that are sure to inspire your next dinner or gathering.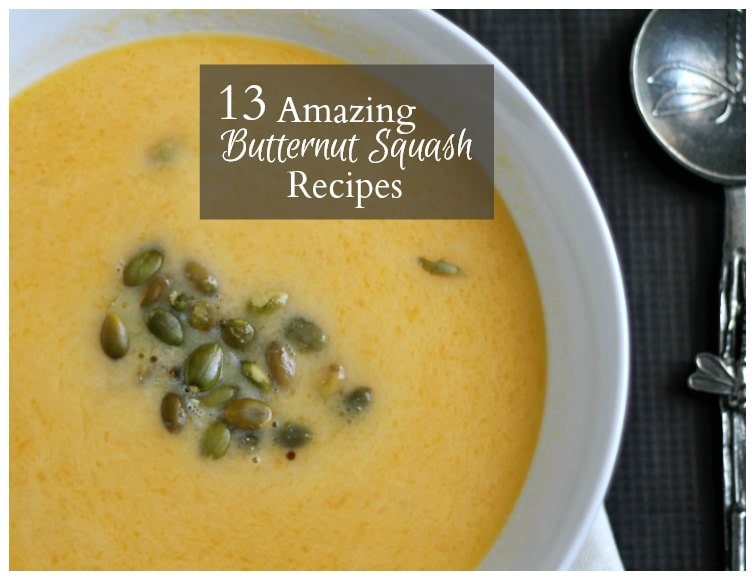 13 Amazing Butternut Squash Recipes
One of my favorite things about fall is trying butternut squash recipes. This hearty vegetable is great in all kinds of dishes from appetizers through dessert.
Starters
Shown above. My own spin on a classic soup using this hearty vegetable. You don't have to wait to go to a nice restaurant to have a delicious bowl of butternut squash soup.
Pasta Entrees
Forget Zoodles and make your own noodles with butternut squash. My Life Cookbook shows you a great way to make a tasty Thai dish, and cut the carbs by using butternut squash instead of pasta.
Also from My Life Cookbook, this tasty dish has influences of Northern Italy with browned butter, in a gnocchi style noodle made from butternut squash and tapioca flour.
Here's one I made with simple roasted pieces of squash paired with baby greens and ricotta cheese over pasta. Still light enough for a warm fall evening, but hearty enough to fill your belly.
Mexican/Southwest Entrees
This enchilada recipe from Hello Little Home is a great vegetarian option, using butternut squash instead of chicken, beef or pork. Combined with black beans and cheese for tons of flavor.
Here's another yummy idea adding butternut squash to a southwestern chicken rice bowl from A Dish of Daily Life. I know my family would love this one.
Amuse Your Bouche created this easy and yummy skillet dish with similar flavors that just screams comfort food. Great while watching the game, or just a fast yummy home cooked meal.
Made with an Instant Pot for saving time and ensuring tenderness, this delicious looking beef and butternut squash stew from Delicious Meets Healthy, though not southwest, has the same homey, comfort food feel as the rest so I've included it here and plan to make it very soon.
Side Dishes
Here's another one of mine that can be served as a side, an appetizer or a main dish. Here in Pennsylvania, late summer, and even early fall brings in loads of tomatoes from the garden. Paired with slices of roasted squash and feta cheese on top of a butter crust, makes for a pretty and tasty dish.
Cornbread is perfect in fall and goes with just about everything we make, so I was thrilled to see Duct Tape and Denim had created a recipe using leftover butternut squash in this cornbread recipe.
Here's the last of my contributions. If you haven't tried roasting vegetables, you're really missing out. It couldn't be easier, and with all the beautiful, colorful options available today, you can really make something that looks as good as it tastes.
Dessert
Yes, some people even make dessert from this versatile veggie. Kim Six, from The Kim Six Fix made this decadent looking Creme Brulee with butternut squash. So fancy, your guests will be impressed.
Let them eat cake! Who wouldn't want to try a piece of this stunning cake, made with butternut squash. Nellie Bellie's post on this beauty is full of tips and tricks to make this, and really any baking project a cinch.
I hope you enjoyed this nice group of butternut squash recipes. Do you have any special ways you like to prepare or use butternut squash in your cooking? Please share with us in the comment section below.