This recipe for a cheesy crab artichoke dip is really easy to make. Perfect for a winter party, but really yummy any time of year. I like to serve it in a deep dish pie pan
, or something like the tart pan
below. One thing I haven't tried but am curious about, is a large bread bowl. You would have to cook it in a baking pan first, allow it to cool some, and then spoon it into the bread bowl. I bet it would be a huge it.
Crab Artichoke Dip Recipe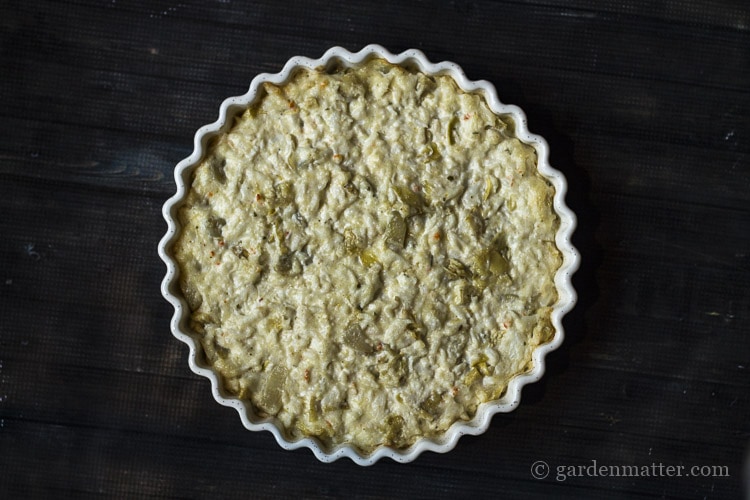 this post contains affiliate links for your convenience. Click here to read my full disclosure policy
This is an oldie-but-goodie, that has been around forever. Many of you probably have had this recipe without the crabmeat. Making it without the crab is totally fine, and could also substitute small shrimp or diced chicken.
It this batch, I used artichokes that came in an Italian marinade, because that's what I had on hand, but the plain artichokes work just as well.
Not a fan of Parmesan? Try substituting Romano or Asiago cheese.
This crab artichoke dip recipe is great warm from the oven, but it also tastes great at room temperature. One option to keeping it warm is to serve it from a cute mini slow cooker. I wouldn't worry too much because it's usually a big hit, and will be eaten up before you know it.
You may also like:
Here's the Recipe:
Cheesy Crab and Artichoke Dip Recipe
Ingredients
1 - 14 oz . can of artichoke hearts
1 can 16oz lump crabmeat
1 cup grated Parmesan cheese
1 cup mayonnaise
1 clove garlic grated
Instructions
Roughly chop artichokes and combine all ingredients into a large bowl. Pour into a shallow baking dish and bake at 350 degrees for about 30 minutes or until the dip is bubbling and starting to brown on the top.
Serve with crackers, tortilla chips or pita chips.