Learn about growing, harvesting, and cooking with chives. This hardy herb is very easy to grow and is enjoyed by most everyone in the family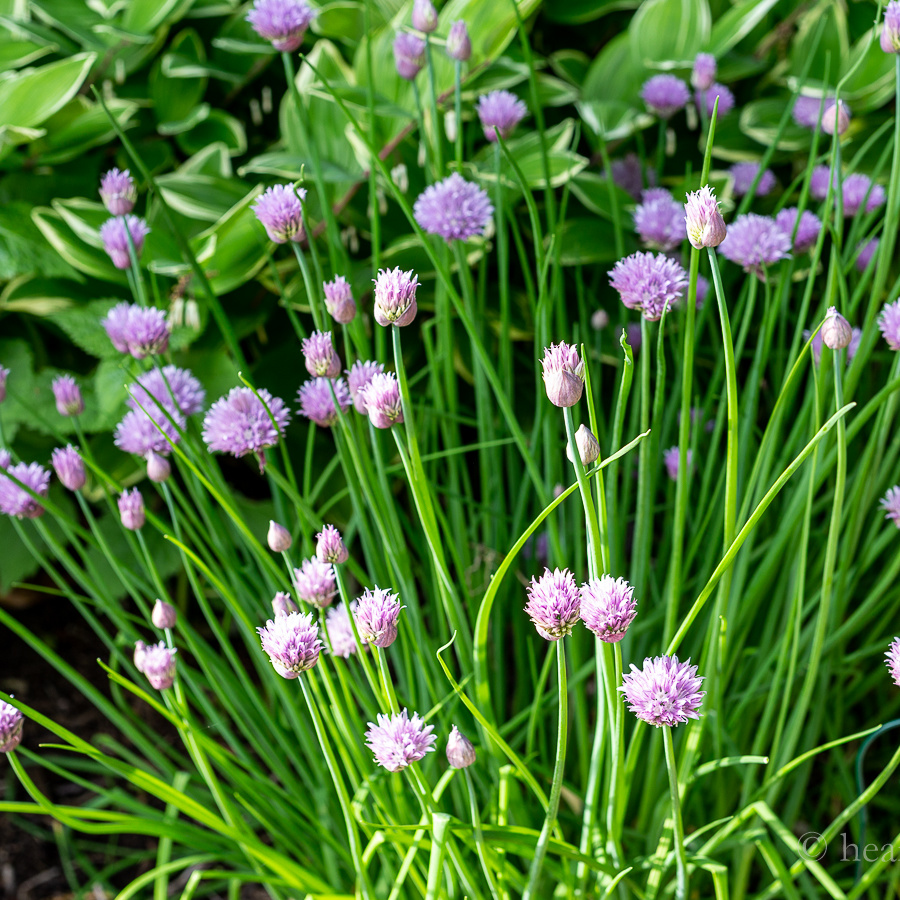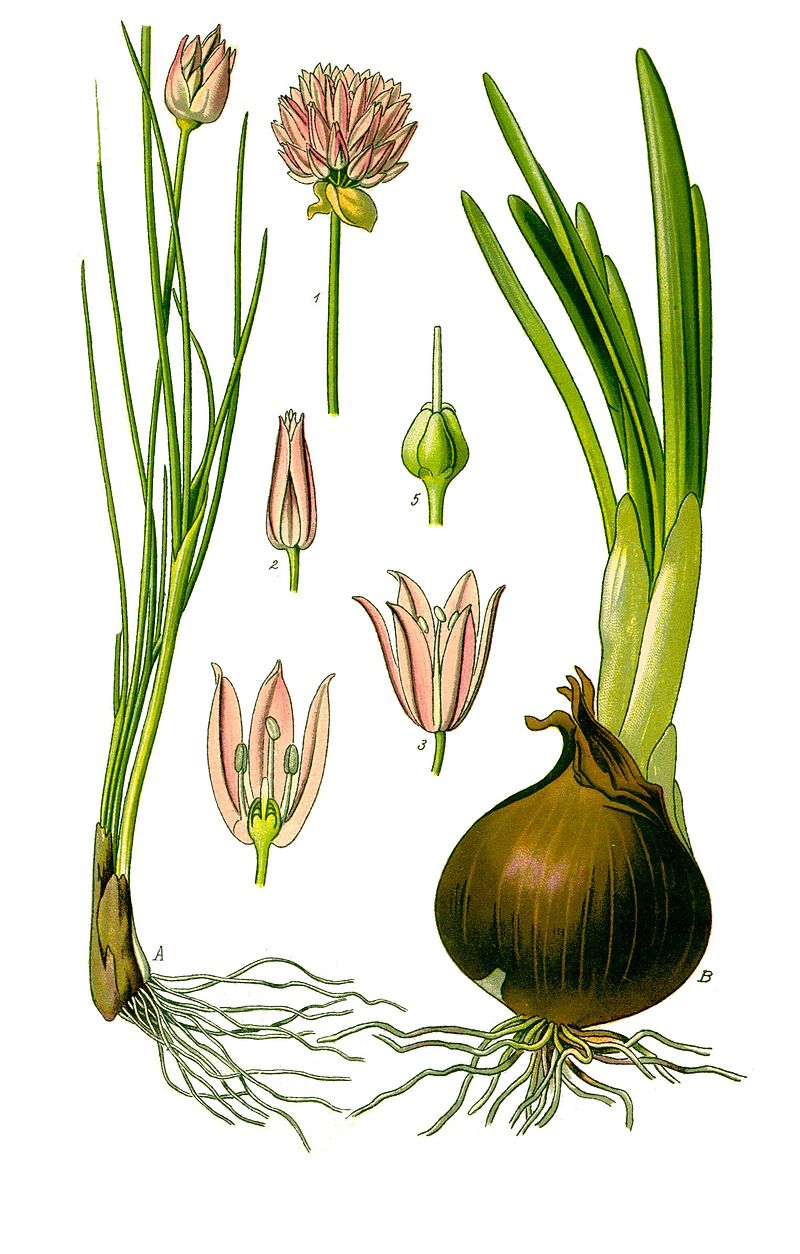 Growing Chives
Latin Name: Allium schoenoprasum
Type: Perennial
Hardiness: Zones 3 through 9
Sun: Full Sun to Part Shade
Water: Average
Bloom Time: Spring
Height: 18 inches
Width: 10 - 14 inches
Part of the allium family chives are akin to garlic, onions, and leeks. They are one of the easiest herbs to grow. Chive plants show up very early in the garden and can be used all season long. Chives are easily grown from seed but should also be readily available at any nursery. They grow just about anywhere as long as they get a few hours of sun and some water. They are easy to divide and share with family and friends. Chives sometimes self-seed giving you more plants to love. Not only do they have edible leaves but you can eat the flowers too. If nothing else the blossoms make a pretty garnish.
Harvesting Chives
Harvest chives by snipping with scissors at the base leaving one to two inches of the plant above the ground.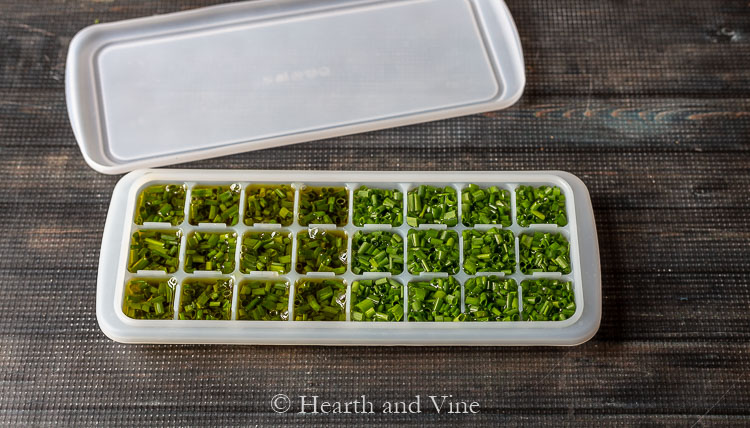 Preserving Chives
The best way to keep your chives is to freeze them. Dried chive leaves turn color and lose their flavor however the chive blossoms will retain their shape and can be used to decorate wreaths or other projects. After you cut and wash them, dry the chives thoroughly with paper towels, place them in zip plastic bags, and then into the freezer.
Alternatively, you can cut them up and place them in some olive oil in ice cube trays (above) Also, if you have a sunny window, you can dig some up and grow them there over the winter.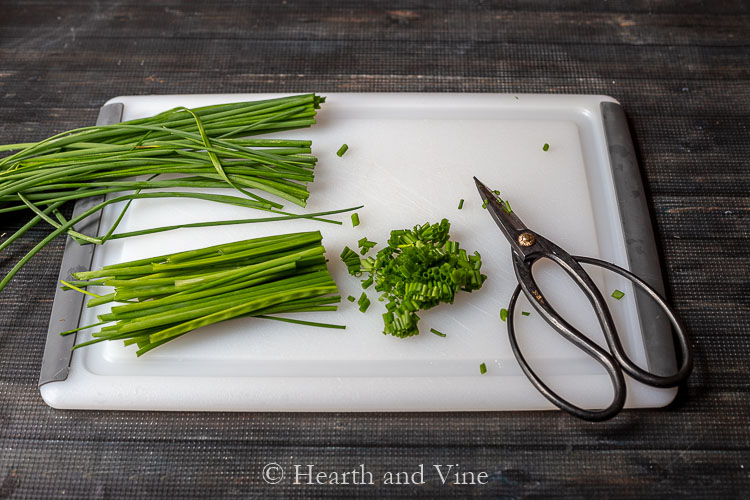 Cooking with Chives
Chives have a delicate onion flavor similar to green onions or scallions but are not as strong. Typically the leaves are chopped up very fine for flavoring savory dishes. They are great to add to egg dishes like omelets and quiche. One of my favorites is sprinkling chives over corn on the cob during the summer.
Chives also work well with vegetables, especially potatoes. You can add them to your mashed potatoes or home fries, and of course, they are a well-known topping for baked potatoes with sour cream. Try them in your salads, soups, or treat chives as a topping for your next pot of chili.
One thing to remember is- and this is true for most herbs- try to add your chives at the very end, or after you are done cooking. This will help retain the most flavor from the plant. Below are a couple of easy recipes that I make on a regular basis with chives.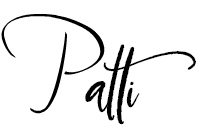 More Recipes Using Chives
Chive Butter
This "compound butter" is easy to make from spring well into the fall. We use it on baked potatoes, corn on the cob, veggies and steaks.
Ingredients
1

cup

butter softened

2 sticks

1/2

cup

chopped fresh chive leaves

pinch

of salt
Instructions
Use a pair of kitchen scissors or any scissors just make sure they are clean and snip the chives.

Add to the butter and salt, and mix together well.

Place in a small bowl like a ramekin and refrigerate until needed.
Nutrition
Serving:
1
g
Calories:
102
kcal
Fat:
12
g
Saturated Fat:
7
g
Polyunsaturated Fat:
3
g
Cholesterol:
31
mg
Sodium:
91
mg
Nutritional information is provided as a courtesy and is an estimate only. This information comes from online calculators. Although attempts have been made to provide accurate nutritional information, these figures are only estimates.