Dry oil body spray is made with a few simple ingredients. Use it in the winter for dry skin and in the summer after tanning.
More Herbal Crafts:
Herbal Bath Salts, Blush Sugar Scrub, Gardeners Hand Salve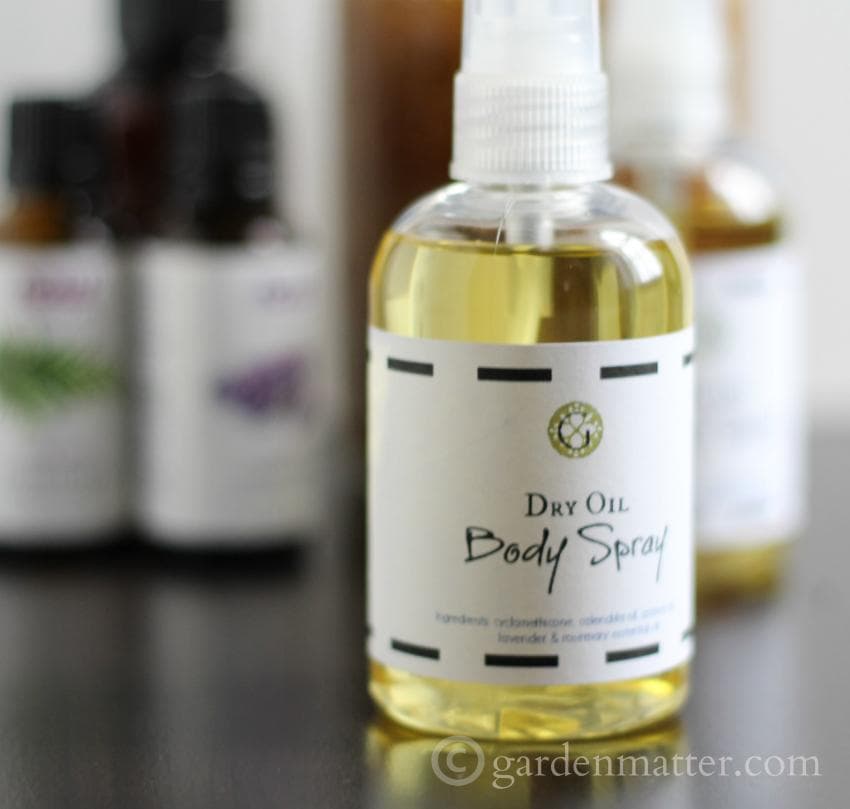 Back when my sister and I ran the herbal gift shop we used to sell many herbal related bath and body products. One company, Thymes®, had a fantastic dry oil body spray that I loved and I still have, though it's virtually empty.
Instead of buying a new bottle of spray I wondered if this was something I could make. After a little research, I found that the main ingredient in many dry oil sprays is cyclomethicone, a silicone found in cosmetics. This ingredient is what gives the spray its silky feel. From what I read, the cyclomethicone does not enter into your pores but stays on top allowing the other oils to penetrate into the skin. The result is a silky, not slick, feeling.
So I bought some cyclomethicone and experimented by adding some of my calendula infused olive oil and some fractionated coconut oil. For fragrance, I added lavender and rosemary essential oil, mainly because I love this combination, but you can use any essential oil or fragrance oil combination.
This post contains some affiliate links (that means if you make a purchase after clicking a link, there's no additional cost to you, but I will earn a very small commission. ) Click here to read my full disclosure policy.
Dry Oil Body Spray
Into a 4-ounce fine mist spray bottle combine:
(4T) Cyclomethicone

(4T) Calendula oil

(4T) Fractionated Coconut oil

(60 drops) Essential Oils
(I used 35 drops of Rosemary
& 25 Lavender
) or fragrance oil.
Variations: Try different carrier oils like sweet almond or jojoba oil. Use different essential oils or fragrance oils.
NOTE: This spray though non-greasy when applied to the skin may make the floor slippery. I usually spray my hands and rub it onto my arms an legs.
Disclaimer/Safety Note: This information is for educational purposes only. Essential oils have a range of safety issues such as warnings about use during pregnancy and keeping out of reach from children. Please consult your doctor if you have any concerns or a qualified and expert practitioner. As with anything you put on your skin you should test a small patch first to make sure you don't have any irritation or reactions. Keep it away from your eyes.