This DIY wood hanging rope shelf is easy to create and makes a beautiful statement in the home with natural elements for an updated look. Just a few supplies and about an hour of your time are all you need.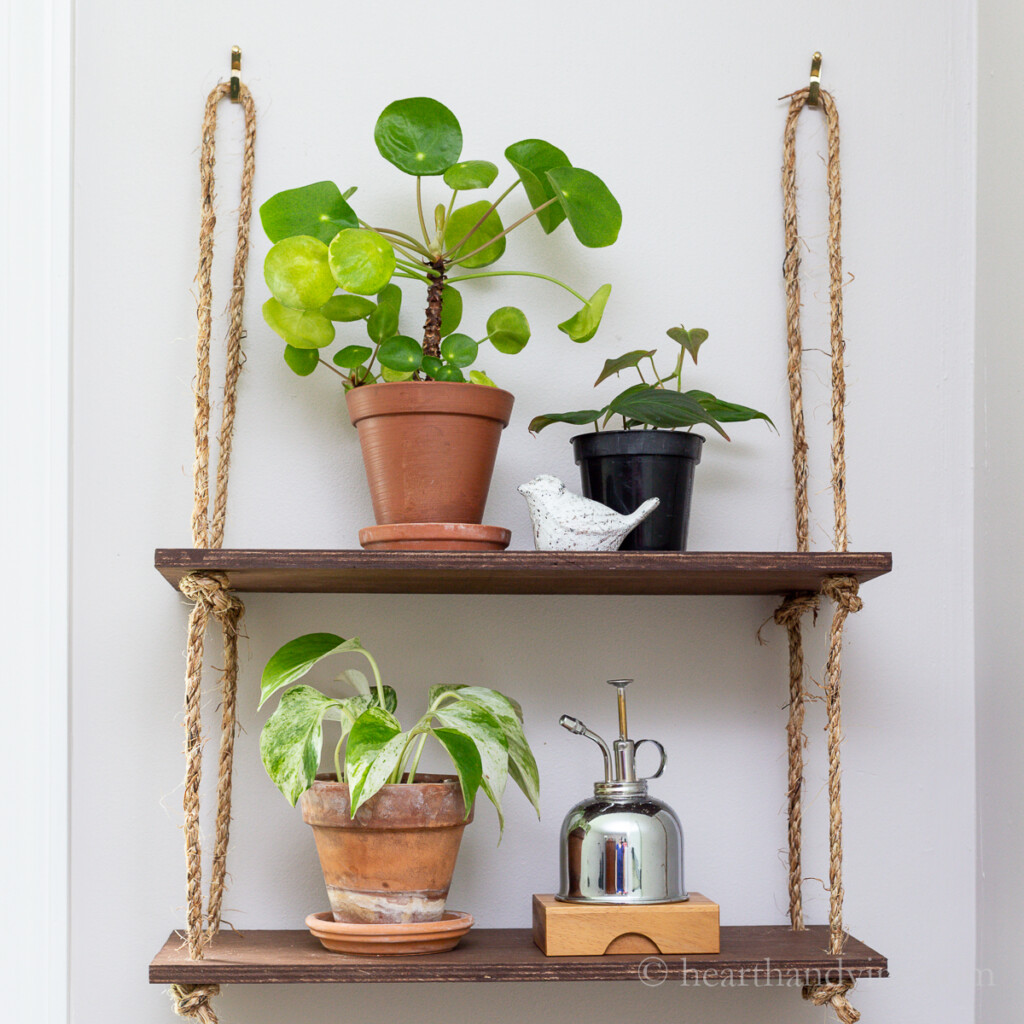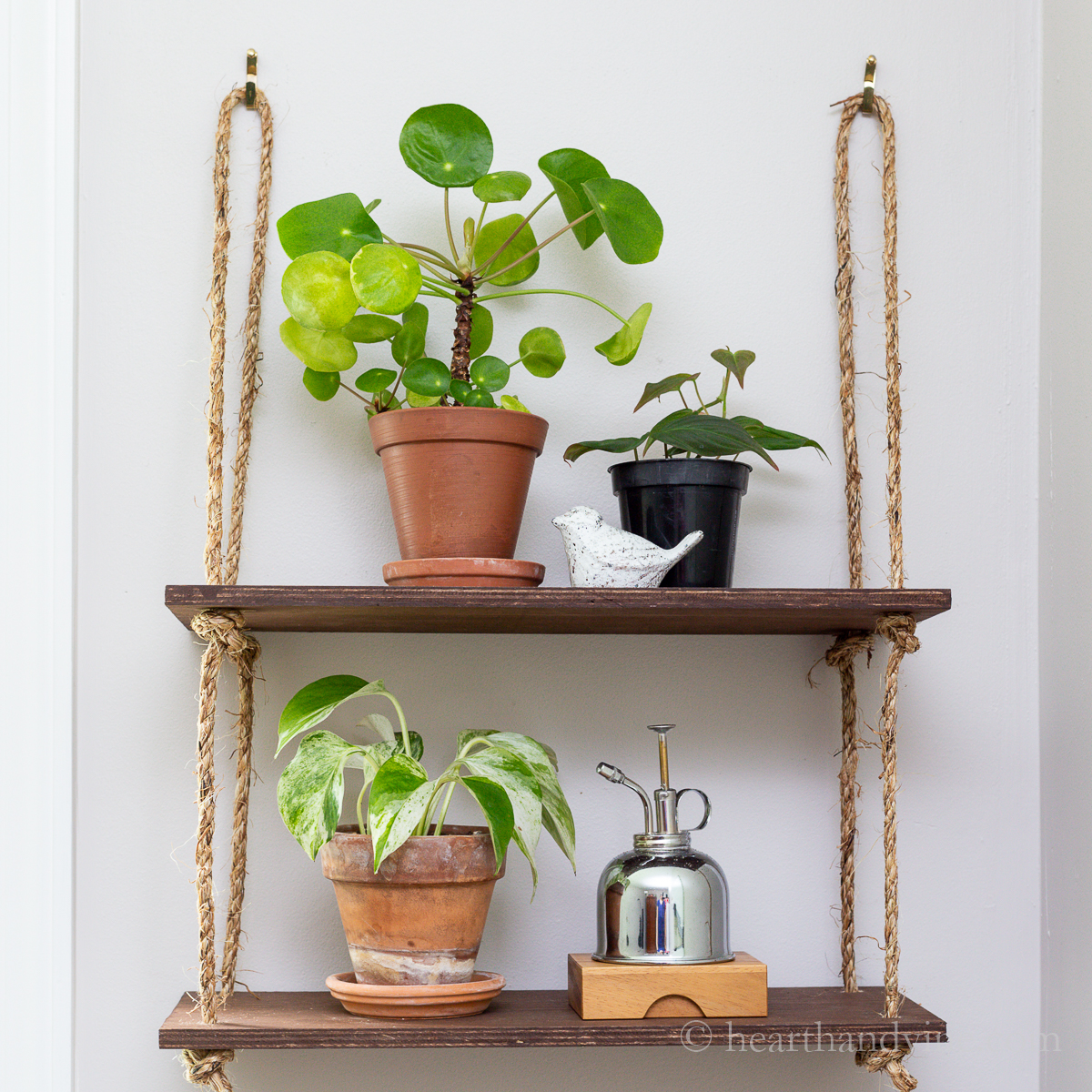 The look of natural wood and rope as a hanging shelf is something I have admired for a while now. Of course, you can buy these floating shelves online but as it turns out they are pretty easy to make too.
We had some decent looking scrap wood in the garage that was perfect for this project. I did stain it with Old Masters Gel Stain in walnut though you could paint them or use any number of stains or just a clear coat.
To make it easier to drill the holes in the right spot, I marked each corner with a 1-inch square of paper taped to the top and stacked the two boards on top of each other.
The rope is 3/8 inch thick so you'll need a 3/8 drill bit. However, to make it even easier, start with a 1/8 drill bit and drill a small hole first. That way when you drill the large holes it will be much easier to go through both boards.
This rope is quick to fray and unravels so once you cut it you need to tape the ends. I used painter's tape but any tape will work.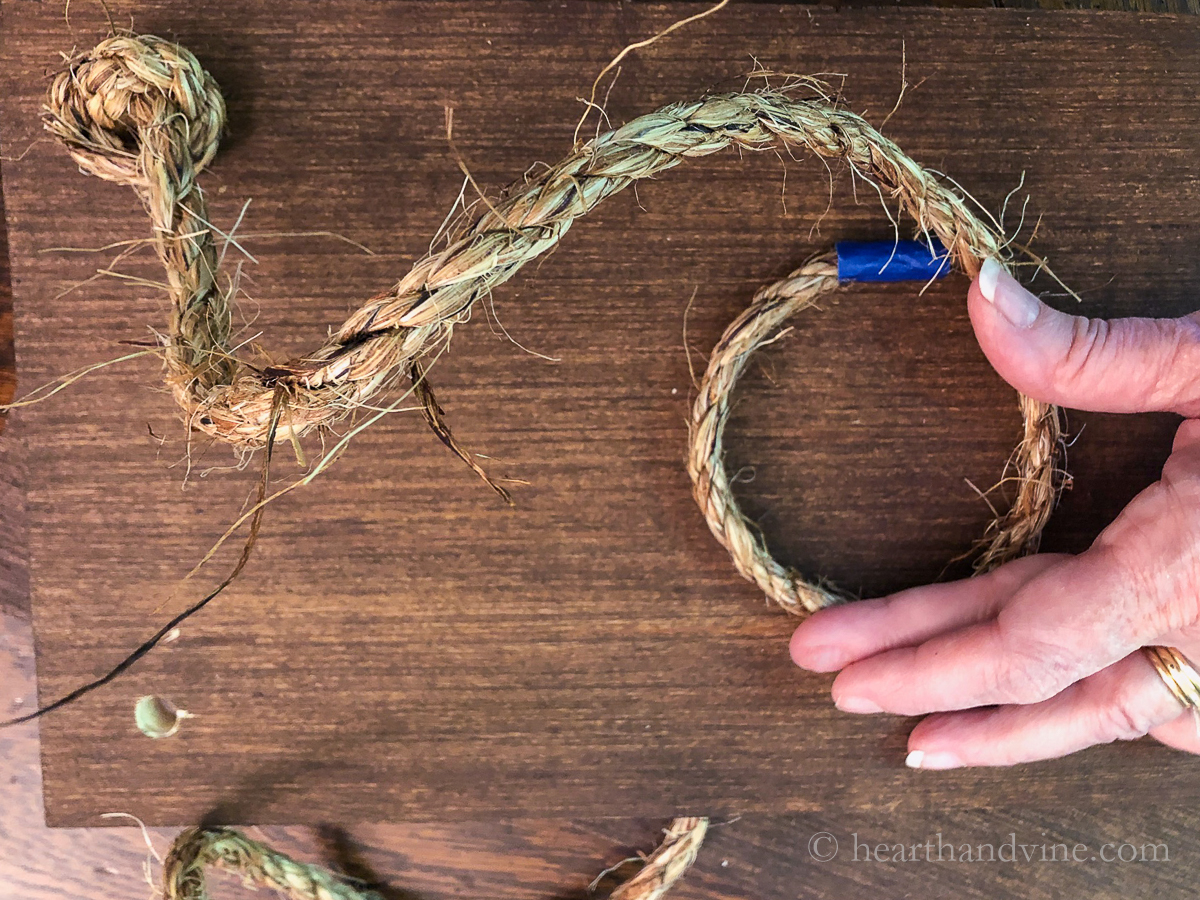 Decide on the distance you want your shelves to hang from the hooks and the distance between the two shelves. I used about 8 inches for my shelves.
Also, when you cut the two lengths of rope make sure that you give yourself way more than you need at least an extra foot. This way you will have plenty to work with and can cut away the extra rope when the shelves are complete.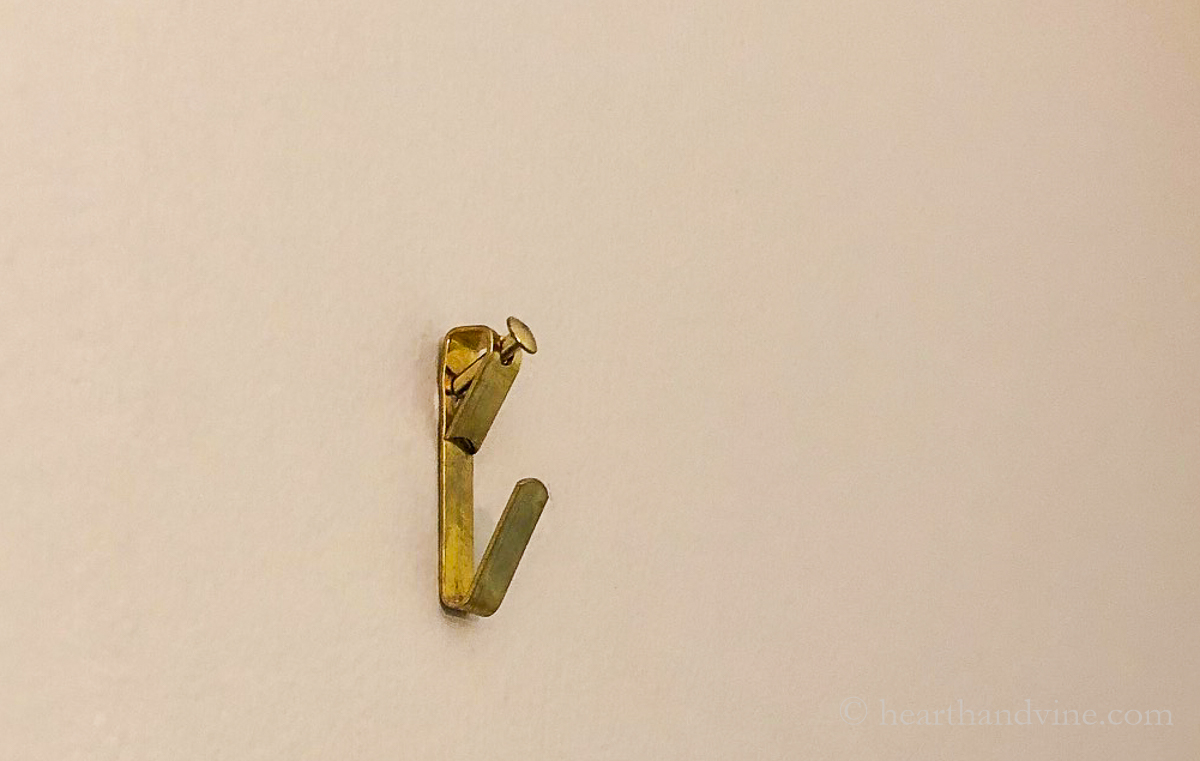 How to Hang the Wood Rope Shelf
I used 10-pound picture hangers for this project. You can use other kinds of hooks, just be sure that they can hold a decent amount of weight so that they can hold the shelves and anything you might place on them.
My husband helped me with this project as he has done with so many. Those are his hairy arms holding the level so we could see if the shelves were hanging straight. It's so nice to have an extra pair of hands, however, I do think you could do this on your own.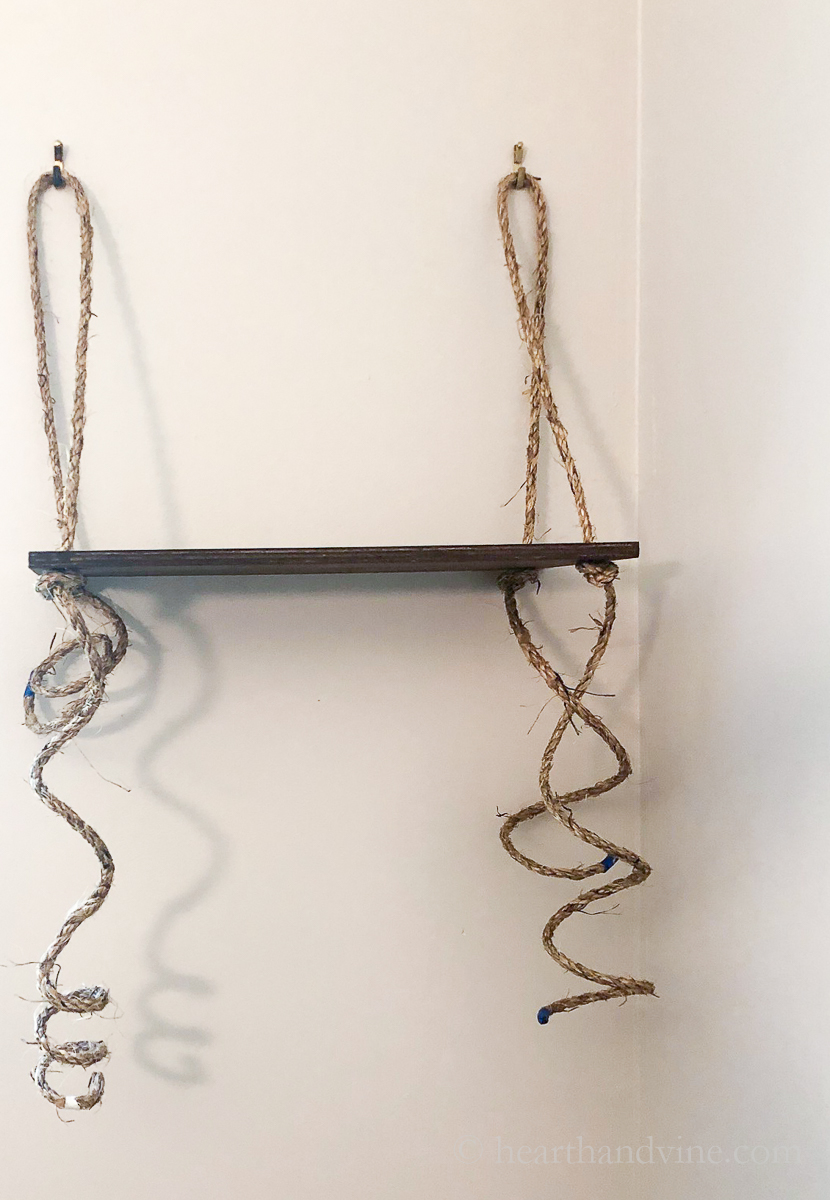 Once you get the top shelf level you can repeat the process to hang a second or third shelf if you like. Then cut off any excess rope at the end.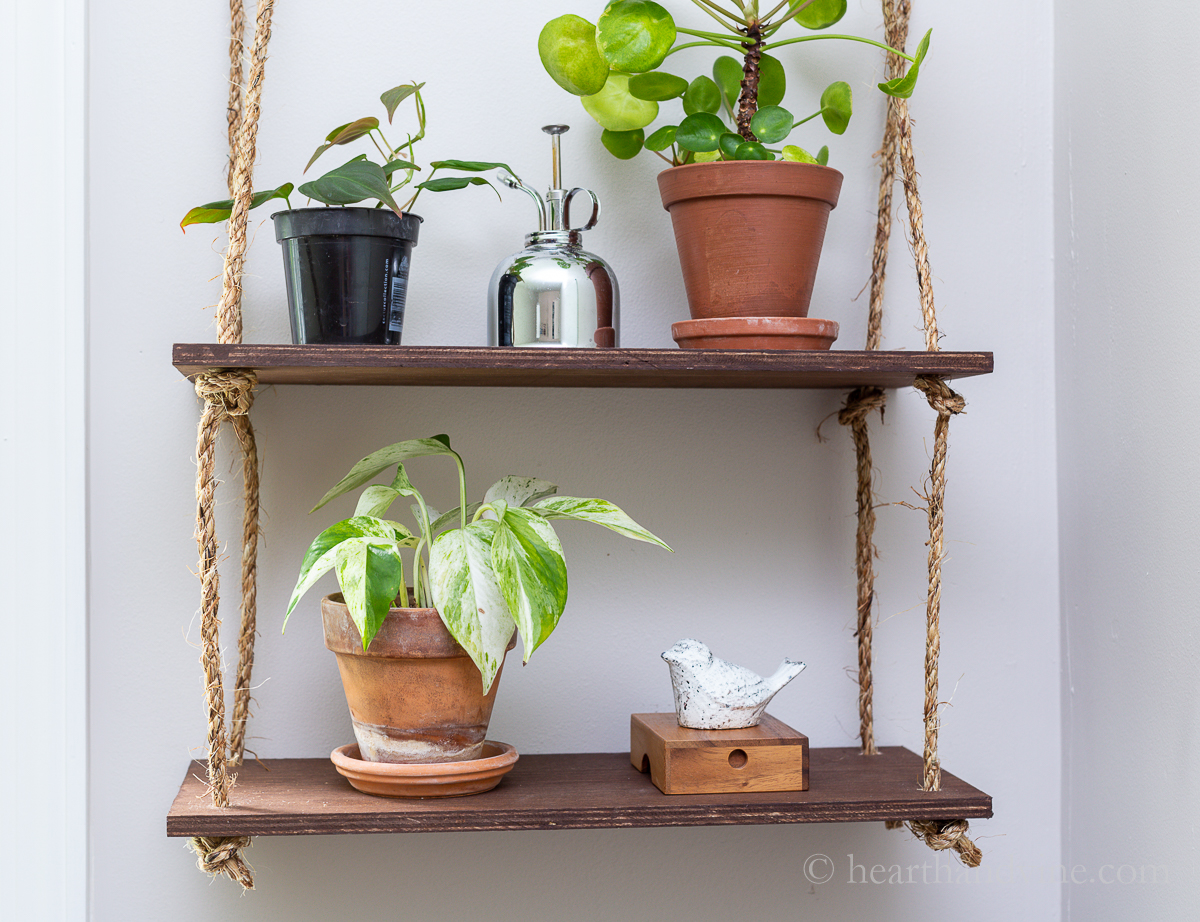 Then comes the best part. Decorating the shelves. I added a couple of plants, a fun ceramic bird on a box, and a silver mister. The natural terra cotta and pretty green foliage from the plants look perfect on these natural shelves.
The rope shelf is hanging next to a window in my husband's office. Prior to this, his wall was totally bare. The addition of the shelf and plants made a huge difference. Just a small reward for all his help.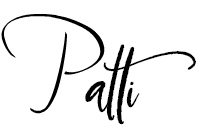 More Indoor Wood Projects
Print
DIY Hanging Rope Shelf
This easy DIY hanging wood shelf project makes a beautiful statement on any wall in your home and requires only a few supplies to make it yourself.
Equipment
Electric Drill (1/8 bit and 3/8 bit)

Scissors

hammer

Level
Materials
2

pieces

of wood

7 in. x 18 in.

Manila rope 3/8 thick

Picture hangers - 10 pound

Paper

Pen

Tape

Wood stain or paint
Instructions
Buy or cut two pieces of wood the length and width you like. Mine are 7 inches deep by 18 inches wide.

Stain or paint both sides of the wood. Let dry.

Stack the wood boards on top of each other.

Cut four 1 inch squares of paper and tape them to the corners on the top board.

Use a 1/8 drill bit and drill through the corners of the 1 inch paper squares.

Then use the 3/8 drill bit to drill through the same holes.

Measure out enough rope for the height you want plus extra to be safe. I used 2 pieces of rope at about 7 feet each. Tape each cut end to help with threading.

Measure the distance between the holes on the long side and hang the picture hangers on the wall at the height you want.

Open the picture hangers to fit the rope.

Start with one board and thread the rope through long enough for the second board and extra for tying knots. - 1 left about 12 inches or so.

Tie a knot under the board.

Then use the other side of the rope and hang it on the picture hanger at the length you like and thread it through the other hole on the same side and knot it underneath.

Repeat on the right side of the same board using a level to make sure it hangs straight.

Then add the second board, by threading the remaining rope, tying knots underneath and using a level to keep them straight.

Trim the ends of the rope.

Decorate as you wish, keeping in mind the weight limit of your hooks.