This DIY rope basket planter is super easy to create, turning any container into a beautiful natural designer looking piece for your home.
I wanted to find a pretty container for my fiddle leaf fig tree. I looked around at some nurseries and big box stores and didn't find anything I liked.
Then I look for a basket in the craft stores but I couldn't find anything that was the right size. In the end, I made one. This DIY rope basket planter project turned out great and it was so easy and very affordable too.
This post contains some affiliate links (that means if you make a purchase after clicking a link, there's no additional cost to you, but I will earn a very small commission. ) i.e. as an Amazon Associate, I earn from qualifying purchases. Click here to read my full disclosure policy.
You can use a number of materials for this project. Some people use sisal rope and mod podge. I used a storage bin from Five below for $5.00 and 1/4-Inch by 100-Feet Manila Rope
with hot glue.
This particular basket took about 100 yards of rope and many glue sticks to cover the box.
I particularly like this bin from 5 Below for a few reasons. It's a good size. It has these cute handles built in. And, the black fabric allows any space that shows from the rope to blend into the shadows.
How to Make a Sisal Rope Basket Planter
Starting at the bottom corner, simply place a line of glue on the container and place the rope on the glue. Continue going around the container until you reach the top.
As always when working with hot glue be careful not to burn yourself.
Tip: Sometimes I will wrap a piece of cotton fabric around my index finger and use it as a buffer to the hot glue when I need to touch what I'm working on. You could try glove but latex may burn and the cotton fabric is a little more durable and you can throw it away when you are done.
I love the way it turned out.
I also picked up a plastic saucer for $.75 to place in the planter to give it some protection in case the pot continues to drain a bit after watering.
It looks a little big for the fiddle leaf fig tree at the moment but that's great because I know it will grow with the tree.
I place a woodblock at the bottom to raise up the foliage a bit. However, since these trees grow fast, and I think this planter will look great on the floor when the tree is 8 feet tall.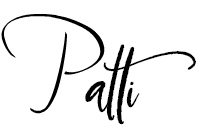 Click Here to Save to Pinterest!