Learn how to make this easy and affordable fabric Roman shade from inexpensive mini-blinds in this step by step tutorial.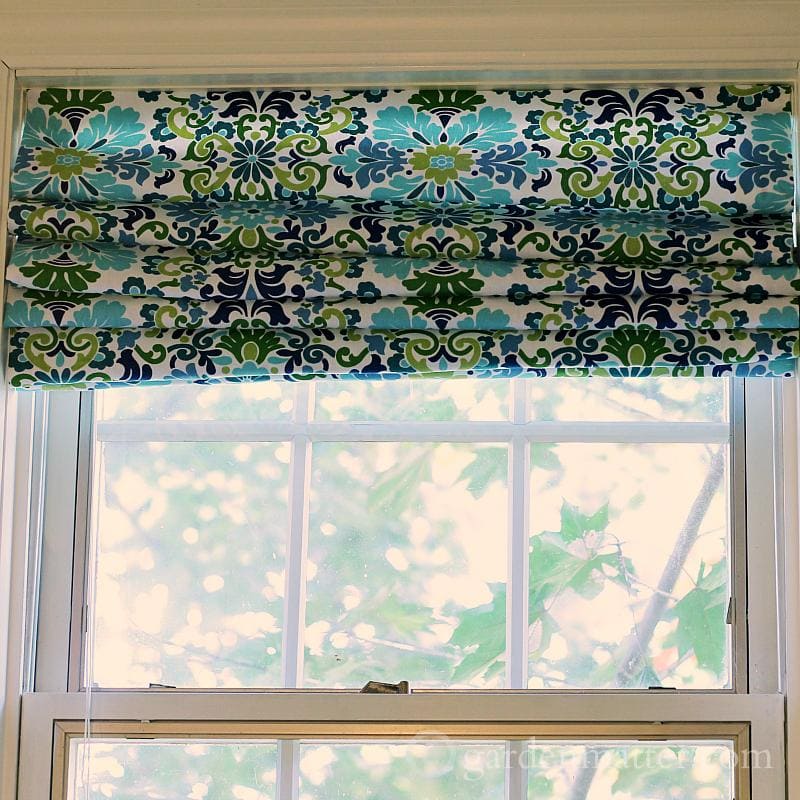 I've always loved the look of roman shades. Many times I've considered making my own, but every time I look at the directions, I felt too intimidated to try.
However, recently I've noticed a bunch of great bloggers showing you how to create a roman shade out of a mini blind. Here's my take on this awesome DIY Roman Shade project.
This post contains some affiliate links (that means if you make a purchase after clicking a link, there's no additional cost to you, but I will earn a very small commission. ) i.e. as an Amazon Associate, I earn from qualifying purchases. Click here to read my full disclosure policy.
Roman Shade Materials
Mid-weight fabric - Measure your window. Add four inches to the width and 6 inches to the length. I bought duck fabric from Hobby Lobby and it worked great.
Cheap mini-blinds - to fit the window of the window. I purchased mine at home depot for around $3.50. That's it! They were a little wider than I wanted so my husband cut them to size using his table saw, but many stores will cut them for you.
Fabric Glue
How To Make Roman Shades with Miniblinds
Find a nice large surface to work. I used our dining room table.
Prepare the fabric
Cut your fabric to size adding 4 inches to the width and 6 inches to the length for hems.
Lay flat and fold over 2 inches on each side and press.
Then fold over 2 inches on the top and bottom and press.
Set aside.
Next lay the mini blind fully open on the surface.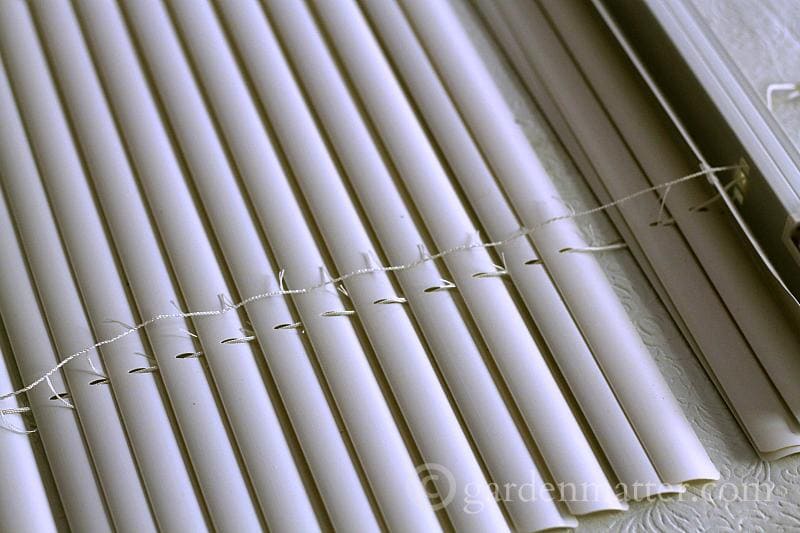 Carefully cut the ladder strings. These are on top and thinner than the pull cords. Do not cut the pull cords which are a little thicker than the ladder strings. You will need them to raise and lower the shade.
Next pop off the plugs located on the bottom rod and set aside.
Pull out the pull cord and cut off or untie the knot.
Then cut the cords to the length you desire, typically the length of the window plus a few extra inches for the knot. Tie a knot back in the cord and replace the plugs.
Then you will need to determine how many folds you want. Most articles suggested between 7-10 inches between folds. My window was 45 inches long. I decided to make the folds 8 inches apart.
If you divide 45 by 8 you get 5.63, so I needed five slats for my shade. The rest can be cut off and thrown away. You can also do this step when you are determining the length of the cords and simply pull off all unwanted slats.
Place the bind on the wrong side of the fabric and measure the distance between the slats.
Turn each slat over and run a line of fabric glue on the convex, or rounded side. Flip over and set into place.
Then glue hems to top and bottom rods.
Let dry overnight.
Hang and admire.
Important Note:
These blinds are not lined. I hardly ever let them down since they are in my office and I want the light. For me, they are more decorative. I can put them down if I need to but the backside is not pretty and a couple of my readers suggest that you may want to add a piece of fabric to the back to cover the slats. One clever reader actually spray painted her slats to match the fabric.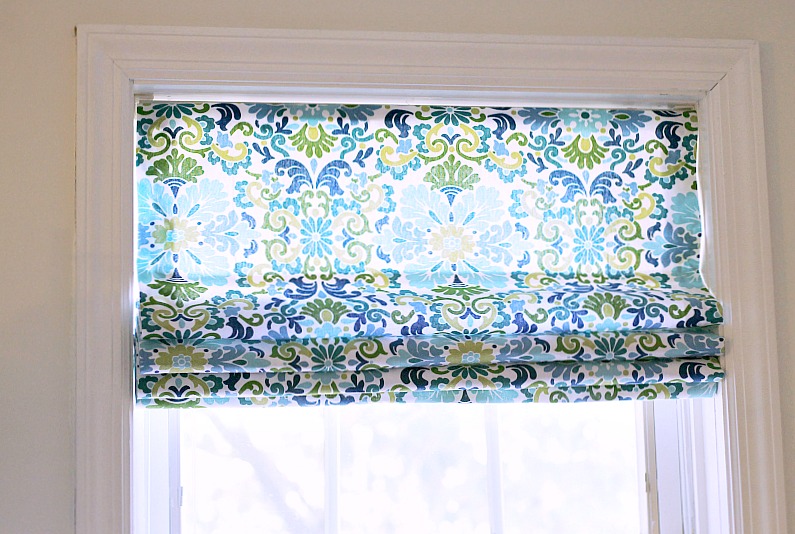 I couldn't be happier at how well they turned out. My office keeps getting better and better.
Pretty soon I won't ever want to leave. 😉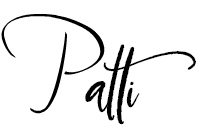 ---
P.S. I've been sewing for a long time. My skills are still very basic but I have come to love all the beautiful fabrics for the home that you can now easily find at the store or online. This beautiful fabric has led me to create several projects on this blog with beautiful fabric. All are easy to create such as Garden Bucket Toolbelt, Bedside Caddy and Fabric Gift Card Holders.