These DIY Thanksgiving table decorations are simple, affordable, and easy to make. A great way to adorn your home on this special holiday.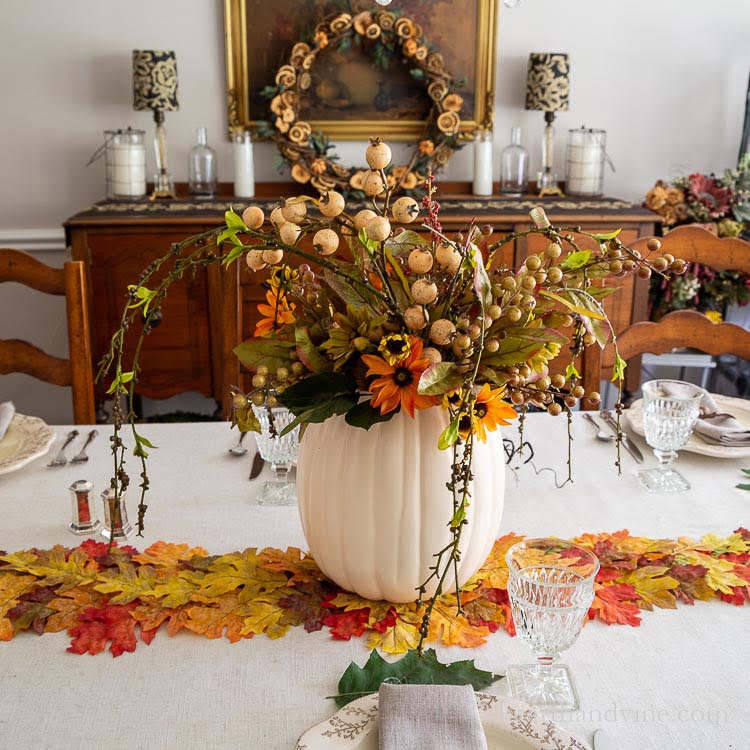 Here are a few Thanksgiving table decorations that I'm using this year. Some have already been posted on the blog and today I'm adding just a couple more to inspire you.
Easy Thanksgiving Table Decoration Ideas
Make a Pumpkin Vase Centerpiece
Did you catch the easy fall leaf table runner post? I think the table runner needs a cute centerpiece on top. Pumpkin vases have been around for a long time. Maybe they are new to you.
I started with a tall artificial white pumpkin. Cut off the top with a serrated knife.
Add some floral foam in the center to give your flowers and stems a place to stand.
Next, start adding in your floral stems. I like to start with some of the larger pieces and then add in smaller ones to fill in.
Tip: Don't forget to turn the pumpkin vase around as you work to make sure it looks good from all sides.
This centerpiece can be easily removed when it's time to eat. That's a good thing because it's pretty tall and wide. If you don't move it you will not be able to see the people on the other side of the table. Also, you may want to place bowls of food on the table for passing around family-style.
Can You Make a Pumpkin Vase with a Living Pumpkin?
Yes, you can use a real pumpkin. It will start to rot pretty quickly but you should have some time, maybe a day or two before it starts to break down. Consider using a plastic container inside and arrange fresh flowers in it. Or, maybe you can find a nice pot of flowers that will fit right inside the pumpkin.
Fresh Leaf Name Cards
Another fun idea is to use a fresh oak leaf as a name card. Pick up a metallic pen and write the names of your dinner guests right on the leaf and place it above the plate. The leaf will start to dry out but it should stay looking good for a couple of days allowing you to work ahead. I wanted to use green leaves to balance out all the fall colors but you could use a pretty colorful fall leaf. In that case, maybe consider using a black sharpie for contrast.
Warm colors are everywhere with this year's Thanksgiving table decorations. I even added a pretty DIY dried fruit wreath on the buffet in the background.
The rest of the table is decorated in neutral colors, including these cute real acorn napkins ties. A fun Gratitude Jar sits in the background waiting to be used.
A pretty Thanksgiving table adorned with autumn colors for a warm and inviting get together. It's just what the doctor ordered.