Learn how easy it is to make these beautiful and natural acorn napkin ties. Perfect for adorning your Thanksgiving table or any time of year.
Thanksgiving is one of the few holidays where I really like to decorate the table. And of course, if I can add a little nature in I'm all for it. A while back I made real pine cone napkin rings that doubled as a place card holder.
Today, I'm sharing an easy craft that uses acorns (we are inundated with them), to wrap around the napkin. I love the shape and color of the acorns that we get in the yard. I'm not sure but I think I've identified the oak trees as red oaks from the shape of the acorns and leaves.
This post contains some affiliate links (that means if you make a purchase after clicking a link, there's no additional cost to you, but I will earn a very small commission. ) i.e. as an Amazon Associate, I earn from qualifying purchases. Click here to read my full disclosure policy.
How to Make Acorn Napkin Ties
Supplies
Acorns from outdoors
Suede lace or cording
Wire cutters or pliers
Drill and 7/64 drill bit
Glue gun and glue sticks
How to Prep Acorns for Crafting
Who knows what lurks in and on the acorns you find on the ground. Start by washing them in some water to get as much of the surface dirt off as you can.
Next, bake them in the oven on the lowest level of heat for 1-2 hours. This should kill any insects or other nasty stuff.
You will find that many of the caps will fall off when you do this however, that's great because you need to pull them off anyway. I found that a tiny flathead screwdriver worked well for prying off any of the caps that were still attached.
Next, match the acorns with their caps with another acorn of similar size.
Use some wire cutters to clip off the stem of the top of the cap.
Then use an 7/64 inch drill bit to make a hole in the top. You could use a different size drill bit depending on what you have and how thick the cord you buy is. If you are unsure, I suggest starting smaller. Test it to see if the cord will thread through the hole. You can always go larger.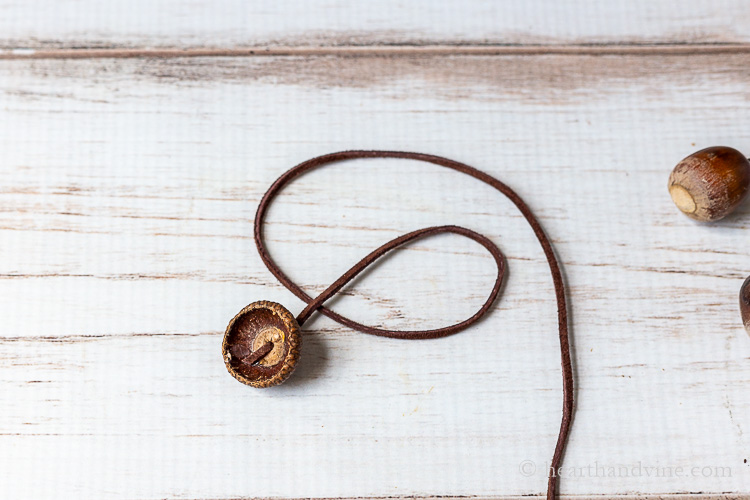 Thread one end of the cord through the acorn cap from the top. Then use a bit of hot glue to glue the cord to the inside of the cap. You can make the cord length as long or as short as you want. I chose 30 inches to make sure that it would wrap around the napkin a few times.
Once it dries, make a knot at the top side of the cap. This is purely for decorative purposes. I think it looks a little like the stem that was cut off, so that's why I added this step.
Next, glue the nut to the cap. Then attach the other end of the cord to the first acorn's mate.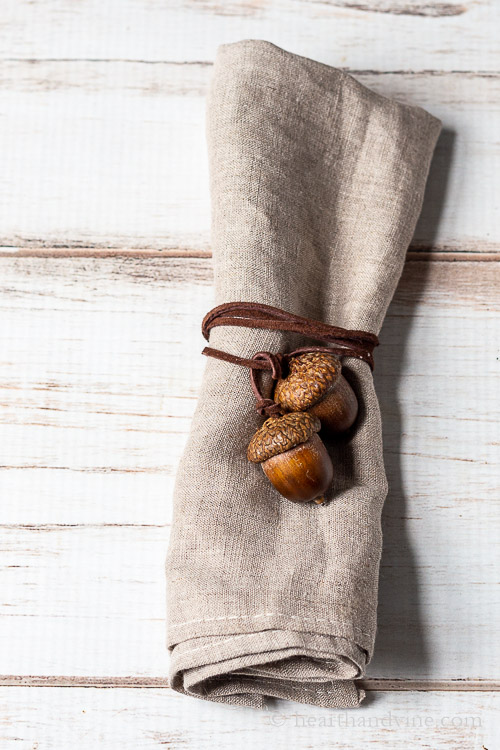 I really love the natural look of this acorn napkin tie, especially for Thanksgiving. Although they would be pretty for any dinner setting all year long. However, you could take it a step further and paint your acorns. Paint the hat gold and leave the nut natural. Or, leave the hat and paint the nut in gold or other bright colors like I did for this mini Christmas tree last year.
And, if you want to be especially generous you could give them as a favor to your guests after the party is over.
More Natural Fall Decorating Ideas