Learn how to make this fun and colorful pinecone flower wreath. Perfect for your fall decor, this pine cone wreath will look great on your front door to greet your guests all season long.
You may have seen the bottom of pine cones painted to look like pretty dahlias. They are so pretty. However, I noticed that pinecones with some of their tops cut off look a lot like daisy flowers so I decided to make a pinecone flower wreath.
This post contains some affiliate links (that means if you make a purchase after clicking a link, there's no additional cost to you, but I will earn a very small commission. ) i.e. as an Amazon Associate, I earn from qualifying purchases. Click here to read my full disclosure policy.
How to Make a Pinecone Flower Wreath
Start by removing some of the scales from the middle of the pine cone. I used wire cutters
for this but you could try strong scissors or pliers.
Next, you need to cut the pinecone in half. I tried to do this with the wire cutters but it was too hard. Then I tried a hand saw but it took too long.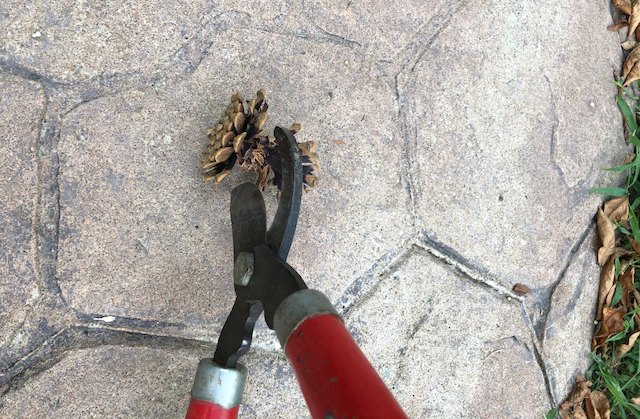 Finally, I used a pair of tree loppers and it was juuuuusstt right. Fast and efficient.
See how the bottom of the pinecone looks like a flower? The top also has a flower quality but not as much. I ended up using both parts for this wreath.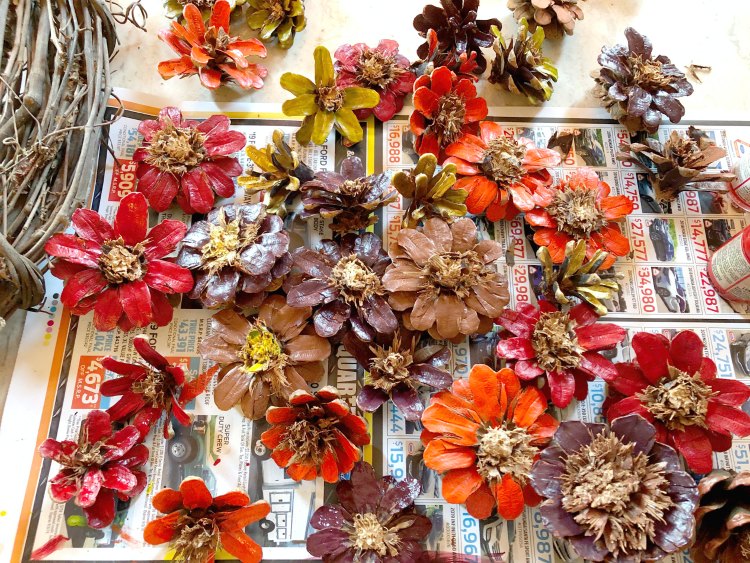 Now for the fun part. Painting the flowers. I went back and forth on this part. On some, I painted the middle with gold metallic paint. Then I switched to yellow. In the end, I left most of them natural and only painted the petals.
Use hot glue to attach the flowers to a grapevine wreath.
Concentrating on the bottom middle section first then working your way up the sides.
Sometimes when I'm making something like this I will lay out the flowers without glue and take a photo with my phone. That way I can play around a bit to get them just the way I want them before using glue to permanently set them in place, and I have the picture to refer back to.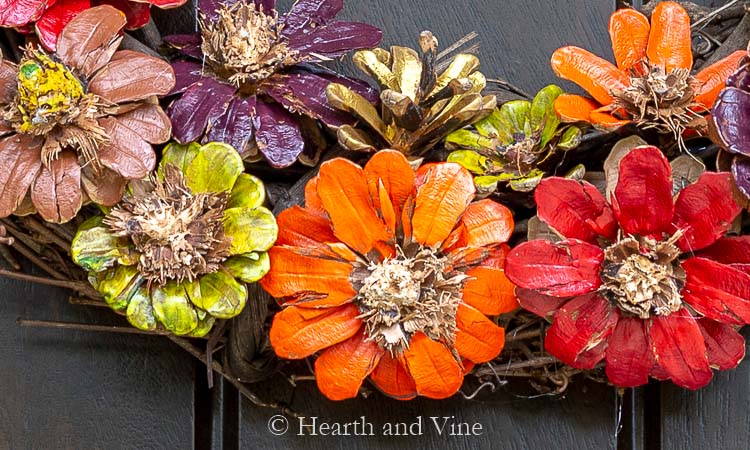 Great Reader Tip:
Jill writes: "May I suggest putting the pine cones in the oven at 300 for a few minutes on a foil-lined cookie sheet or a quick dip in bleach water just to be sure that all uninvited guests (bugs) are dead."
This wreath will hang on my front door for fall so I used lots of orange and red. However, I think it would look great with spring colors or bright colors for the summer. You could even choose no color at all for a pretty natural look. The choice is yours.
A little burlap bow tops off the wreath and is ready for fall.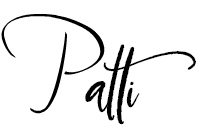 ---
P.S. You may also like these Scented Pine Cones for fall or this Mini Pine Cone Christmas Tree for the holidays. Find them and much more on my DIY Projects Page.
Click Here to Save to Pinterest!