Enjoy this fun and easy list of 7 alcohol ink projects for gift making and home decor. If you haven't worked with this beautiful art medium you will be amazed at how stunning the effect they have on many surfaces.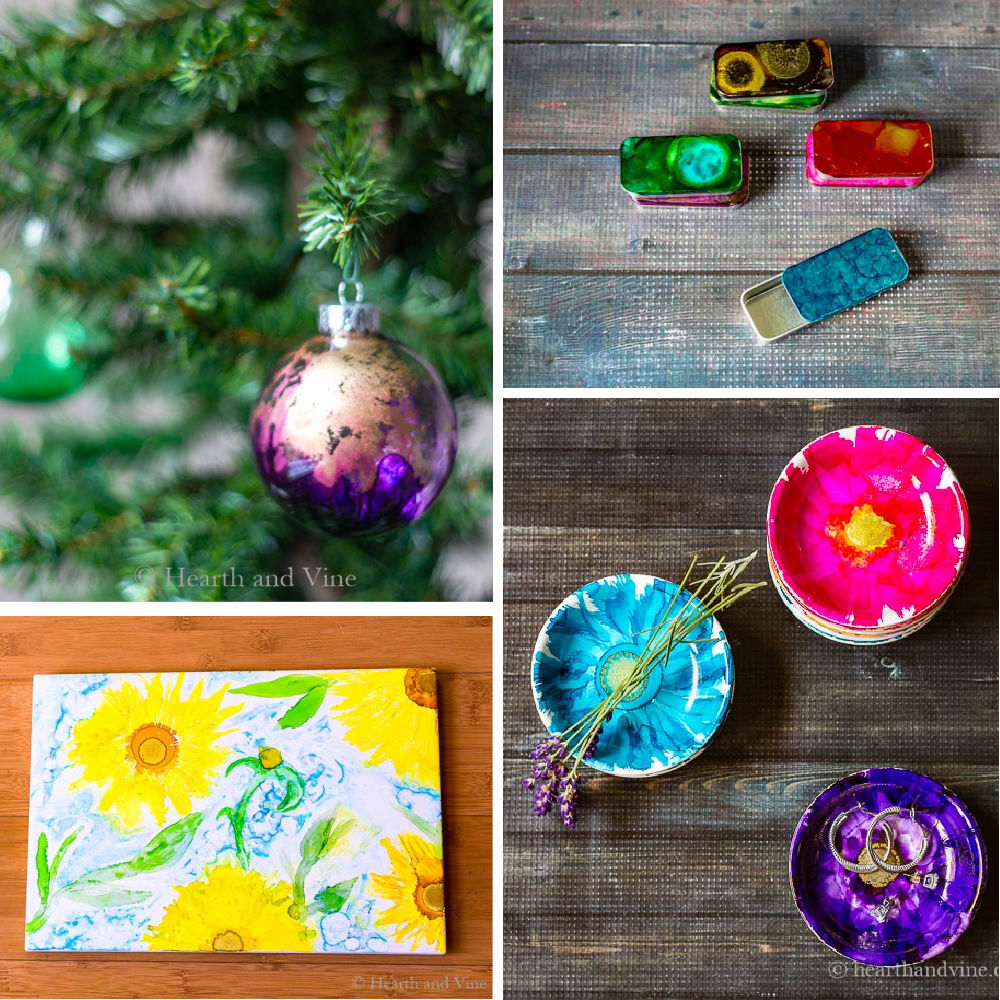 I've used alcohol inks for many crafts, gifts, and home decor. They are very easy to work with and the creative results never fail. I especially love the vibrant transparency nature of the ink and today I've rounded up some of my past projects to give you an idea of how they work, and inspire you to create your own.
What are Alcohol Inks?
Alcohol Inks are highly pigmented alcohol based inks. They dry fast as the alcohol evaporates leaving the pigment behind. They can be diluted with isopropyl alcohol that allows the colors to blend and can also be used to remove the dye.
How to Use Alcohol Inks
This beautiful paint medium is best used on non-porous surfaces to allow the inks to bleed and move to create beautiful art. Yupo paper, a non-porous paper made from plastic, is typically used for paintings. However, you will see in the list below that I have used ceramics, plastic ornaments, metal, and other non-porous materials to create interesting items with alcohol inks.
Durability of Alcohol Ink Projects
The projects that I have made with alcohol inks were sprayed with a sealant that helps protect them. I believe they are not lightfast, meaning they made fade if exposed to prolonged sunlight. All of my project ideas are indoor projects so this has not been an issue.
Alcohol Inks and Safey
This pretty paint medium is made with alcohol so as you might suspect it is hazardous. It's flammable and gives off some fumes. The dyes will stain your hands so you will want to wear gloves and work in a well-ventilated area and cover your workspace. You can also refer to this safety data sheet from one of the manufacturers for specific details. In addition, this video shows you specific precautions that you may want to take when using alcohol inks.
I hope the following list gives you all kinds of ideas for crafting with alcohol inks. Make beautiful art and home decor for yourself or to give out as special unique gifts.
7 Things You Can Create with Alcohol Inks
Alcohol inks are a great art medium that easily allows you to create one-of-a-kind pieces of art and many other fun projects like the ones listed below.