These gazing balls, perfect for gift giving, are super easy to create and can be used in the garden or as a tabletop decoration.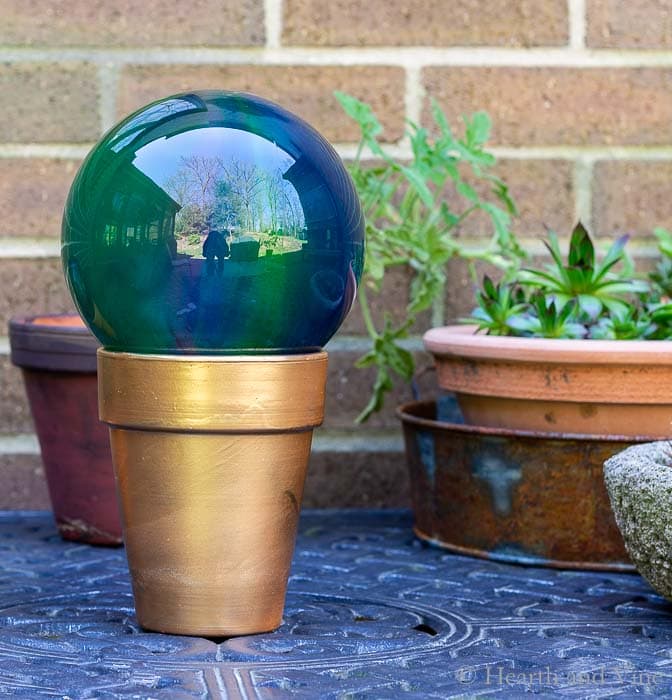 Today I'm going to show you how to make a simple gazing ball with Mod Podge, neon food coloring, a clear plastic light fixture, and a dollar store vase.
Gazing balls were all the rage when I first started gardening, and when I started blogging I noticed a ton of DIY gazing balls. You may have seen them too. You know the ones made from bowling balls or light fixtures with marbles or gems glued all over. They are all so beautiful.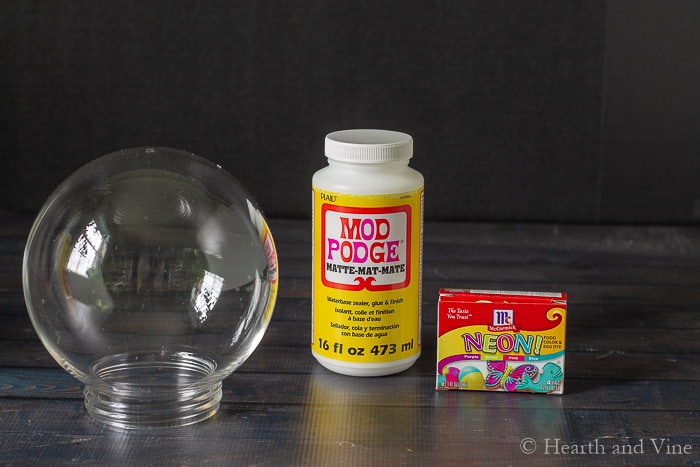 This post contains some affiliate links (that means if you make a purchase after clicking a link, there's no additional cost to you, but I will earn a very small commission.) i.e. as an Amazon Associate, I earn from qualifying purchases. Click here to read my full disclosure policy.
Supplies
Globe fixture

Mod podge

Neon Food Coloring

Clay pot
Gold Spray Paint (optional)
Update: I've had the two gazing balls on my uncovered porch for a few months and they still looked great. However, when I placed them in the garden the smaller glass vase did start to melt a little and parts of it were white. The larger plastic version seems okay but maybe a little faded. I suggest that you place it in a shady part of your garden.
A reader offers the following:
"They work great with acrylic paint and PVA glue. I've had mine in full sun for over a year and they still look as good as new. Put them on top of 50p solar lights and they still light up regardless of the paint covering them." ~ Andrea
More reader suggestions are in the comments section at the end of this post.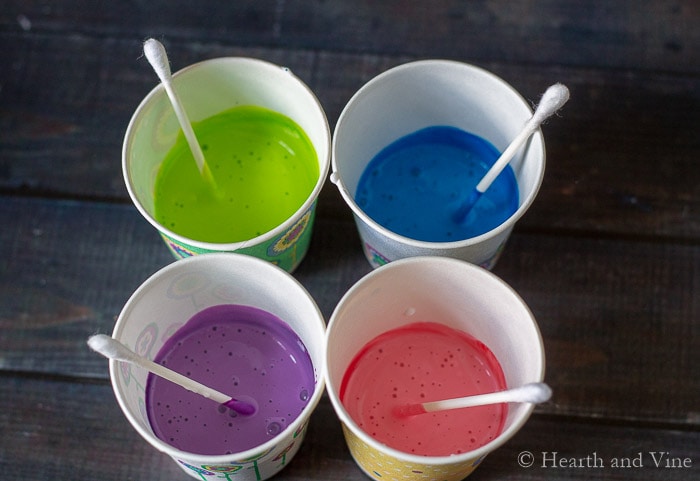 Start by mixing some of the Mod Podge and food coloring together in small cups. I stayed with the four colors that came in the box. However, they also have ratios for mixing even more colors from the original four. Use several drops of food coloring to get the color you like.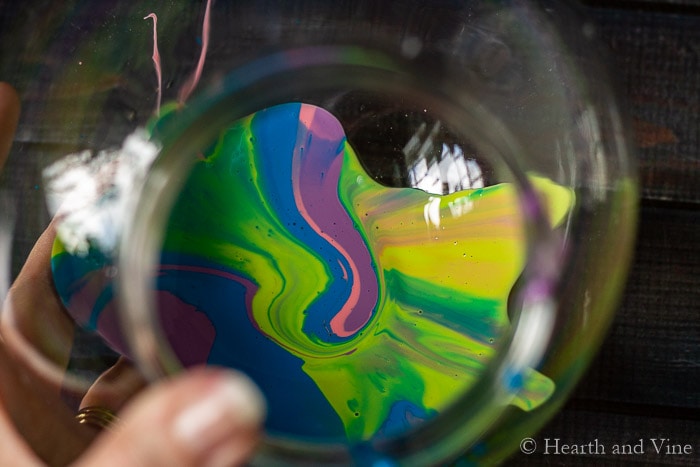 Pour a little of each into the bottom of the ball and swirl them around.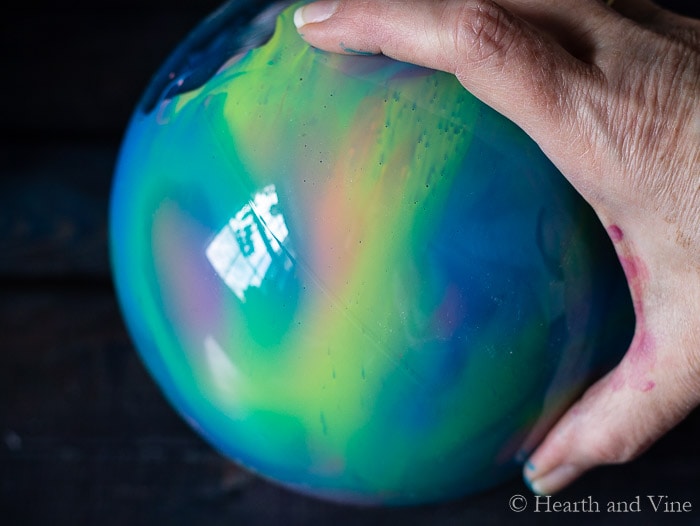 Continue rolling the ball around, allowing the entire ball to be coated with the mixture. Add more of the colored glue mixture if needed.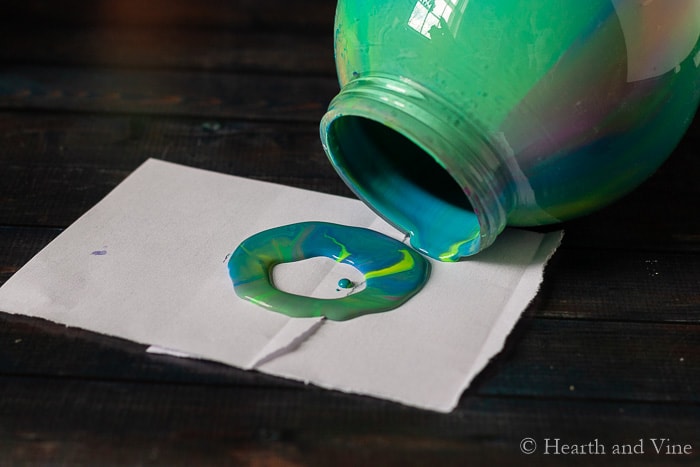 Once it is coated place it on some paper and allow excess paint to drip out onto the paper.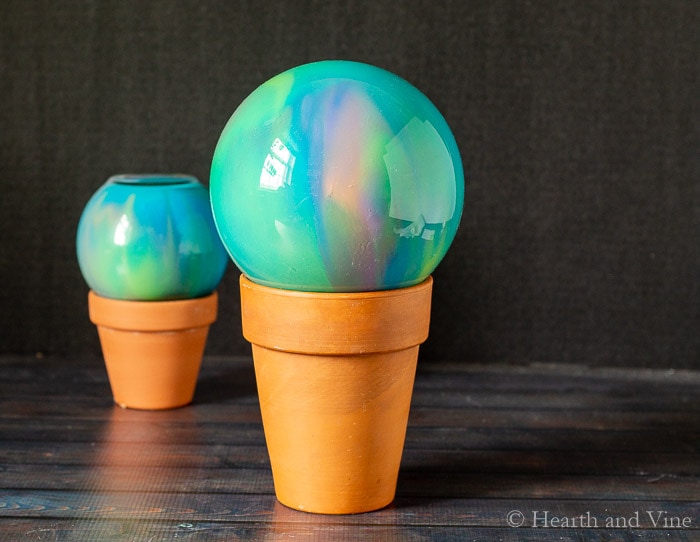 Here's what they look like while the Mod Podge is still wet. They look so pretty that I'm thinking about trying this with a white base next time. Maybe some white craft paint, or leftover house paint.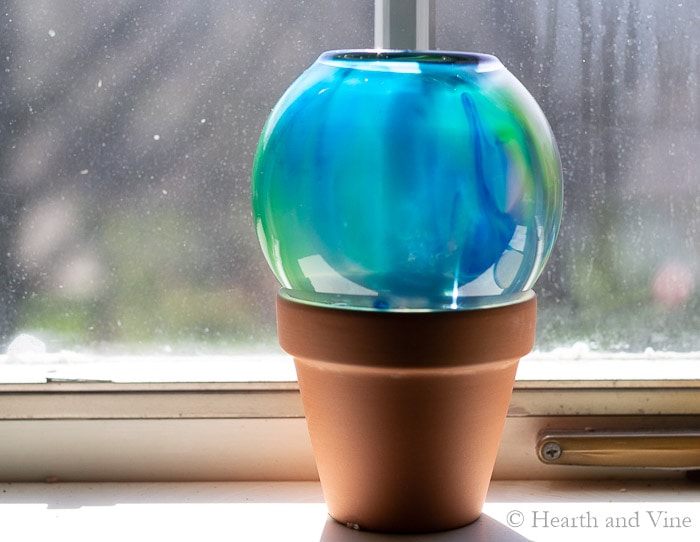 Here's what it looked like the next day. This particular one is a little glass vase from the dollar store. It's cute but has a flat top which is why I decided to buy the vinyl light fixture online for a true ball-like effect.
DIY Gazing Balls
They fit nicely on clay pots. My daughter suggested that I spray paint one of them gold. Good idea, huh?
Now I need to find the perfect spot in the garden, or maybe I'll just keep them out as a cool tabletop decoration.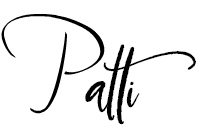 ---
P.S. If you enjoy making garden art you may like my post on a Leaf Embossed Fountain. Or, this Seashell Windchimes. Just of a few of many DIY/Projects to enjoy creating.