Looking for glass cloche decorating ideas? See how you can make a beautiful and long-lasting dried flower arrangement under a cloche.
Glass cloches are glass domes that were originally used as mini greenhouses to protect seedlings and small plants. Today we often use them as part of our home decor. I picked this one up at a craft store but you can often find them at antique, vintage, or thrift stores too.
They are sometimes referred to as glass bell jars as they are shaped like a bell. You can use them as part of your seasonal decor, or fill the bottom with collections you find on vacation. However, today I'm going to create a dried flower arrangement that can be used all year long.
This post contains some affiliate links (that means if you make a purchase after clicking a link, there's no additional cost to you, but I will earn a very small commission. ) i.e. as an Amazon Associate, I earn from qualifying purchases. Click here to read my full disclosure policy.
How to Create a Dried Flower Arrangement Under a Cloche
Supplies
Dry Floral foam or flower frogs
Small plant saucers or a small dish
Hot glue gun and glue sticks
Scissors
These metal flower frogs would be great for this project but are not a must.
Instead, you can easily cut some floral foam and hot glue it to your saucer or dish.
Start by testing a tall flower to get a feel for the height under the cloche.
Then add a few taller flowers and stems in the middle of the foam. Vary colors and textures.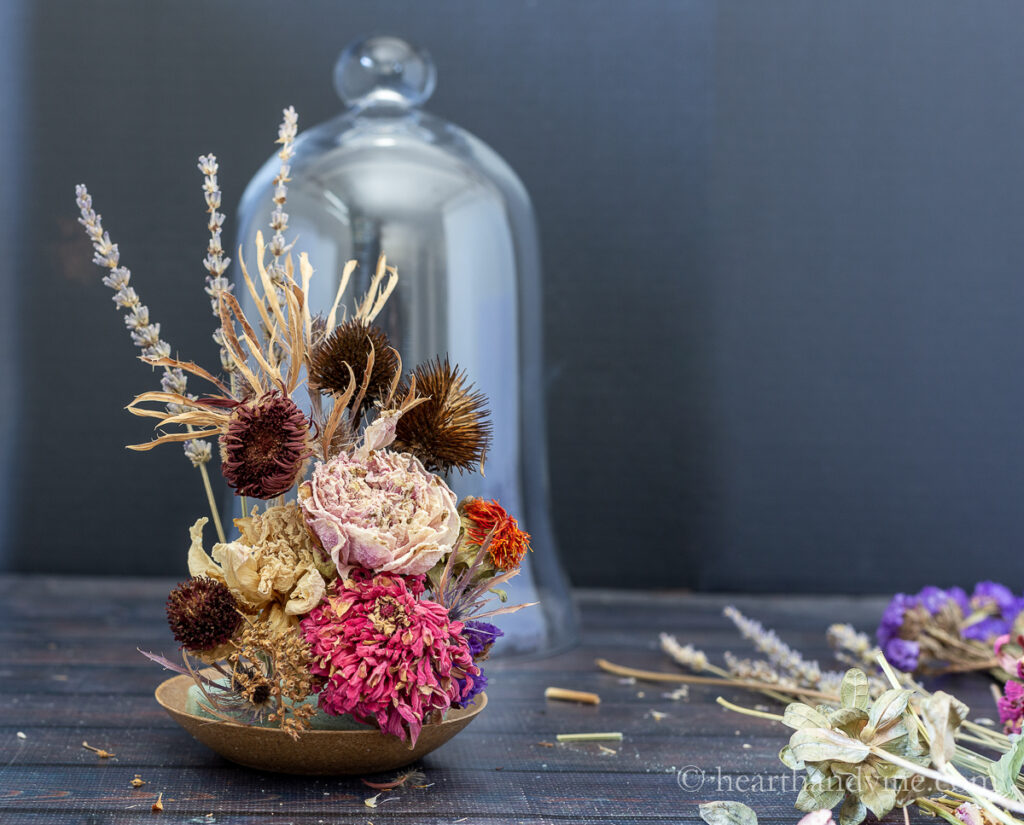 Next, start building the midsection with larger flowers. You can even add one or two towards the bottom like the zinnia shown above.
Finish by filling in with smaller pieces. Don't forget to turn the base around to check out all sides. Also, test the arrangement's fit by placing the cloche on top as you go.
Where Can I Get Dried Flowers?
There are some sources on the internet that sell dried flowers. However, most are pretty pricey.
Crafts stores sell some dried flowers but their inventory is small.
Dry your own. Cut some from the garden or buy fresh at the market and hang them in a cool dark place to dry. Some may be ready in a week or two.
Consider using artificial flowers
When you are finished with the dried flower arrangement cover it with the cloche and set your masterpiece on a table top as part of a vignette with candles or alone and enjoy.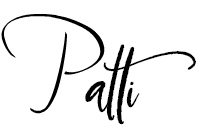 More Glass Cloche Decorating Ideas
Print
Glass Cloche with Dried Flowers
Learn how to decorate a glass cloche with dried flowers underneath for a beautiful indoor display.
Equipment
scissors

Hot glue gun and glue
Materials
Dried flowers

Glass Cloche

Round dish or saucer

Dry Floral foam
Instructions
Cut some floral foam and hot glue it in place on a small saucer that will fit under the cloche. You could also use a flower frog.

Start arranging the flowers.

Test a tall flower for height to fit with the cloche on.

Then add a few more tall pieces in the center.

Next, add some large flower heads in the midsection.

Fill in with small flowers and dried filler pieces.

Look at the arrangement from all sides.

Continue to test the arrangement with cloche for fit.

Move the base to the place you want it and add the cloche.
Notes
You could also do this with artificial flowers.
Consider adding non-floral pieces into the arrangement too. Things like shells, beads, ribbons, etc. However, you may need to glue these into place.