Enjoy this mother's day gift guide filled with 10 ideas for the perfect items to give mom or any special lady in your life.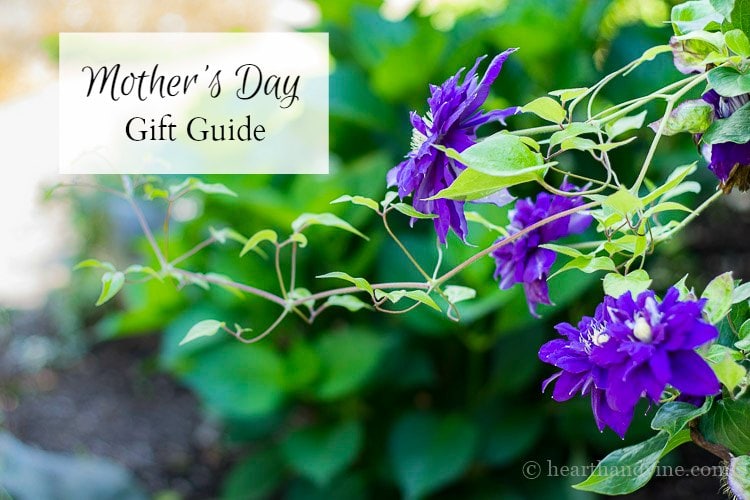 this post contains affiliate links for your convenience. Click here to read my full disclosure policy
Here's a Mother's Day gift guide with 10 affordable ideas to consider for mom, if you don't have the time or inclination to make one yourself.
If you are the handmade type, you may also be interested in our Tuesdays in the Garden post where everyone shared ideas for easy to make Mother's day gifts.
Mother's Day Gift Guide
If you are interested in purchasing any of the products,
simply click on the image.
For The Garden
This is a super convenient and beautiful wood and wire harvest sieve that you can throw over your arm, and toss in your veggies or flowers. Take them over to the hose and easily wash them off before going into the house.
How adorable is this blue and green solar powered bird stake for the garden. Small enough to work in any garden bed, path, or even a large pot on a balcony.
Everyone is in love with this new book from Floret Farms. Great inspirational and instructional info and this one also doubles as a beautiful coffee table book. Their gorgeous dahlia selection and wonderful photography will have you wanting to grow flowers in no time.
For The Home
This portable waterproof bluetooth speaker is a great idea for moms. She can listen to her favorite tunes in the tub, kitchen while cooking, outside while gardening, or entertaining guests. It even floats in the pool.
These super cute floral measure cup set, stacks up nicely for easy storage, and is pretty enough to display on the counter.
Just For Mom
Moms always love a good hand cream any time of year, and this trio of lavender, citrus and pomegranate mulberry looks like a great one and is made with nourishing shea butter, vitamin E and argon oil.
Everyone, especially moms, can use a good lip balm. This popular brand has a nice broad spectrum SPV of 30 to keep her lips soft and healthy.
When All Else Fails
Flowers are always appreciated. Check out this article from Country Living sharing some of the best delivery services for sending a beautiful bouquet right to mom's door.
I hope you enjoyed this Mother's Day gift guide, and that it inspires you to buy something really nice for your mom, and maybe something for yourself. 🙂
You May Also Like: