Painting gourds adds a little whimsy and color to your fall decor. Create a small hole, and you have a cute birdhouse look for your mantel or other vignettes.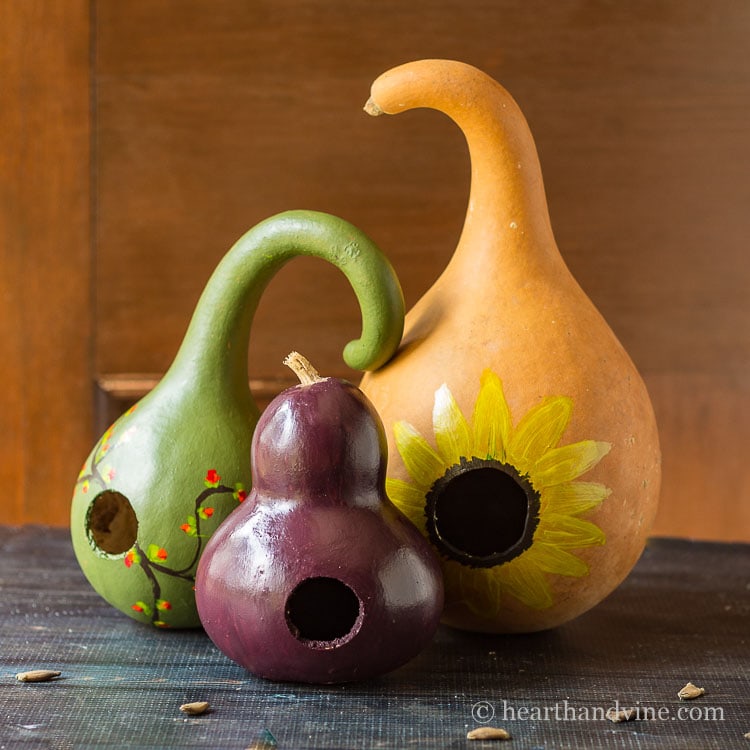 Painting gourds is a great project to do with the kids, or even with a group of girlfriends when hosting a girls' night out. The process is pretty simple and the cost is minimal. Perfect for decorating during the fall season or any time of year.
This post contains some affiliate links (that means if you make a purchase after clicking a link, there's no additional cost to you, but I will earn a very small commission. ) i.e. as an Amazon Associate, I earn from qualifying purchases. Click here to read my full disclosure policy.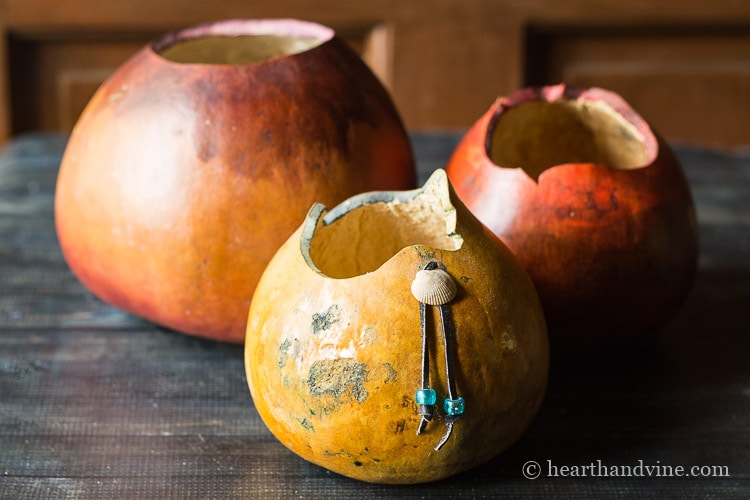 The gourd bowls above were painted by my daughters and me over 15 years ago. We were on vacation at Wintergreen resort, and they offered this wonderful activity for families.
I remember that they used dried-out gourds
for this project. They were already carved for us. All we did was paint them with leather paints provided by the resort.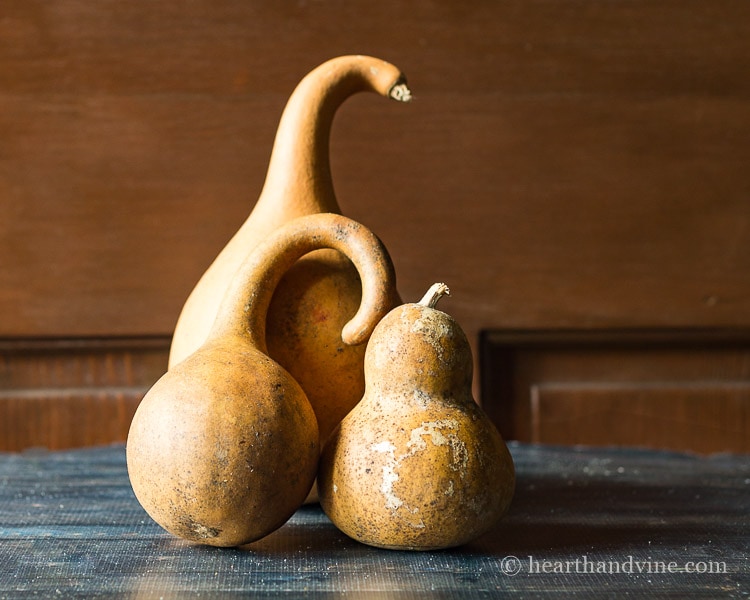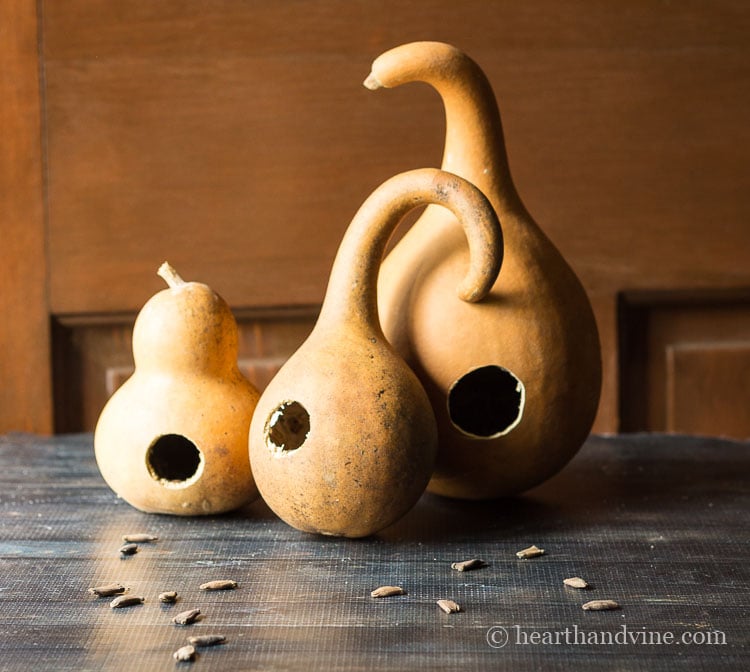 Preparing and Painting Gourds
You can also dry gourds that you have grown in the garden and use them for this craft. You can also buy them online in a variety of shapes. Since I had these old gourds lying around, I decided to paint them for our fall mantel.
First I drilled a hole to give them a birdhouse look. All you need is a small hole saw blade
that you can attach to your drill. Use a nail to make a pilot hole first. That helps keep the drill from jumping around.
Note: These painted gourds are meant to be decorative birdhouses only, and should be kept indoors.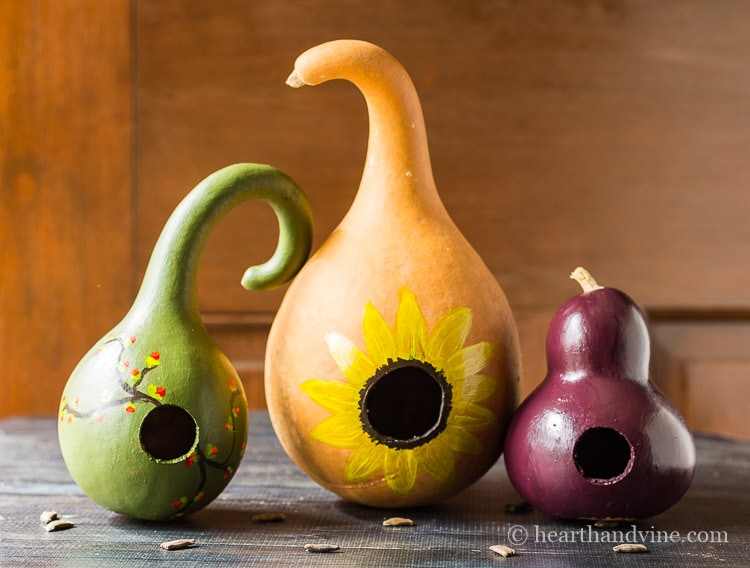 Clean out the gourds
by shaking out any old seeds or fiber. There were quite a few old seeds inside. I wonder if they are still viable.
Then use some sandpaper or an emery board to smooth out the opening.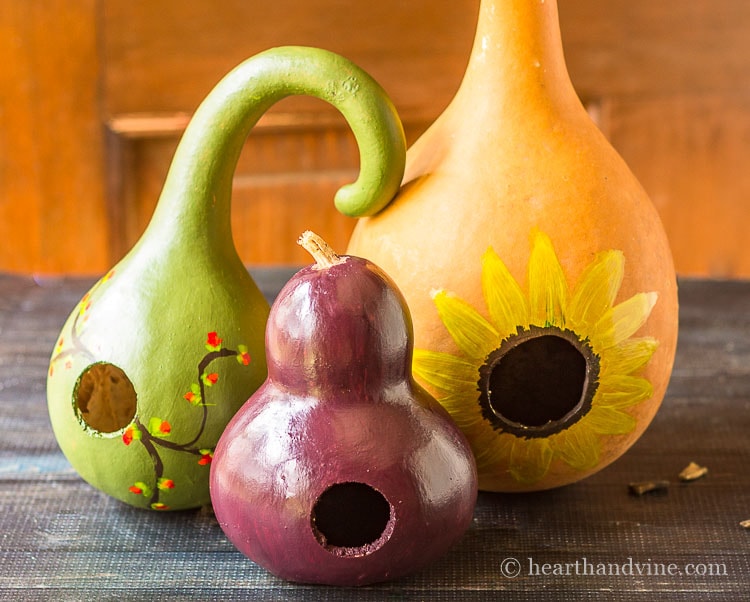 In Wintergreen we used leather paints and that is what I used here. The colors are very rich, are easy to apply, and don't tend to fade. I'm not 100% sure but I bet you could use craft acrylic paints or alcohol inks instead. Either way, give them a good coat or two of spray polyurethane after the paint is dry for extra protection.
I really like the way they turned out. Vibrant with a nice cozy autumn feel.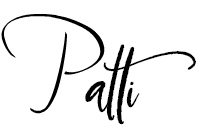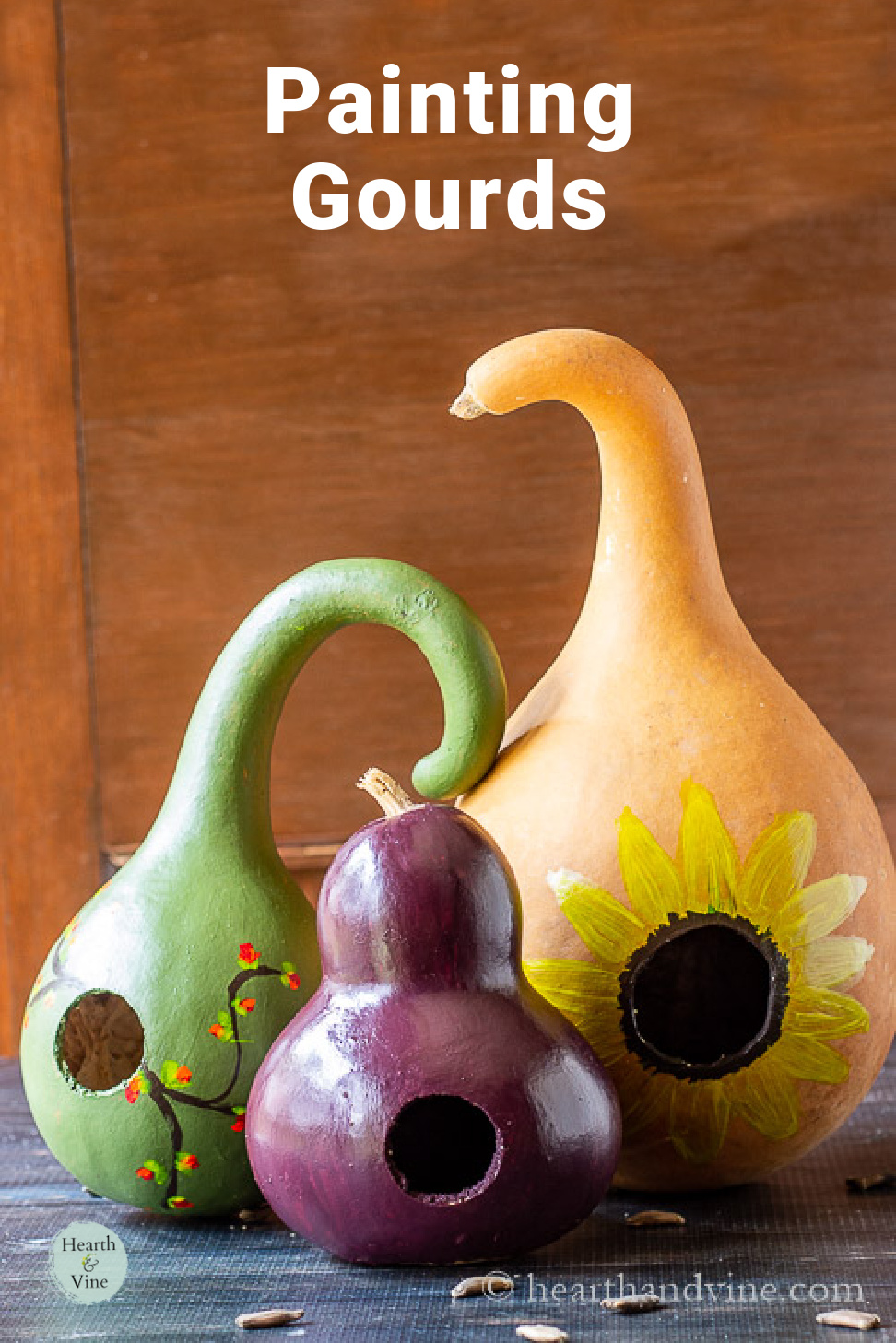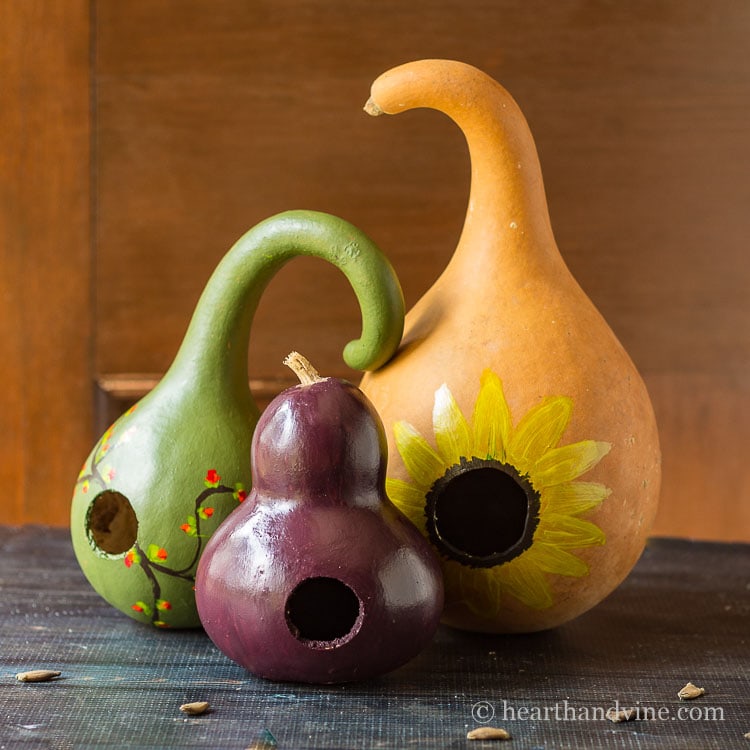 Print
How to Paint a Gourd Birdhouse
These decorative birdhouse gourds are easy to create with dried garden gourds and paint.
Equipment
Drill with a hole saw blade

Sandpaper

Brushes - sponge and smaller paintbrushes for detail.
Materials
Dried gourds

Leather paints

Spray polyurethane
Instructions
Drill an entrance hole in the front with a hole saw attachment.

Remove any old seeds or loose material from the inside.

Sand the edges of the hole.

Clean gourds with a little soap, bleach, and water and allow them to dry to prevent mold.

Use leather paints to cover the outside of the gourd. Let dry then add accents as desired with a small brush.

Once dry give the gourd a coat or 2 of spray on polyurethane as a sealer.
Notes
These are meant to be displayed indoors as they would get ruined outside in the elements.
If you don't have a hole saw attachment you could drill a large hole and use a craft knife to make your opening.
You could try using acrylic paints for accents or over the entire gourd instead of using leather paints.