This rainbow mason jar salad is a convenient way to create a colorful and healthy salad, that you can prepare ahead, for a light meal on the go.
Rainbow Mason Jar Salad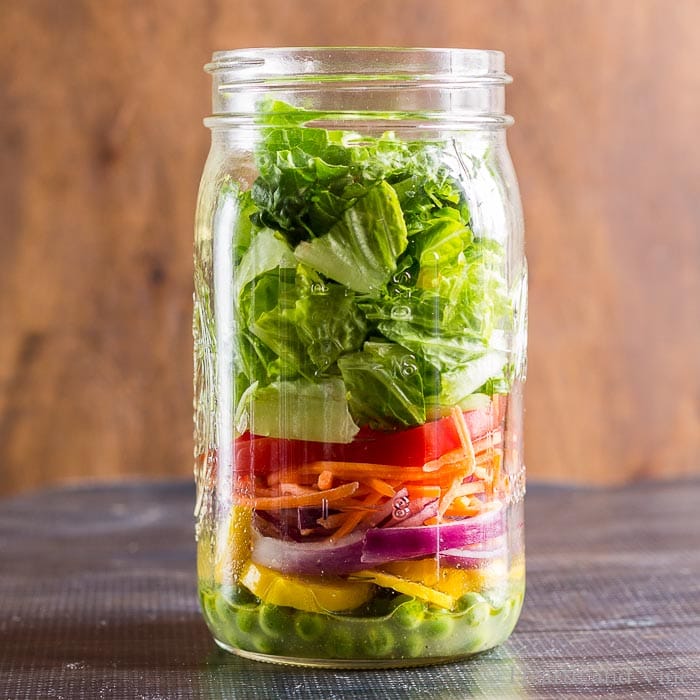 We all know that salad is a great way to eat light and healthy. According to this article from EatingWell, "To get the maximum disease-fighting power that phytochemicals can provide, choose foods that represent all colors of the rainbow. " That's why this rainbow mason jar salad is a keeper.
Eating colors of the rainbow is not too hard to accomplish with a salad. However, if you want to take one on the go, you either have to pack your dressing separately, or risk a soggy mess.
The Solution: Create a rainbow mason jar salad. Here, you start with your dressing on the bottom of a quart mason jar. I'm using some Meyer Lemon Vinaigrette.
Next add those veggies which can hold up to the dressing for a few hours and not break down and become soggy. I'm using fresh peas and summer squash, however any firm veggie would work. Zucchini, radishes, sliced beets, carrots and celery are also good choices.
Leave the lettuce for last. Then when you are ready to eat, just shake and pour.
Now you can make your lunch the night before and have a crisp, tasty, and beautiful salad next day.
This would also work great to pack for a picnic or a lunch when traveling.
So pretty. If it is true that "we eat with our eyes," then this rainbow mason jar salad should entice just about anyone.
You May Also Like:
The Best Salad Seasoning Mix to Make or Gift
Middle Eastern Bread Salad - Fattoush
Grilled Corn and Avocado Salad Recipe
Nine Fabulous Salad Dressing Recipes
Classic Chopped Salad: Have it Your Way