Enjoy a few affordable and simple table decorations that you can easily create for all your spring entertaining.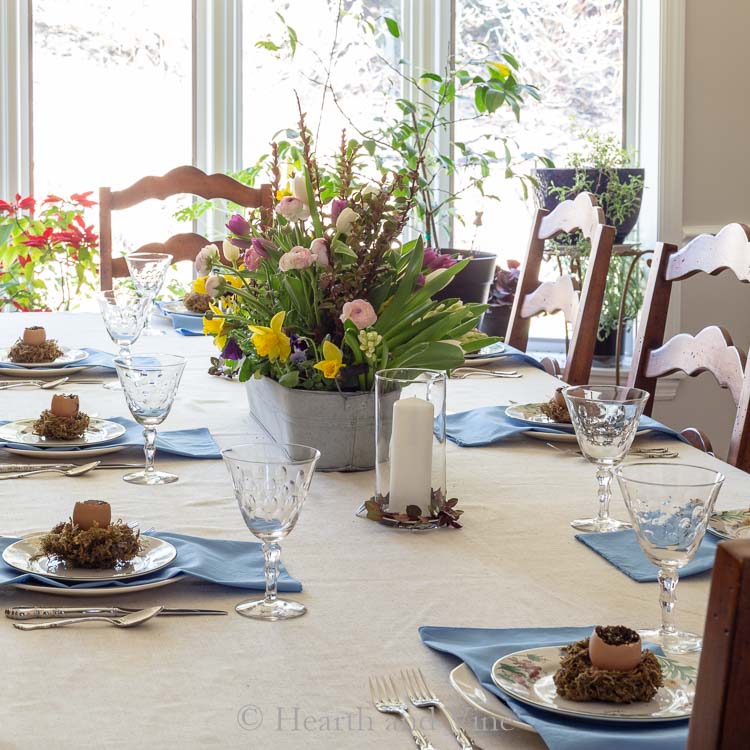 We always host Easter dinner at our house and I love having the chance to decorate our dining room table for this occasion. It's a nice size room with a large table and many of my houseplants but we hardly ever use it. Spring is especially fun because I get to work with amazing spring flowers.
This post contains some affiliate links (that means if you make a purchase after clicking a link, there's no additional cost to you, but I will earn a very small commission. ) i.e. as an Amazon Associate, I earn from qualifying purchases. Click here to read my full disclosure policy.
Simple Table Decorations for Spring Entertaining
This spring table decor is super easy and affordable. I hope you are inspired to create something for your own home from the ideas shown here today.
Easy Floral Centerpiece
Did you notice the huge Easter centerpiece? I used a bunch of small bottles and a couple of empty tomato paste cans in this galvanized container to hold them in place.
You could make this arrangement several days in advance and when you are ready to eat simply move the entire centerpiece to another table. Don't have a galvanized tub? No problem. Any container will work. A narrow box or even a bright colored plastic bin would work.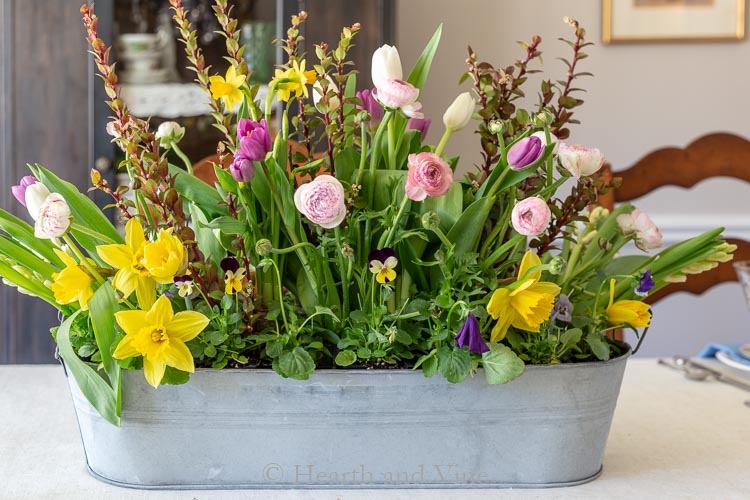 The flowers were purchased at Trader Joe's for about $25. Not bad for 6 bunches of flowers. However, you probably already have some daffodils and other spring flowers in your backyard. Use them instead to cut down on the cost. Branches from flowering shrubs and trees work great too.
I also had a couple of cell packs of pansies and violas leftover from a flower pounding project. They were perfect for sticking around the edges to fill in the empty space and hide the containers underneath. You could also stick some moss in and around the base to use as filler.
Eggshell Planter Nests for Favors
Last week I wrote about using eggshells as seed starting planters for Easter favors. Here they are. Don't they look great on top of this place setting?
The nests are made with simple moss
that you can get at the dollar store. I used spray adhesive
to help hold them together. It's a little messy to work with so cover your workspace and wear disposable gloves.
Making Custom Napkins
The cute wildflower plates were a recent Goodwill find. I wanted to match the blue in the plates, (my favorite color) so I bought a couple of yards of blue cotton fabric and made my own napkins.
To make them for your table purchase 2.5 yards of cotton fabric (44 inches wide) in the color of your choice. Prewash and iron.
Then split the fabric in half lengthwise and cut four sections to make 8 napkins.
Finish them by using a simple overcast or zigzag stitch around the edges. You could also skip sewing and use pinking shears or turn over the edges with iron-on fusible webbing
.
I think the blue adds a nice pop of color.
If you end up using cell packs from the nursery, cut them into individual sections. That will make it easier to tuck them in wherever necessary.
The last simple table decoration idea I have is using a branch of the greenery to make a candle wreath. I did use some from the Trader Joe's purchase but you could easily cut a branch from something in your backyard. Flowering shrubs like forsythia or crabapple trees that are starting to bloom in the spring would be perfect.
Spring is a time for renewal and new beginnings. A great time to celebrate with all the wonderful people in your life. Use these ideas to help make it even more festive.