Transplanting aloe vera is a great way to maintain a healthy plant. Especially those plants that are top heavy, are leaning over, and have several pups. They are great candidates for re-potting.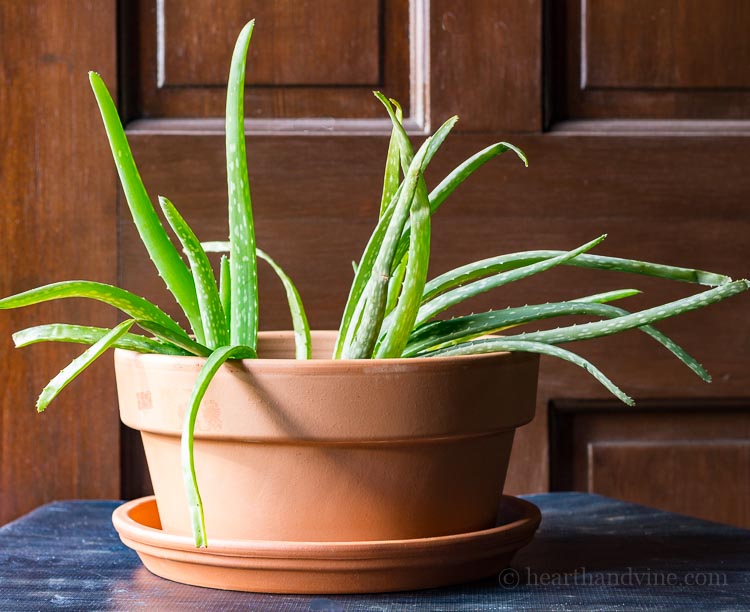 Though they may be one of the easiest houseplants to grow, repotting aloe vera is sometimes a necessary task.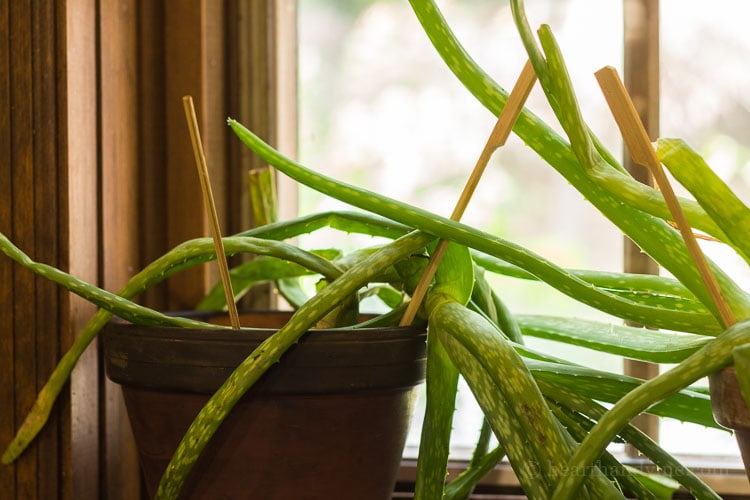 I had a couple of aloe vera plants on my windowsill in the kitchen. After all, what's better than aloe vera gel for its healing properties in treating an oven burn? The light is not the brightest here, but the plants continued to grow and thrive. However, as you can see if you look closely, the current pot is super top heavy with leaves leaning over the rim of the pot.
This post contains some affiliate links (that means if you make a purchase after clicking a link, there's no additional cost to you, but I will earn a very small commission. ) i.e. as an Amazon Associate, I earn from qualifying purchases. Click here to read my full disclosure policy.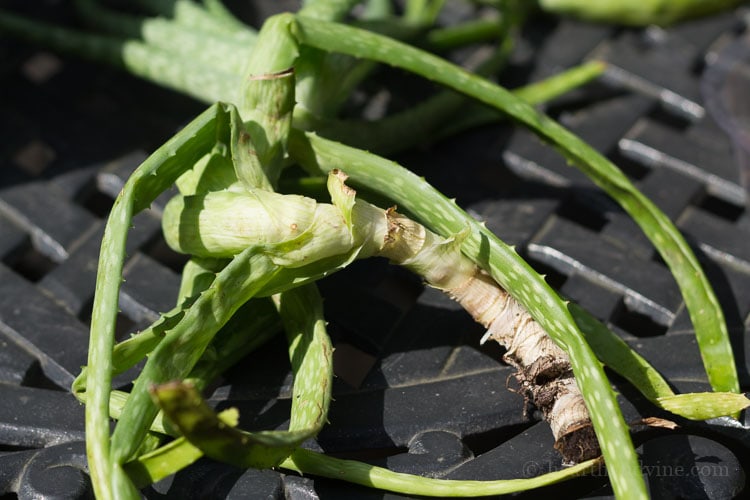 Repotting Aloe Vera Plants
Start by removing the entire plant from the pot. Just look at how long the base is.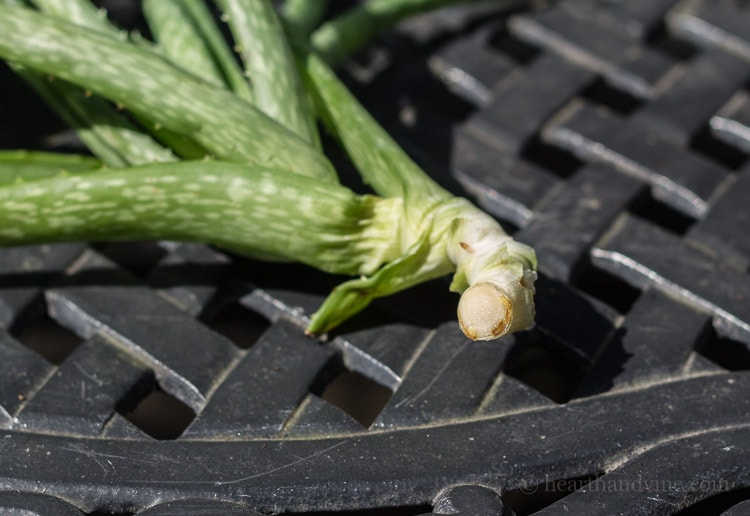 Cut off a good bit of the base with a clean knife, leaving only 1-2 inches. Let the cut form a callus for a few days. Like all succulents, it is best to let the cutting dry out to avoid rot.
Then re-pot the main plant along with any little aloe pups or offsets into a heavy shallow terra-cotta pot with a drainage hole.
Note: Do not water the transplants. Wait a week to water the new pot. This will help prevent transplant shock and give the roots a chance to get established. Even though some people may call this the cockroach of plants, too much moisture or water is one thing that will surely kill it.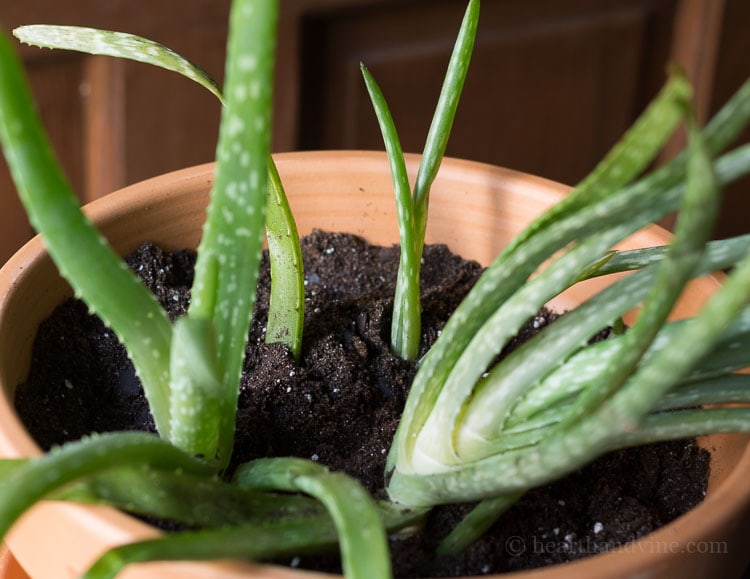 Aloe Vera Plant Care
Aloe Vera Soil
Make sure you use a lightweight well-draining soil mix. Add perlite
if needed to your regular potting soil. You can also buy potting soil made for cacti and succulents, since aloes are succulent plants. However, I find that even the specialized potting mix can benefit from a little extra drainage so I add perlite.
Watering Aloe Vera
When you do water the aloe transplant make sure to water it thoroughly, allowing water to come through the bottom of the pot. I often do this at the sink and then let it sit there to drain any excess water. Typically aloe's water schedule is about once or twice a month. It's better to keep it on the dry side. When in doubt, don't water. Overwatering often results in root rot.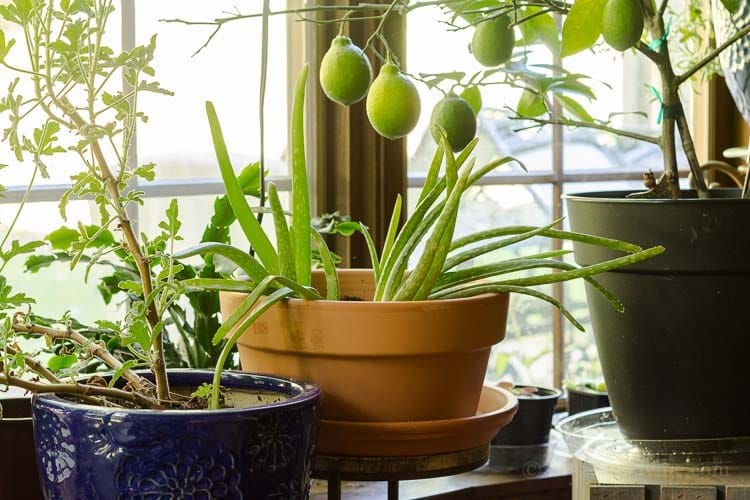 Aloe Vera Lighting
This new pot is now in the dining room under supplemental grow lights. Obviously, it's too big for a kitchen windowsill, and it may enjoy the extra light. You still want to shoot for indirect sunlight. Direct sunlight will cause the plant to burn and it will turn a light pale color.
However, I did leave one small pot of aloe in the kitchen for emergency burns. When it gets too big for the pot, I'll transplant it too.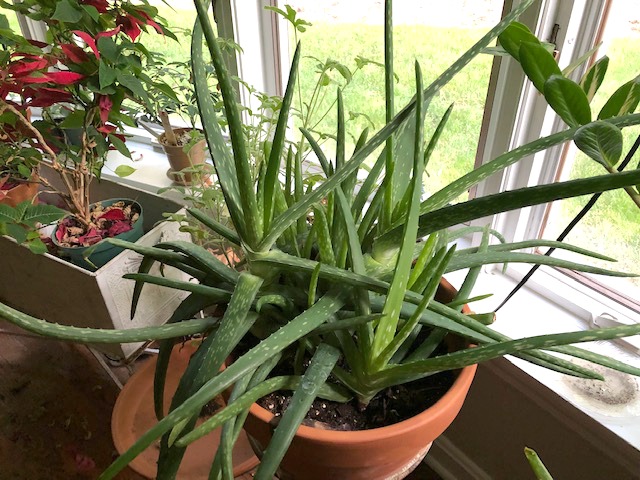 Here's an updated picture of my repotted aloe a year later. It has now grown many new aloe plants and looks so much happier.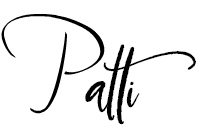 ---
More Houseplant Care Ideas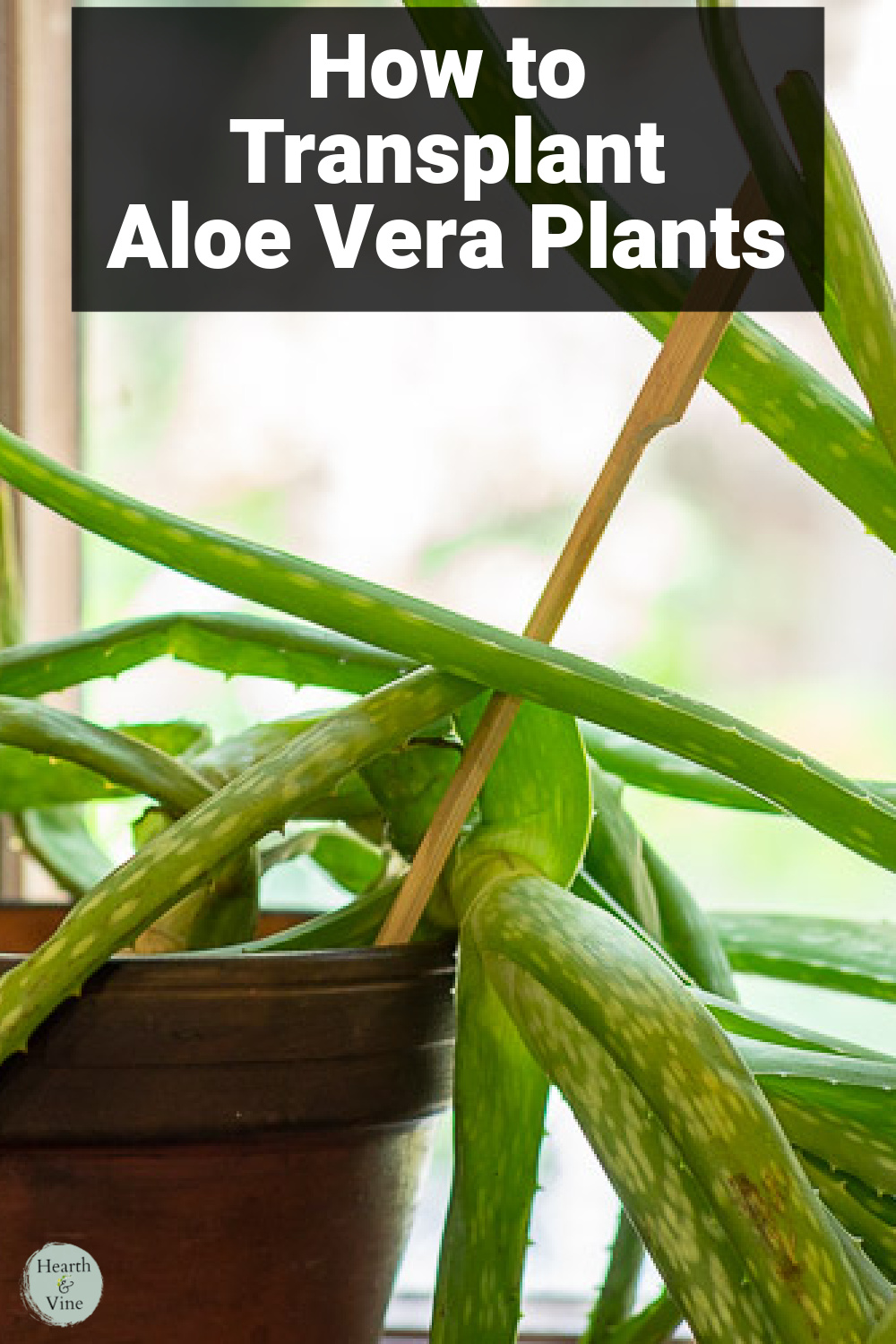 Print
Transplanting Aloe Vera When It's Way Out of Control
Though aloe vera may be one of the easiest houseplants to grow, repotting it is sometimes a necessary task. I'm showing you an easy way to transplant it when it's out of control.
Equipment
Gardening tool

Sharp clean paring knife
Materials
Clay pot

Perlite

Potting Soil for cacti and succulents
Instructions
Cut off a good bit of the base or mother plant with a sharp knife.

Let the wound form a callus on the stem for a few days.

Re-pot along with any little aloe vera pups or off shoots into a heavy shallow terra cotta pot.

Use a lightweight soil mix that drains quickly.

Add perlite if needed to your potting mix, or use a cactus mix used for cacti and succulents.

Do not water right away. Give the plant(s) several days to adjust before watering.
Tried this project?
Tag @hearthnvine on Instagram