This 2017 Christmas home tour is filled with simple decorating ideas, created with fresh evergreens and other holiday botanicals for a natural cozy feel.
Welcome to our 2017 Christmas home tour. This year I have joined a few blogging friends for a three day hop, hosted by Barb Garrett from The Everyday Home.
If you are stopping over from What Meegan Makes, Welcome! Don't you just love Meegan's vintage charm?
This year we hoped to have a new single front door with side lights. Unfortunately it came in damaged, so I had to make do with the old double doors. The large modern natural wreath was created with the new door in mind. So, I went ahead and hung it on the right which is where everyone enters, and on the left door I hung last year's Christmas stenciled slate sign.
Handmade rustic ornaments are back on the skinny tree, and summer flower pots are now adorned with fresh greenery and berries for pretty winter arrangements that will last for months.
2017 Christmas Home Tour
As you enter the foyer the smell of fresh pine from the banister is the first thing you may notice.
A small gathering of trees including handcrafted pine cone trees and twig trees are displayed with a Christmas Card holder and candle on the old blue chest.
The kissing ball ornaments I made for the 31 Days of Handmade Ornaments ended up in several places around the house, including the foyer.
Next is the family room, where we spend most of our time. Decorated burlap pillow covers come out for the season. Fresh greens and pine cones always look and smell great in the antique wooden bowl.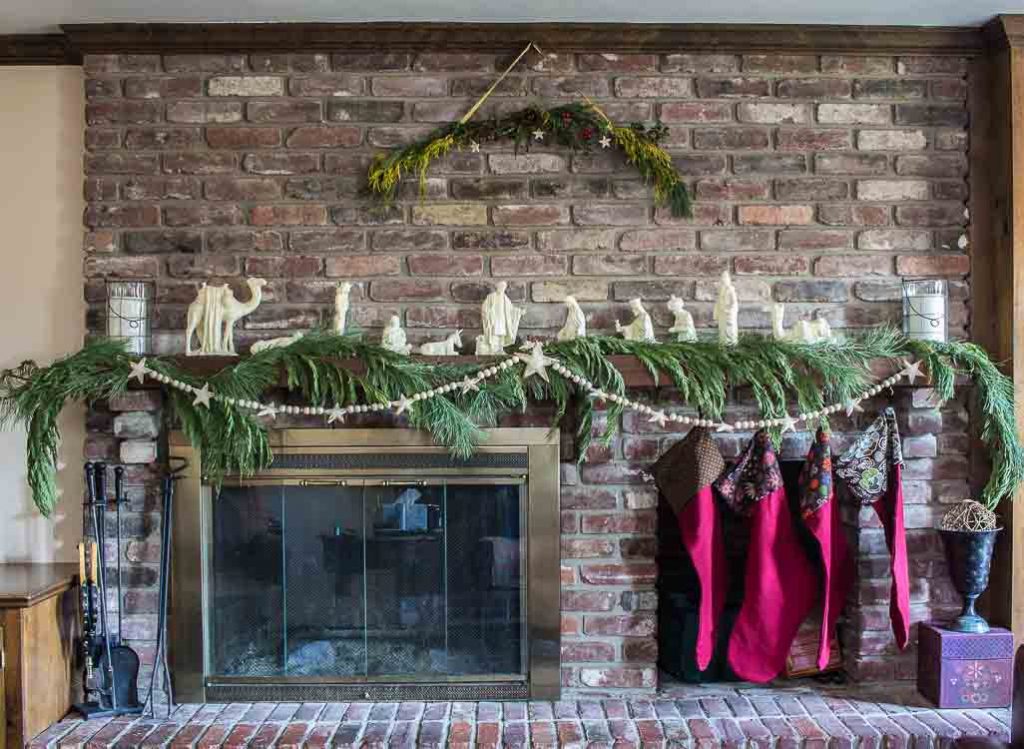 Our mantel is the Christmas highlight with a special nativity scene given to me by my mother. Over-sized stockings for the four of us, hang from the mantel with fresh greens and a fun salt dough and wooden bead garland. Though the fireplace area is nice and wide, the ceiling is not very high, which often leaves an awkward space between the mantel and the ceiling. This year I created a simple natural swag to fill the void.
Our sofa table displays a collection of snowmen and Santas from over the years. How many of you have a collection that you bring out during the holidays?
I like to place fresh flowers from the garden in the powder room when we have guests. At Christmas time red pepper berries and eucalyptus are a good stand in.
The final room on the tour is our dining room. We don't use it nearly enough. However, on special occasions, we have our family over for a big Italian dinner, and fit as many as we can around this table. A few folding chairs can transform this table of eight into a tight twelve when needed.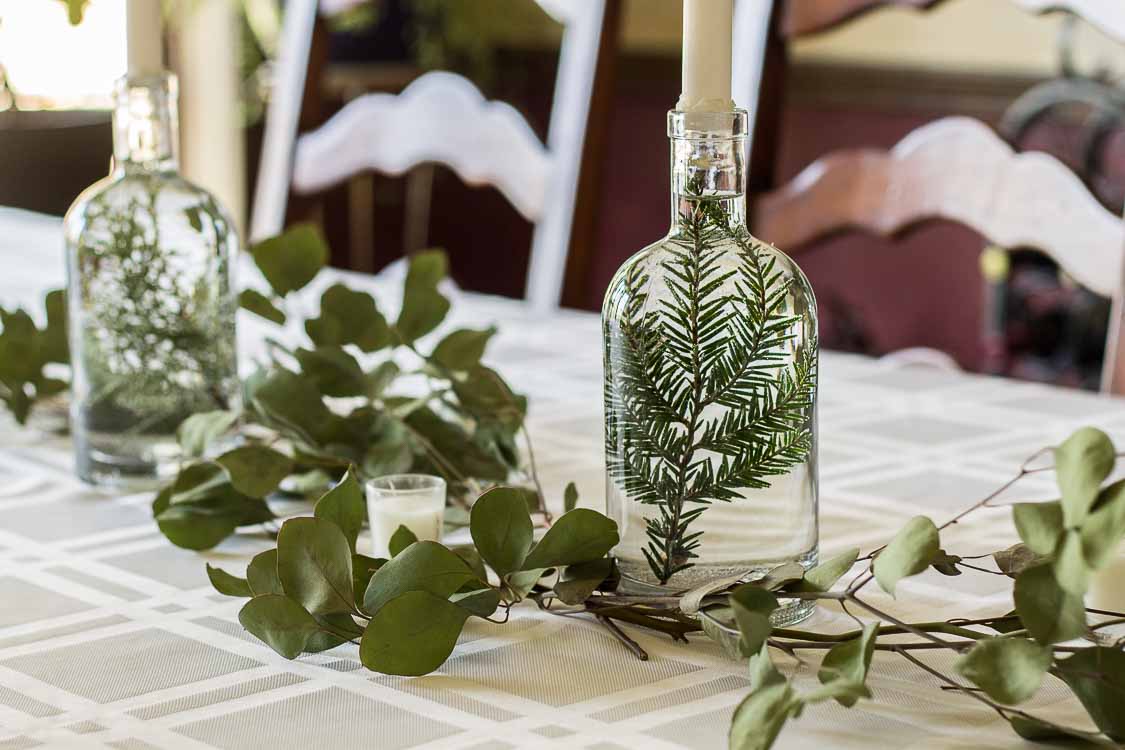 This year I went for a very simple bright white and green decor. Doesn't that bit of fresh greenery in the bottles with water look nice? Eucalyptus purchased from a street vendor, is scattered around the bottles. It will dry nicely and keep for several weeks. A few little white votive candles are set among the greens.
Our buffet will soon be covered with holiday dishes, napkins and baskets.
That's why I've kept the decor here at a minimum, with more white candles and a bit of seeded eucalyptus.
I hope you enjoyed this 2017 Christmas home tour and are inspired to decorate your own home with the beauty of nature.
The next home on the tour is A Wife In Progress. It's sure to be a real treat!
Welcome to the 'Tis the Season Blog Hop hosted by Barb Garrett and The Everyday Home.
We may be a lot later getting our Christmas decor out than some others - but you know how the ole' saying goes. "It's Better Late Than Never."
Please make sure you visit all of these amazing blogs for some last minute decorating ideas.
- MONDAY -
The Everyday Home || Mizz Helen's Country Cottage
- TUESDAY -
Refresh Restyle || Exquisitely Unremarkable
Walking on Sunshine || The Chelsea Project || Worthing Court
- Wednesday -
The Honeycomb Home || Confessions of a Plate Addict