Learn about 5 unique herbs that are easy to grow, require little to no maintenance and have some interesting qualities that you can craft, cook and decorate with.
Looking for something new to grow? I chose 5 unique herbs, two annuals, and three perennials, that are easy to grow and a little out of the ordinary.
They are all low maintenance, deer resistant, and like most herbs, have usefulness outside of their obvious garden beauty.
5 Unique Herbs to Grow in the Garden
Borage - borago officinalis
Historically known for its ability to give courage and happy heart borage, like most, is an edible herb. It's hairy leaves have a cucumber-like flavor.
Though the fuzzy texture of the leaves may not appeal to you there is no denying the beauty of the pure blue flowers which look striking in salads, drinks and adorning cakes. Try crystallizing or freezing the blossoms in ice-cube trays for a stunning decoration.
Growing Borage

:
Life Cycle: Annual
Sun: Full Sun
Water: Well drained
Height: 1 - 2 ft
Width: 1 ft
Blooms: Late Spring/Summer
Xtras: Borage is a known self-seeder so you may not have to plant it every year.
Pot Marigold - calendula officinalis
Named after the word calendar because it was thought to be the flower that bloomed on the first of the month, calendula is another versatile annual.
Known for its ability to soothe the skin this sunshiny herb is also edible. I've infused olive oil with calendula petals to use in salves, lip balm and most recently a dry oil body spray.
Sprinkle the petals in your salad or use it as a garnish. Though the common name is pot marigold, calendula should not be confused with the french marigold (tagetes patula) found commonly at nurseries.
Growing Calendula:
Life Cycle: Annual
Sun: Full Sun
Water: Average
Height: 1 - 1.5 ft
Width: 1 - 1.5 ft
Blooms: Summer - Fall
Xtras: Flower petals can be used as a dye

Lady's Mantle - alchemilla mollis
This herb's Latin name alchemilla, comes from the word alchemy or magic, as many thought that dew collected in the leaves contained magical healing properties.
The common name 'Lady's Mantle' came from the Christian Church who named it Our Lady's Mantle for the Virgin Mary, where the scalloped edge's of the leaves resemble a mantle or cloak.
Lady's mantle makes a great border plant with its neat and tidy mounding habit and the chartreuse flowers are beautiful and long-lasting in flower arrangements.
Growing Lady's Mantle
:
Life Cycle: Perennial
Zone: 3 to 8
Sun: Full Sun to Partial Shade
Water: Average
Height: 6 - 18 inches
Width: 1.5 - 2 ft
Blooms: Summer
Xtras: Pretty chartreuse flowers can be used in arrangements, deer resistant

Lemon Balm - melissa officinalis
Historically lemon balm was considered to be the elixir of life. Many drank tea made from its leaves and still do today.
The small flowers are not showy however they are loved by bees, thus the name melissa which is the Greek word for bee.
A relative of the mint family, lemon balm's leaves have a nice lemon fragrance and are used to make a variety of cosmetic and culinary items. Also, similar to mint, this one can be somewhat invasive so you may want to grow it in a pot.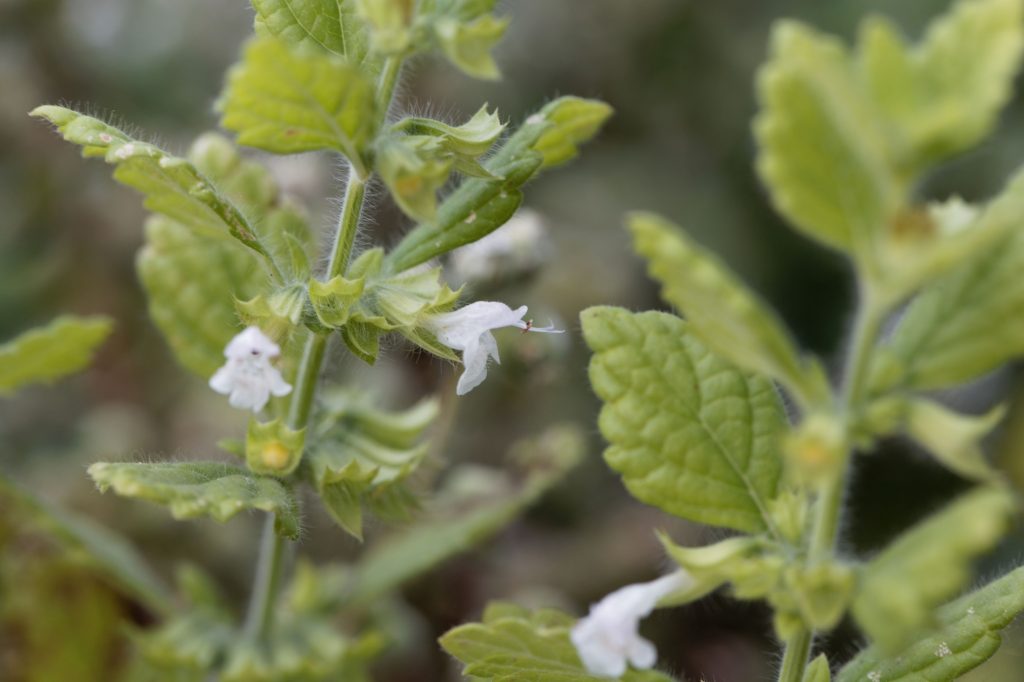 Growing Lemon Balm:
Life Cycle: Perennial
Zone: 4 to 9
Sun: Full Sun to Partial Shade
Water: Average
Height: 12 - 18 inches
Width: 12 - 15 inches
Blooms: Summer - Fall
Xtras: Lemon balm tea is said to help with anxiety and sleep disorders.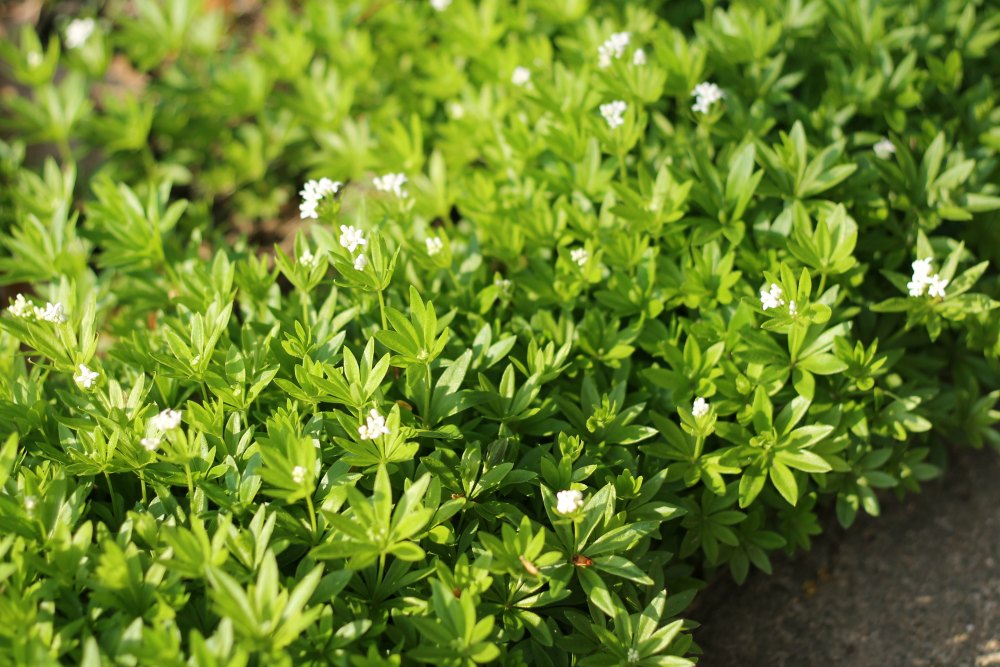 Sweet Woodruff - galium odoratum
Traditionally known for its fragrance, sweet woodruff was often used in garlands, potpourri and as the stuffing for herb pillows and mattresses.
Also, known as the as a major ingredient for the German's May wine where the plant is used to infuse Rhine wine in May to celebrate spring.
In the garden, sweet woodruff is a beautiful ground cover that and grows well in shade.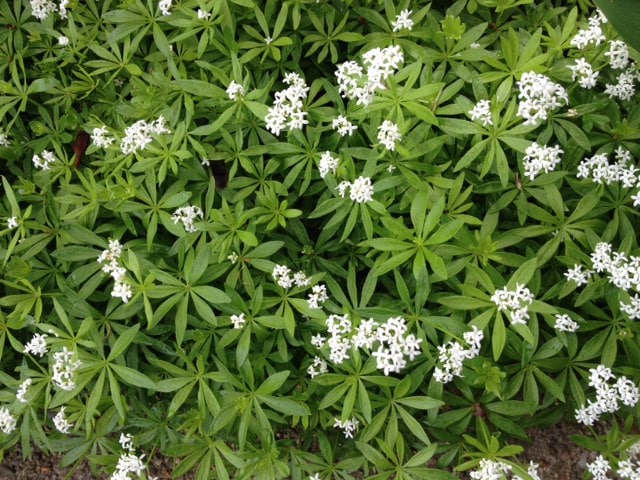 Growing Sweet Woodruff:
Life Cycle: Perennial
Zone: 3 to 8
Sun: Partial Shade - Full Shade
Water: Average - Moist
Height: 6 - 12 inches
Width: 6 - 18 inches
Blooms: Spring
Xtras: The fragrant leaves and flowers are used to make May wine. Dries well.
If you enjoy trying new plants to your garden consider one of these 5 unique herbs. Not only are they beautiful in the garden but they are also useful in the home.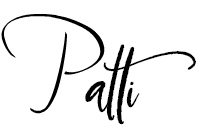 Click Here to Save to Pinterest!