These DIY fire starters make a beautiful, slightly fragrant gift for the holidays. Inexpensive and easy to create for everyone on your list.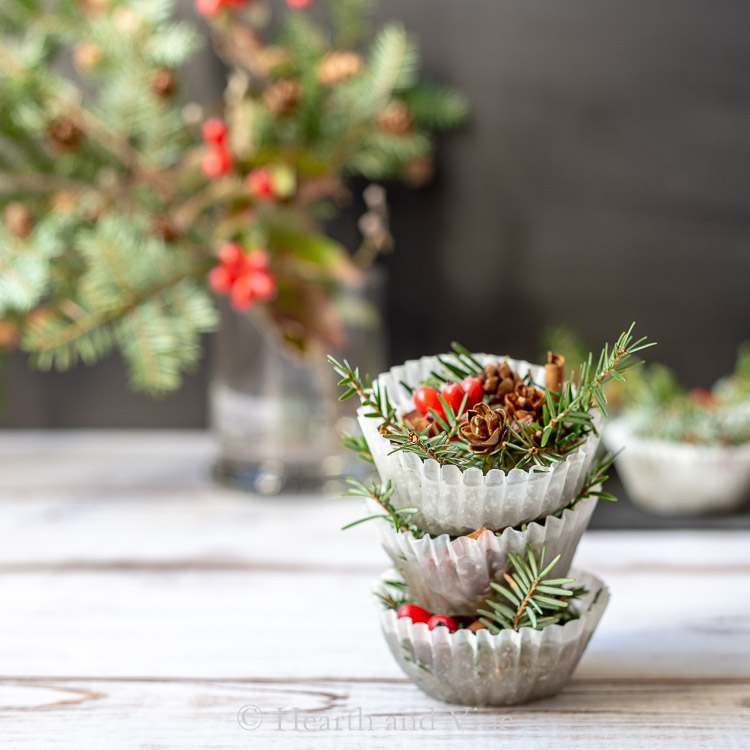 We enjoy a good wood burning fire during the winter. To get things going we use my Homemade Fire Starters made from garden herbs and twine. However, they usually don't last very long.
Recently, I remembered making fire starters as a Girl Scout. We would use cardboard egg cartons and fill them with dryer lint and paraffin wax. Sometimes we would even use dried leaves.
This got me to thinking about making some more fire starters with pretty dried materials and wax. Instead of egg cartons, I used paper muffin liners.
This post contains some affiliate links (that means if you make a purchase after clicking a link, there's no additional cost to you, but I will earn a very small commission. ) i.e. as an Amazon Associate, I earn from qualifying purchases. Click here to read my full disclosure policy.
How to Make Homemade Fire Starters
Supplies
We have a lot of hemlock trees in our yard. I'm always thinking of ways to use the adorable mini pine cones from those trees. Once I made tabletop Pine Cone Christmas Trees with them.
They were perfect for this craft. I also used some dogwood berries and some crushed up cinnamon sticks. Don't you think this combination looks Christmassy?
In another batch, I added dried orange peel instead of the berries. You can do this easily by simply peeling just the outside layer of any citrus fruit with a vegetable peeler.
The only caveat is that it may take a couple of weeks to dry out. If you are in a hurry you can buy some or try placing them on a cookie sheet in a low-temperature oven for a few hours.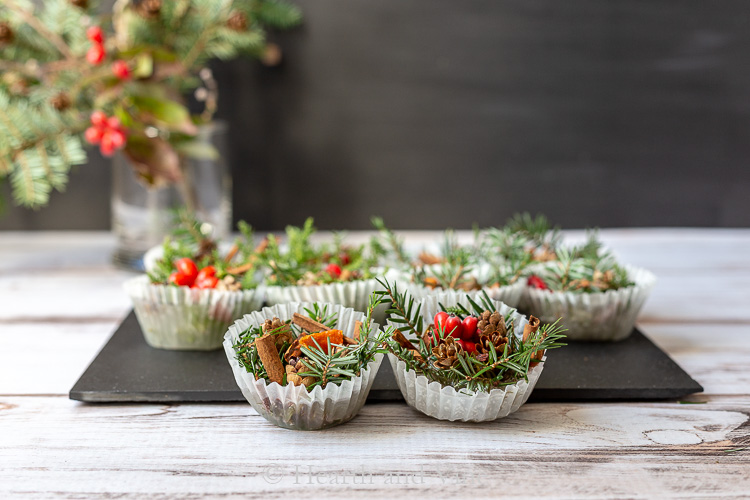 They turned out really nice and I will be giving some to all my fire loving friends this season.
When tested we noticed that they worked best if lighted from the top. You may still need some smaller sticks or other kindling to get the fire going but these DIY fire starters were a great start.
Aren't they pretty? Just another example of how the beauty of nature makes everything look so good.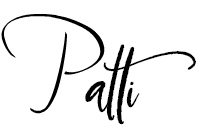 ---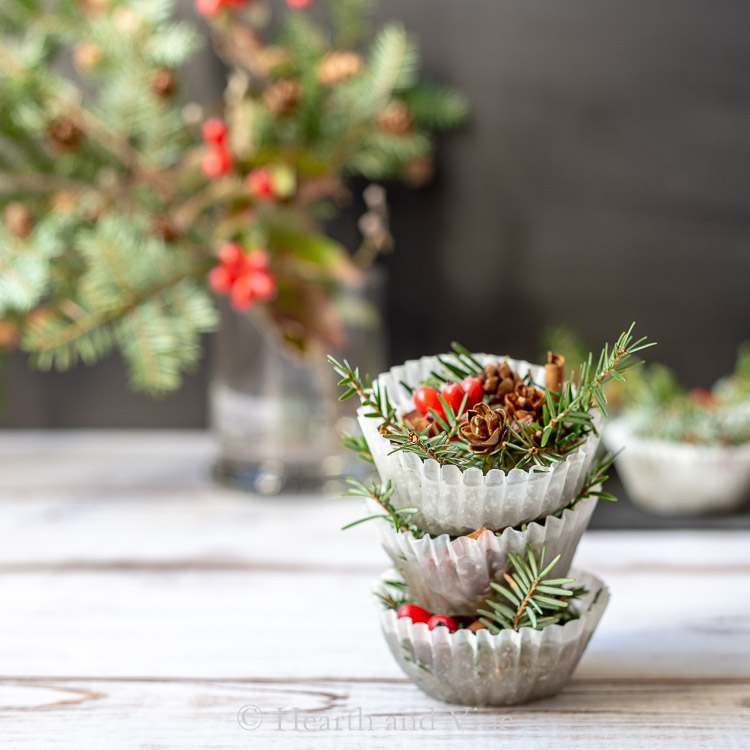 Print
Homemade Fire Starters
These DIY fire starters make a beautiful, slightly fragrant gift for the holidays. Inexpensive and easy to create for everyone on your list.
Equipment
Old pot

can or glass up to melt wax in
Materials
Paper muffin liners

Paraffin or candle wax

Clippings from the yard -- pine

non-toxic berries, mini pine cones

Citrus peels - orange

lemon, grapefruit

Cinnamon chips or sticks

Candle wicking

optional
Instructions
Gather evergreens, non-toxic berries, and mini pine cones from the yard.

Place muffin liners in a muffin pan.

Place plant materials from the yard including cinnamon chips and dried citrus peels in the muffin liners.

Melt paraffin or candle wax in a can or glass measuring cup set in an old pan of water on the stove.

Carefully pour the wax over the plant materials in the muffin liners.

All to dry and remove the fire starters from the muffin tins.
Notes
You could add a pick of candle wick to the fire starters after you pour in the wax. This will make lighting them a bit easier.