Learn how to make a pressed flower suncatcher with leaves and flowers from your own garden and picture frames from the dollar store.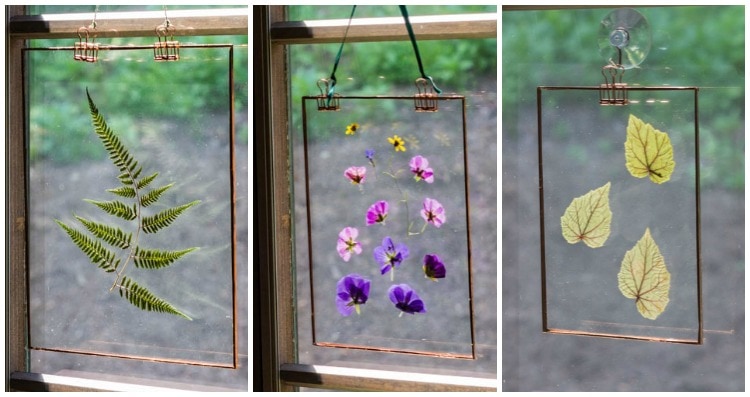 Making crafts, gifts and pretty home decor items with flowers pressed from your own backyard is so rewarding because they are almost guaranteed to come out beautiful.
Today I'm sharing a simple tutorial on how to make some beautiful pressed flower art.
This post contains some affiliate links (that means if you make a purchase after clicking a link, there's no additional cost to you, but I will earn a very small commission. ) i.e. as an Amazon Associate, I earn from qualifying purchases. Click here to read my full disclosure policy.

Pressed Flower Suncatcher
The easiest way to press flowers involves using an old phone book. Hopefully, you haven't thrown them all out.
If you don't have an old phone book, or you can make your own flower press or buy a flower press online
or at some craft stores.
It takes a few weeks to a month for flowers to dry out in the phone book, so it's a good idea to collect flowers and leaves all season long and press them for future projects.
Of course, you can also buy pressed flowers
if you are in a hurry.

For this project, I used the glass from picture frames bought at the dollar store.
After cleaning one side of the glass, mark them with a piece of tape so that you can keep track.
Once the flower or leaf is inside there is no way to clean the panes of glass.
Place your flowers and leaves between the glass.
If necessary you can use a tiny bit of glue stick to keep them in place.
Then use something to elevate the glass while you place metallic tape
around the edge, encasing the entire two pieces of glass.
Then, burnish the edges with your fingers to make sure the tape is secure.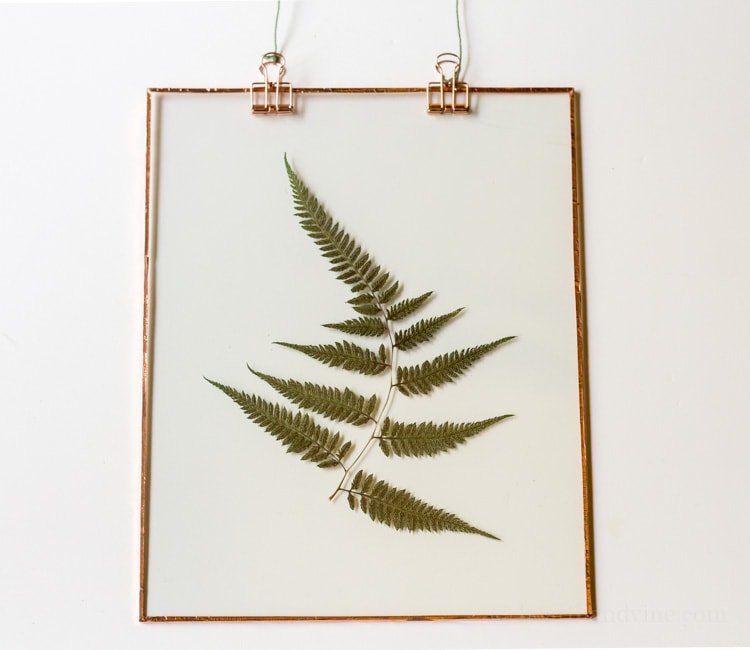 Clean up the outside glass and use one or two pretty binder clips to hang up your masterpiece.
The binder clips
above are not copper. They are rose gold but they look great with the copper tape.
You could remove the part of the binder clip on the front side if you want to.
For smaller pieces of glass, you can use a single clip.
I like these leaves from a hardy begonia, because they have pretty dark veins.
They show really well in the window. Even though the window itself needs to be cleaned. 😐
This is why I titled this post "pressed flower suncatcher", however, they would look beautiful hanging on a wall too.

---
More Pressed Flower Fun:
Pressed Flower Art
Easy Pressed Flower Candles
Pressed Flower Waxed Sachets
Pressed Flower Resin Tray

Click Here to Save to Pinterest!