Learn how to make wax melts for your home burner or to bag them up as gifts for friends. A great way to create the perfect fragrance for you.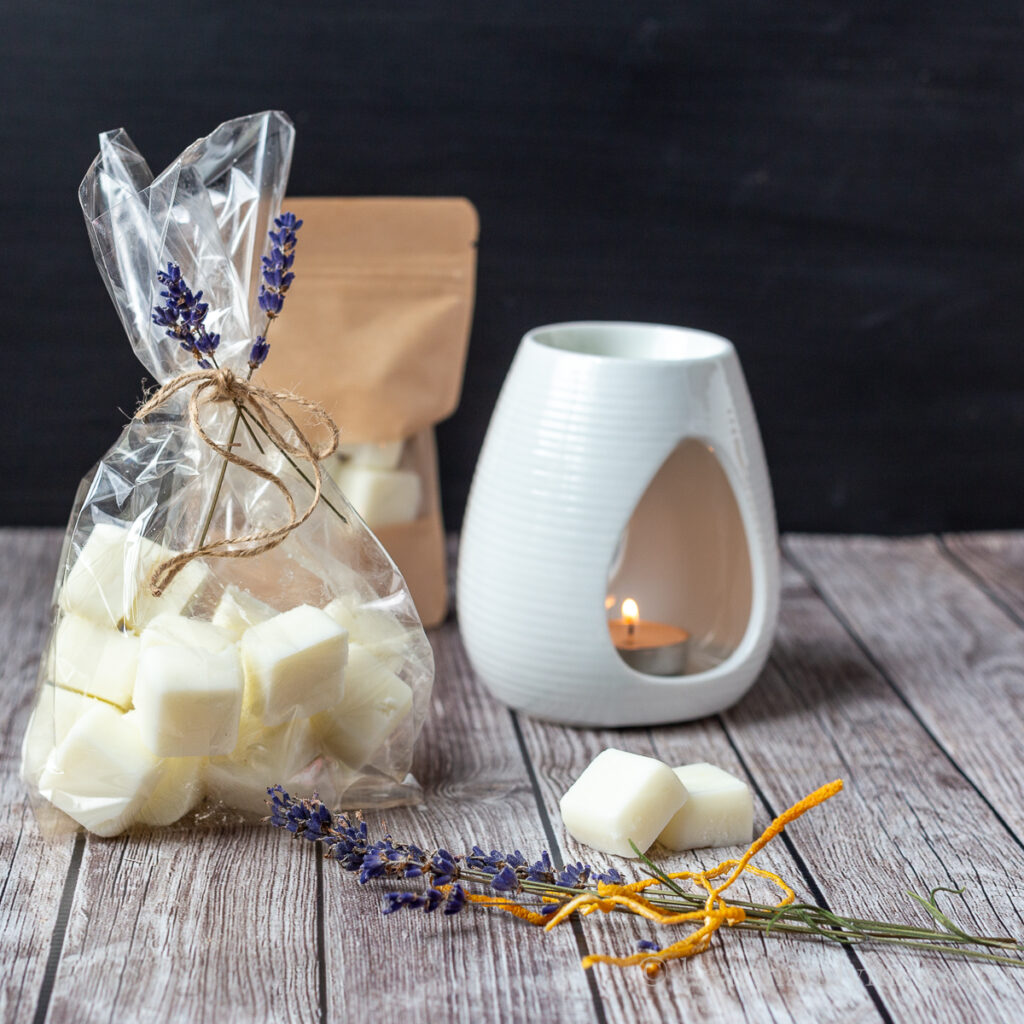 Wax melts, aka wax tarts, are great for enjoying your favorite scent permeating through the house. They are readily available in stores but if you enjoy an easy and fun DIY project this is one for you.
This post contains some affiliate links (that means if you make a purchase after clicking a link, there's no additional cost to you, but I will earn a very small commission. ) i.e. as an Amazon Associate, I earn from qualifying purchases. Click here to read my full disclosure policy.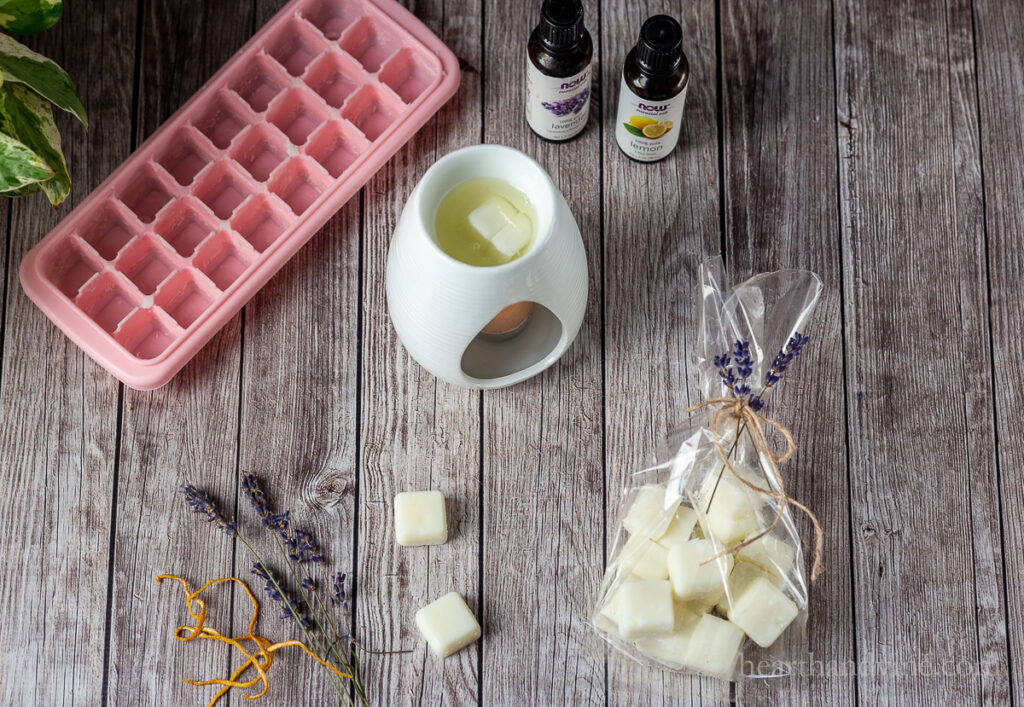 Supplies
Essential Oils or Fragrance Oils or blends
Tips for Making Homemade Wax Melts
What is the best wax to use?
I used soy wax for this project however, beeswax would work well too. Soy wax is made from soybeans and is a renewable resource so if you are into sustainability it may be a good choice for you.
Equipment Choices
You can melt the wax in a double boiler as shown here with an old pot and a clean leftover food can. Or you can also use a plastic cup in the microwave. I find that using a double boiler is faster than a microwave.
How Much Essential Oils or Fragrance Oils
You can use either natural essential oils or good-quality fragrance oils for this craft. However, the amount of fragrance to use varies. Some scents such as cinnamon are very strong so you don't want to use too much of it. Conversely, lemon is much lighter and you may need more than you think to get the scent that you like. The best solution is to add some of each, smell, and then go from there.
Essential Oil Combinations to Try
Lavender and Peppermint
Bergamot and Ginger
Lemon and Chamomile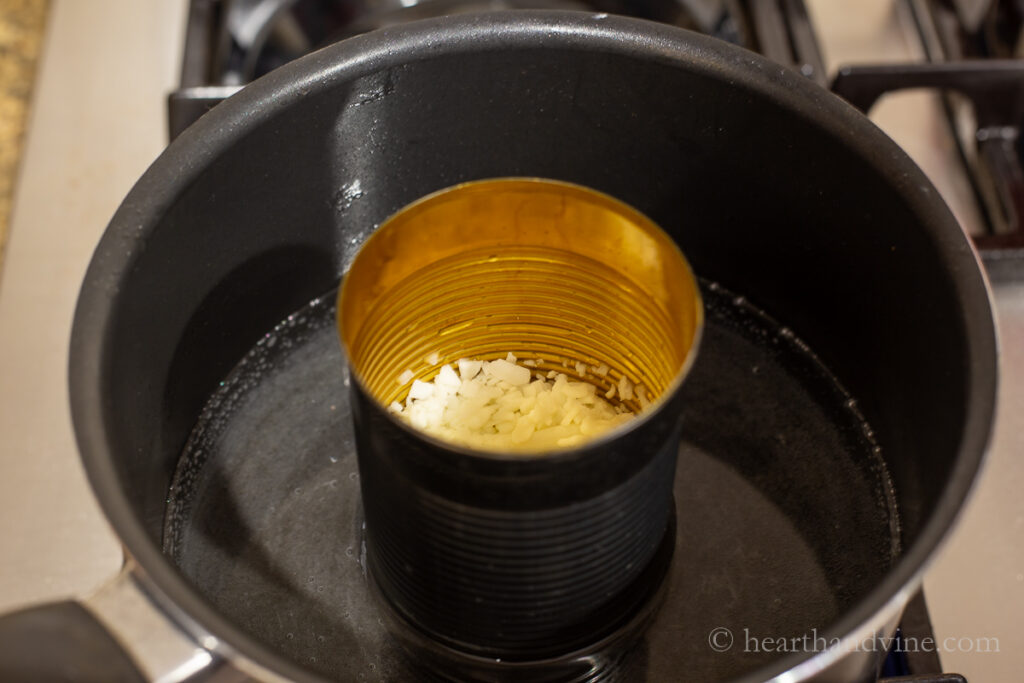 This silicone mold makes 24 beautiful small wax melts. However, you can use any shape of mold that you want. Just remember that they need to be small enough to fit inside the wax burner. This could be a tea light burner shown at the top of this post or an electric wax burner.
I ended up making two batches. The first one was lavender and lemon. Then I used some dried lavender flowers to adorn the bag.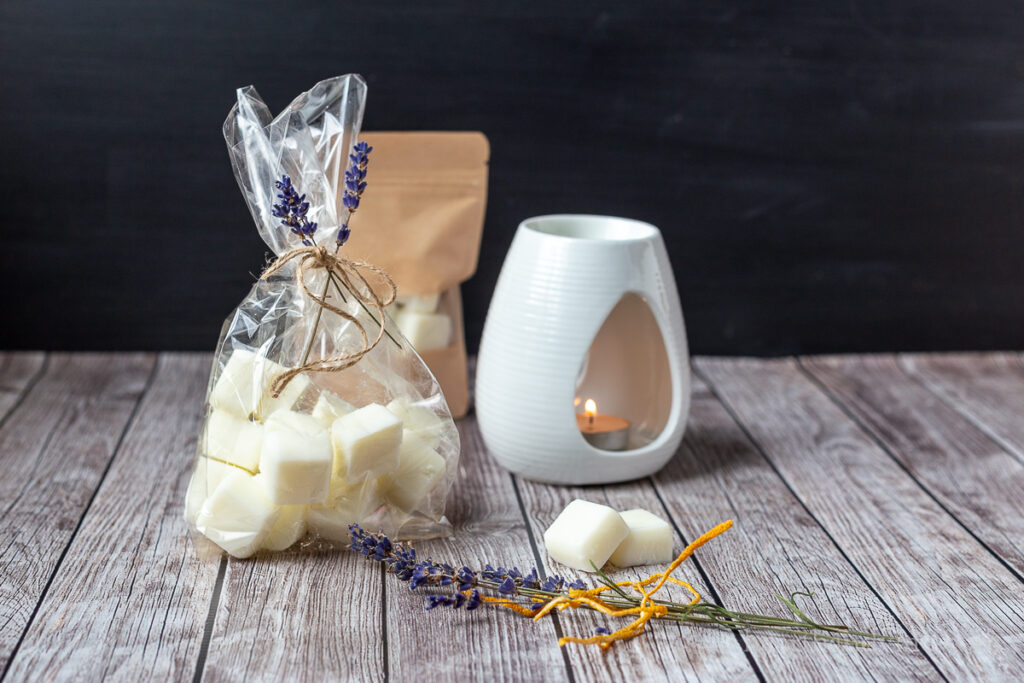 I also made a batch of orange cinnamon for fall. Using a garnishing tool/zester you can make a few orange peels that curl and dry overnight to create pretty garnishes for your bags.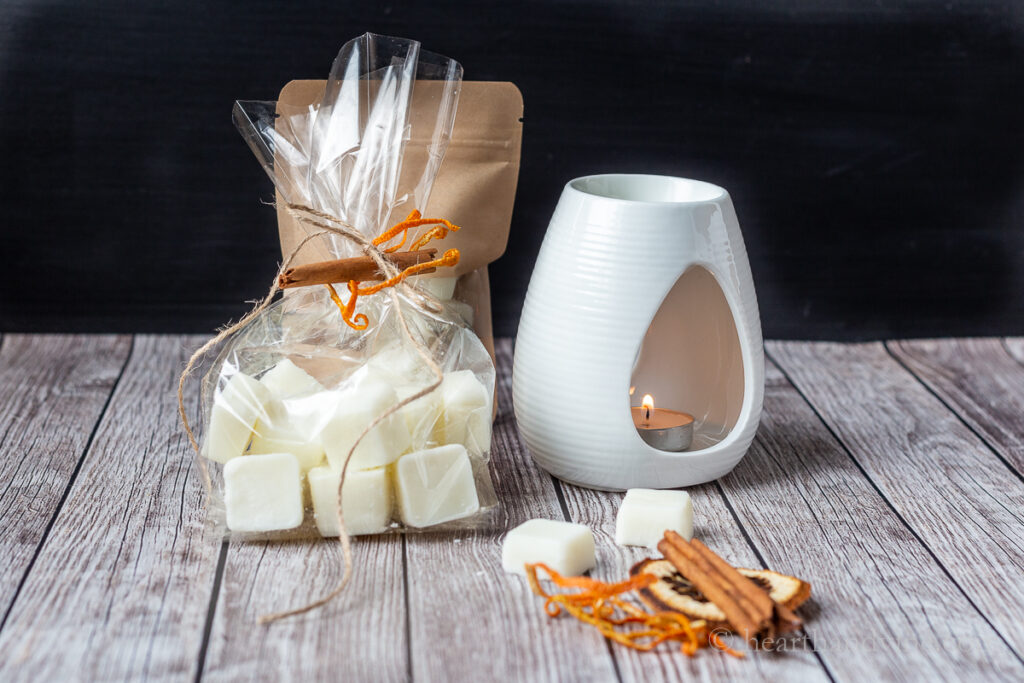 Whether you are gift-making or just creating some terrific home fragrance for yourself, these DIY wax melts are an easy and creative craft.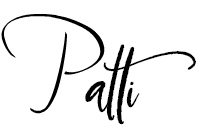 More Home Fragrance Crafts
Print
Wax Melts Recipe
Make your own wax melts with clean burning soy wax and your favorite fragrance or essential oils.
Equipment
Old pot

clean empty tin can

wooden skewer or plastic spoon
Materials
2

cups

natural soy wax flakes

silicone ice cube mold

essential oil blends or fragrance oil

approx. 200 drops
Instructions
Melt candle wax in a clean tin can in an old pot or saucepan with water on the stove.

Once melted remove the can from the heat and add fragrance or essential oils.

Stir and pour into the silicone mold to create wax cubes.

Allow the wax to harden

Remove wax melts from mold and bag them up for gifts or store them away in an airtight container like a mason jar until ready to use in any wax warmer.
Notes
Essential oils and fragrance oil vary in strength so you may not need as much in the molds. The best thing to do is add a little at a time and test it.
Beeswax and be substituted for soy wax. Both are natural ingredients. However, you might want to steer clear of paraffin wax as it is said to emit toxic chemicals.