This tangy citrusy grilled ginger lime shrimp is the perfect healthy light meal for all your summer entertaining, or just a great meal for two.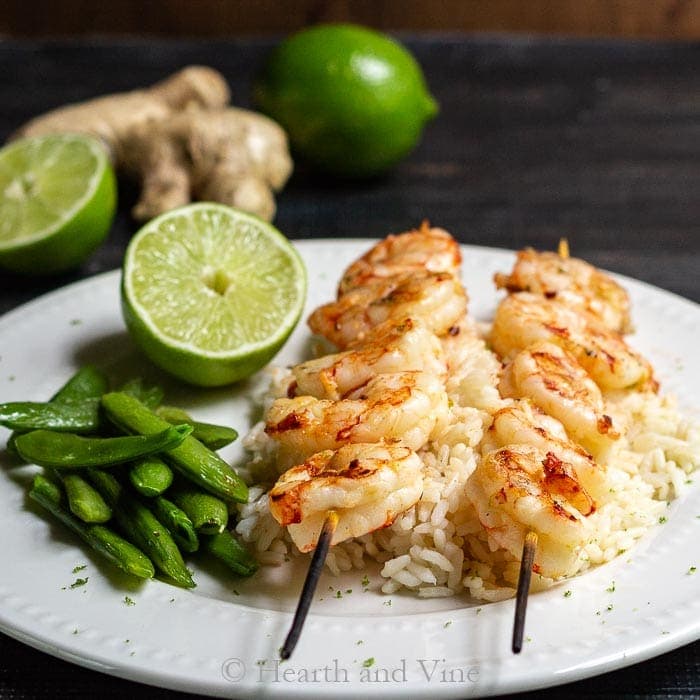 Grilled Ginger Lime Shrimp
Citrus is one of my favorite flavors. You may have noticed that I cook with a a lot of fresh lemon juice.
Today I'm using lime juice and fresh ginger to make a quick and healthy grilled shrimp dinner.
You can use fresh or frozen shrimp for this recipe, but try to get some that are a good size. This makes them easier to grill. I also used regular vegetable oil, because I didn't want the flavor of the oil to overpower the lime or ginger taste.
There is also a hint of heat with a small amount of red pepper flakes here. I think it works well with this combination and hardly give any heat. Still, you can omit the pepper flakes if you don't like extra spice.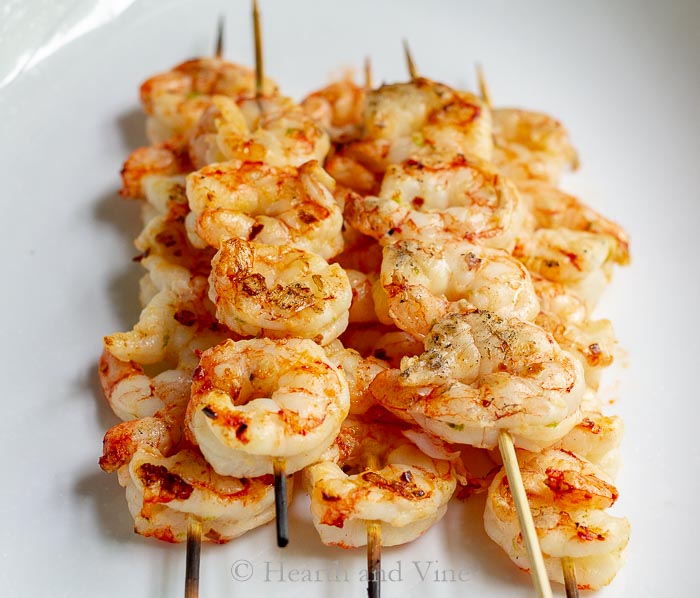 I used wood skewers and soaked them in water for over 30 minutes. You can see that they got a little toasted on the grill. Metal would also work, but the ones we have are so large, they don't really lend themselves to individual portions, so you'd have to remove the cooked shrimp and serve them on a plate or in a bowl.
I plated the shrimp with long grain white rice and steamed sugar snap peas.
A little additional lime zest added to the rice, gives it an extra yummy citrus zing.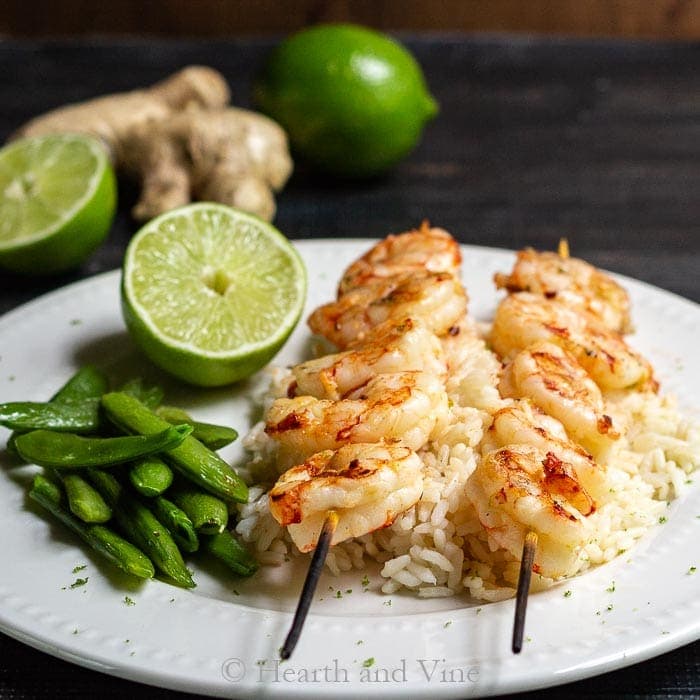 Grilled Ginger Lime Shrimp
Ingredients
2 dozen raw shrimp
1/4 cup vegetable oil
1/4 cup fresh lime juice, about 2 limes
1 teaspoon lime zest
1 tablespoon grated fresh ginger
1/2 teaspoon hot pepper flakes
salt and pepper
Instructions
Clean and peel shrimp.
Combine oil, lime juice, zest, ginger, pepper flakes, salt and pepper in a large plastic resealable bag.
Add shrimp and place in the refrigerator for 1 hour.
Soak 5-6 wooden skewers in water.
Remove shrimp from bag and thread onto skewers.
Place on oiled grilled for 2-3 minutes.
Use tongs to flip and grill for an additional 1-2 minutes or until shrimp turn opaque and bright pink.
You May Also Like:
Quinoa Salad Recipe with Black Beans and Lime Vinaigrette
Baked Salmon and Wilted Spinach with Meyer Lemon Butter Sauce