This tutorial for how to make a pineapple welcome sign is very easy to follow and will help you make a beautiful piece of art to welcome all of your guests.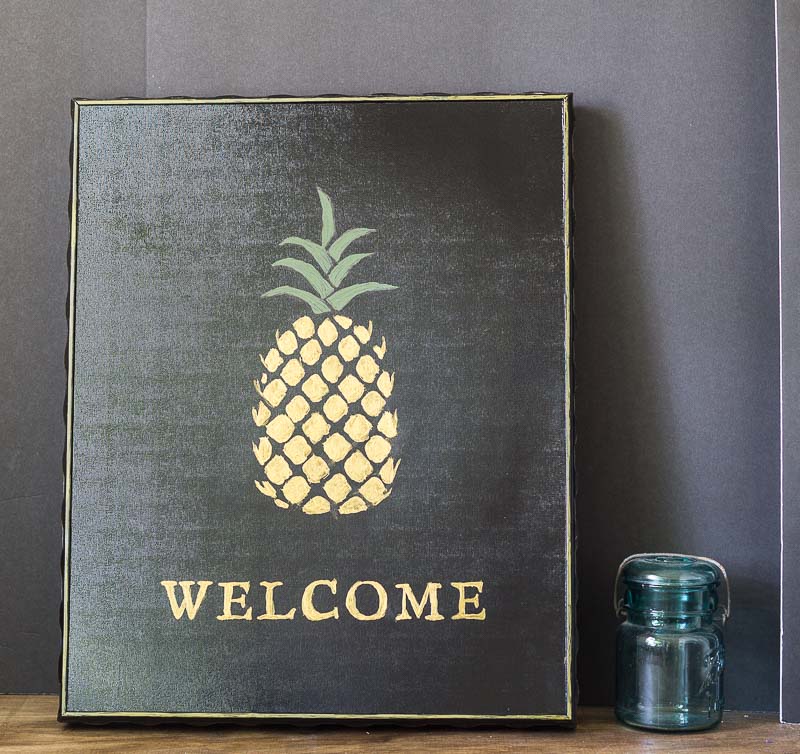 Did you know that the pineapple is a symbol of hospitality? What could be better than a beautiful pineapple welcome sign to greet your guests? You may have seen one or two in your travels, but I'd like to show you how to make one for just a few dollars. Wouldn't this make a great house warming gift?
Pineapple Welcome Sign Meaning
But why the pineapple? From what I can tell it looks like it all started with Christopher Columbus. He brought back this delicious fruit from the West Indies.
Before you know it, everyone wanted to have a pineapple to serve to their guests, and since they were hard to grow in Europe, they became a great status symbol. Anyone invited to a party with a pineapple meant a great expense went into the preparation, and so the guests felt especially honored.
Another story tells of a tale about American sea traders, who would promptly display a pineapple on a spear in front of their home, designating a safe return, and inviting everyone to visit.
Today you see this pretty symbol everywhere in hotels, inns and home decor.
How to Make a Pineapple Welcome Sign
You can easily make your own pineapple welcome sign for just a few dollars. I picked up this wall hanging at a local Goodwill for $3.99. This is going to be the base of the sign.
It has a pretty black and gold edge, so I made sure that I covered it with painters tape before spray painting the entire front image black.
Then I printed out an image of a pineapple (print your own below), and a separate page with the word "welcome."
I wish I could simply paint the pineapple or even the letters freehand, but that is not a talent I possess. Instead, I traced the image first and filled it in with paint.
To trace the image onto the now black painting, simply rub white chalk all over the back of the image.
Then tape your image and title in place to prevent it from moving.
Trace on top of the image with a pencil, pressing firmly.
Peel off the tape to reveal the same image in chalk. Now all you have to do is paint inside the lines. I used a metallic craft paint in gold and some green for the leaves.
Once the paint dries you can easily remove any excess chalk with a damp paper towel.
I also trimmed the front edge in gold and added a few lines in the leaves for texture with a thin black sharpie.
Pineapple Sign Template
To print out the images simply right click and choose "Save As,"
and save them to your desktop. Then import into a Word doc or other program and print them out to the size you like.
This pineapple welcome sign looks great in my foyer, where my guests will see it as soon as they enter.
As you can see, it's keeping company with a resin pineapple and a candle snuffer on the console.


Click Here to Save to Pinterest!