This traditional Middle Eastern recipe called Kusa is a delicious stuffed zucchini dish that's healthy, low carb and easy to make.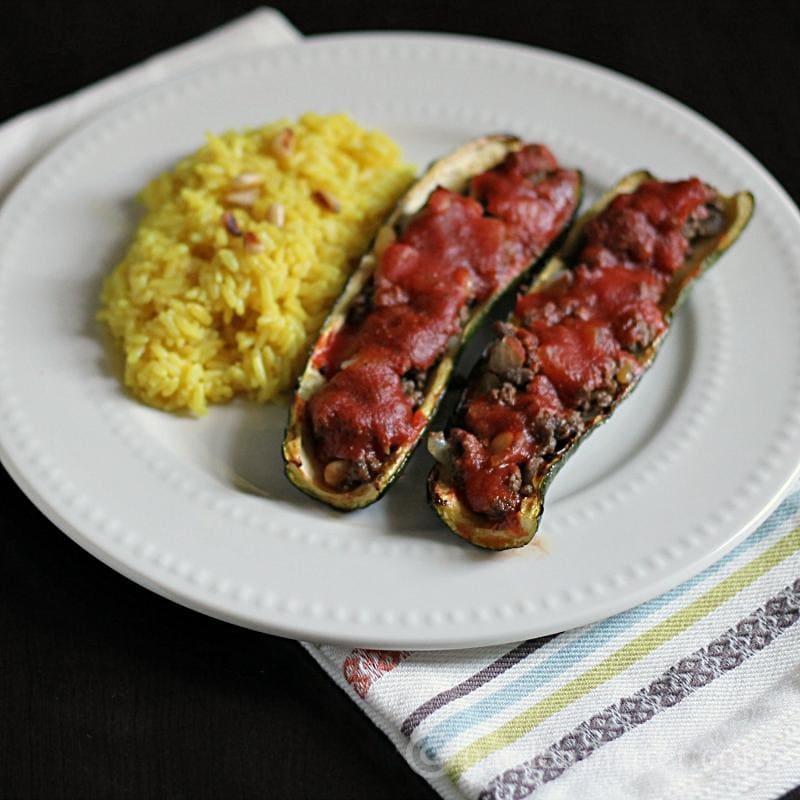 I'm sharing another childhood favorite today. This is a great way to use your large bounty of zucchini from the garden. If you don't grow it, and your neighbor isn't begging you to take some off their hands, you can easily find zucchini in the grocery store. You can make a super simple zucchini gratin side dish but if you want more of a meal try this stuffed Kusa.
Types of Stuffed Zucchini
Growing up we ate two kinds of stuffed zucchini which we called Kusa. One is similar to the Eastern European stuffed cabbage dish. The zucchini is stuffed with raw beef or lamb and uncooked rice. Then they are placed in a large pot, covered with tomato sauce and cooked until tender.
The second method is made by stuffing the "Kusa" with a cooked meat mixture. The rice is served on the side. By the way, do you know why my rice is so golden? It's because we always add a pinch of turmeric when making rice. This is also a Middle Eastern practice.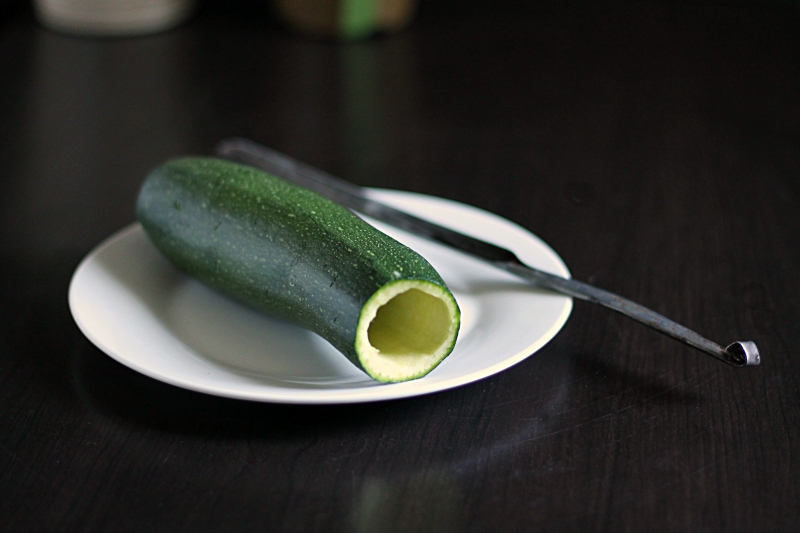 Traditionally you would use a tool to scoop out the flesh leaving a nice opening to stuff the zucchini. This takes a lot of time and patience. Instead, I slice the zucchini open lengthwise and scoop out the flesh.
P.S. you can save the flesh and saute it with garlic, or use it to make other dishes like ratatouille.
This only works for the recipe below. To make the one with uncooked beef and rice you need to take the time to remove the flesh from each zucchini leaving them whole.
Recipes handed down by grandmothers and relatives are some of the best, don't you agree?
I hope you enjoy this one.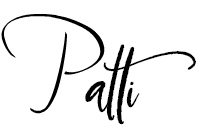 ---
P.S. I have several other Middle Eastern recipes on this site such as Authentic Hummus, Baba Ganoush, and Lubee to name a few. You can find them and more on my Recipes Page.
Click Here to Save to Pinterest!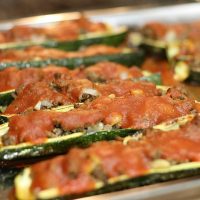 Middle Eastern Stuffed Zucchini
This traditional Middle Eastern recipe called Kusa is a delicious stuffed zucchini dish that's healthy, low carb and easy to make.
Ingredients
6 medium zucchini
1 lb ground beef or lamb
1/2 c pine nuts
1 medium onion, diced
1/4 t cinnamon
1 - 15 oz can of tomato sauce
salt and pepper
Instructions
Wash zucchini and slice off tops and bottoms
Slice in half lengthwise
Scrape out flesh and set aside.
Coat zucchini with olive oil and place under the broiler until they turn soft about 5-10 mins on each side.
In a large frying pan brown ground beef. Add salt and pepper and cinnamon.
Add pine nuts and onions.
Cook until the onions are translucent.
Spoon the meat mixture into the zucchini
Top with tomato sauce
Sprinkle salt and pepper over top.
Bake uncovered at 350 for 20 minutes.
Serve with rice
Serves 4 - 6
Nutrition Information:
Yield:

6
Serving Size:

2
Amount Per Serving:
Calories:

381
Total Fat:

25g
Saturated Fat:

7g
Trans Fat:

1g
Unsaturated Fat:

14g
Cholesterol:

81mg
Sodium:

498mg
Carbohydrates:

13g
Fiber:

4g
Sugar:

8g
Protein:

29g
Nutritional information for the recipe is provided as a courtesy and is approximate only. We cannot guarantee the accuracy of the nutritional information given for any recipe on this site.