This recipe for amazing power grain bowls is a healthy and hearty dish, that fills you up and keeps you satisfied for hours.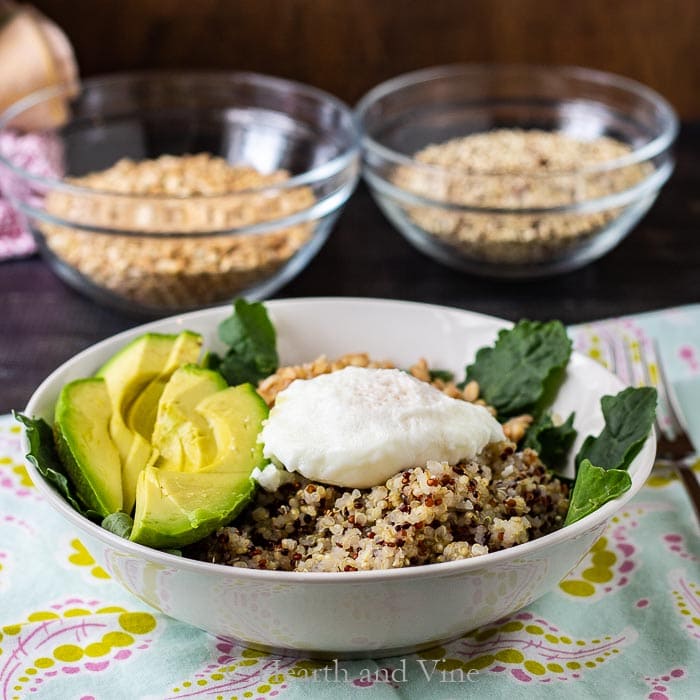 They are not exactly new. Well, they are new to me, so I wanted to share this new obsession. Power grain bowls are showing up at restaurants everywhere, and the couple I had were really delicious. I love it when I can order something super healthy, it also tastes amazing.
The power grains I used in this recipe were farro and quinoa. I've already talked about the amazing quinoa seed in my Quinoa Salad and Caprese Quinoa Bake.
Farro is something I have heard about from my brother, but haven't tried until recently.
Farro is a whole grain that reminds you of barley. It's not mushy when cooked, but has a nice dense chewy texture.
Both quinoa and farro contain approximately 4 grams of protein, and 3 grams of fiber each, per 1/2 cup serving. That's double duty for a healthy meal.
Now for more flavor. I've added baby kale, sliced avocado, and a poached egg to this dish. Then topped it off with a drizzle of fresh lemon juice. The creaminess of the avocado and egg yolk, combined with the acid from the lemon make the perfect dressing.
You could add anything you like. Once I added Gorgonzola cheese on top. Veggies, like tomatoes, peppers and cucumbers would taste great. Add other proteins like chicken, steak or fish.
The possibilities are endless.
Your body and belly will thank you.
Power Grain Bowls
Ingredients
1/2 cup dry quinoa
1/2 cup dry quick farro
1 cup baby kale leaves
1 avocado, sliced
1 lemon juiced
Instructions
Cook the farro and quinoa separately.
Wash and dry the baby kale. Rip and place in the bottom of each bowl
Add the farro one side of each bowl
Add the steamed quinoa on the other side.
Place the sliced avocado on one side.
Drizzle with fresh lemon juice.
Top with a poached egg on each bowl.
Serve immediately