Pressed flower glass coasters using square glass, copper tape, and flowers from your own backyard in no time and not a lot of money.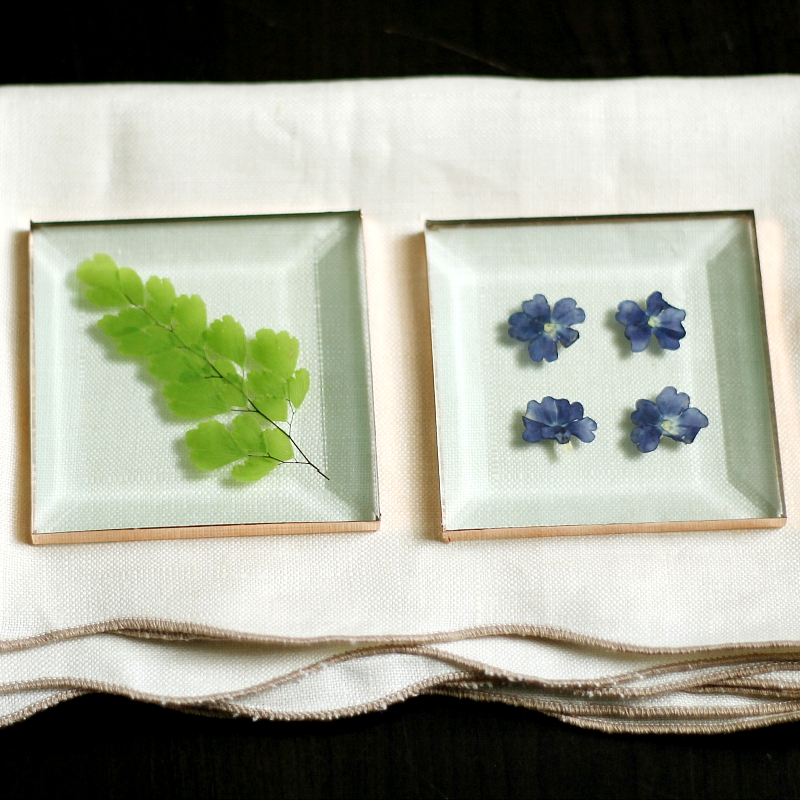 I love the look of botanical prints and there's something about seeing them under glass that brings out their beauty. It also reminds me of playing with my brother's microscope as a kid. I really enjoyed playing with the slides and looking at the specimens under the glass.
Why not create botanical coasters with pressed flowers and glass? It's a fun flower craft and a wonderful way to preserve a special occasion.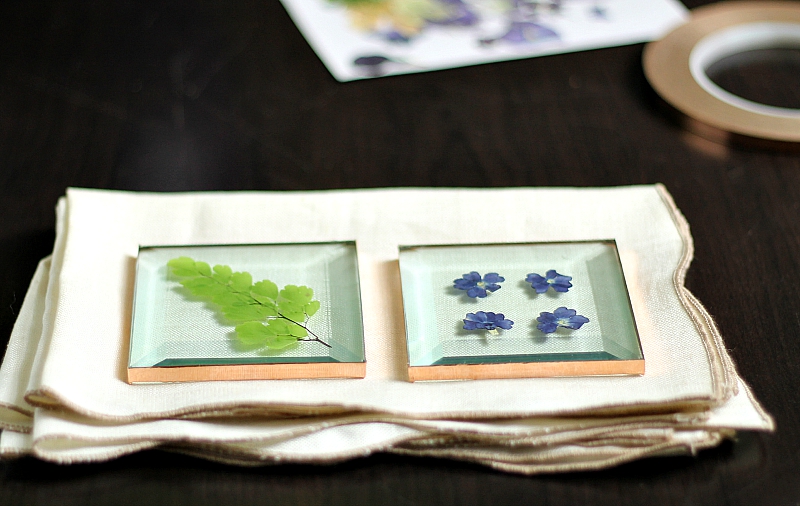 Using some pressed flowers and a cutting of maidenhair fern I quickly made two coasters by sandwiching the plant material between the two squares and taping the edges with copper foil tape. You could also try gold foil for a gorgeous gold border.
How to Press Your Flowers
You can take fresh flowers and press them in a phone book. This usually takes a couple of weeks, depending on the thickness of the flowers or greenery.
You can use a flower press. However, it will still take some time.
For a faster way try pressing flowers in the microwave.
In a hurry or maybe it's winter and you don't have any of your own flowers to press? Buy some pressed flowers online.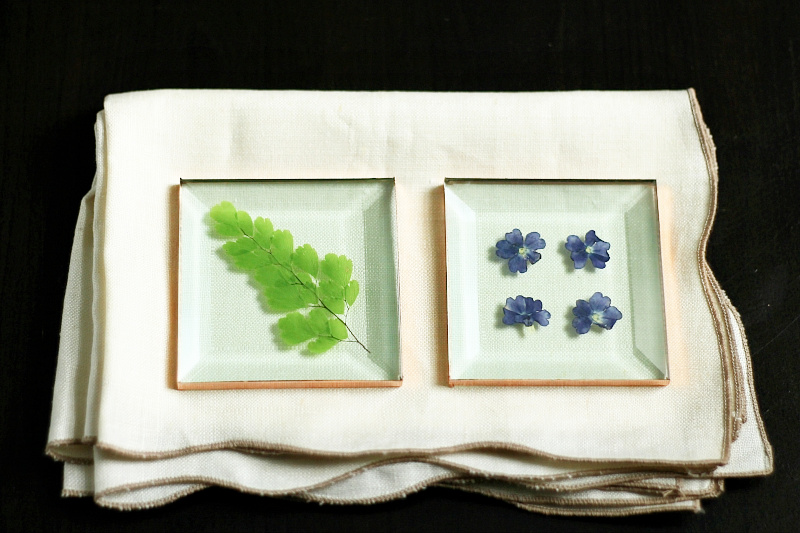 I couldn't believe how pretty, easy, and affordable these pressed flower glass coasters turned out. The flowers are so pretty. However, if you are a fan of foliage this maidenhair fern looks pretty awesome too.
Imagine pressing some flowers from a special occasion like a wedding bouquet, or a lucky four-leaf clover. What a nice keepsake they would make.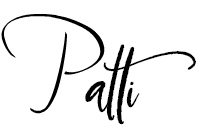 More Pressed Flower Projects: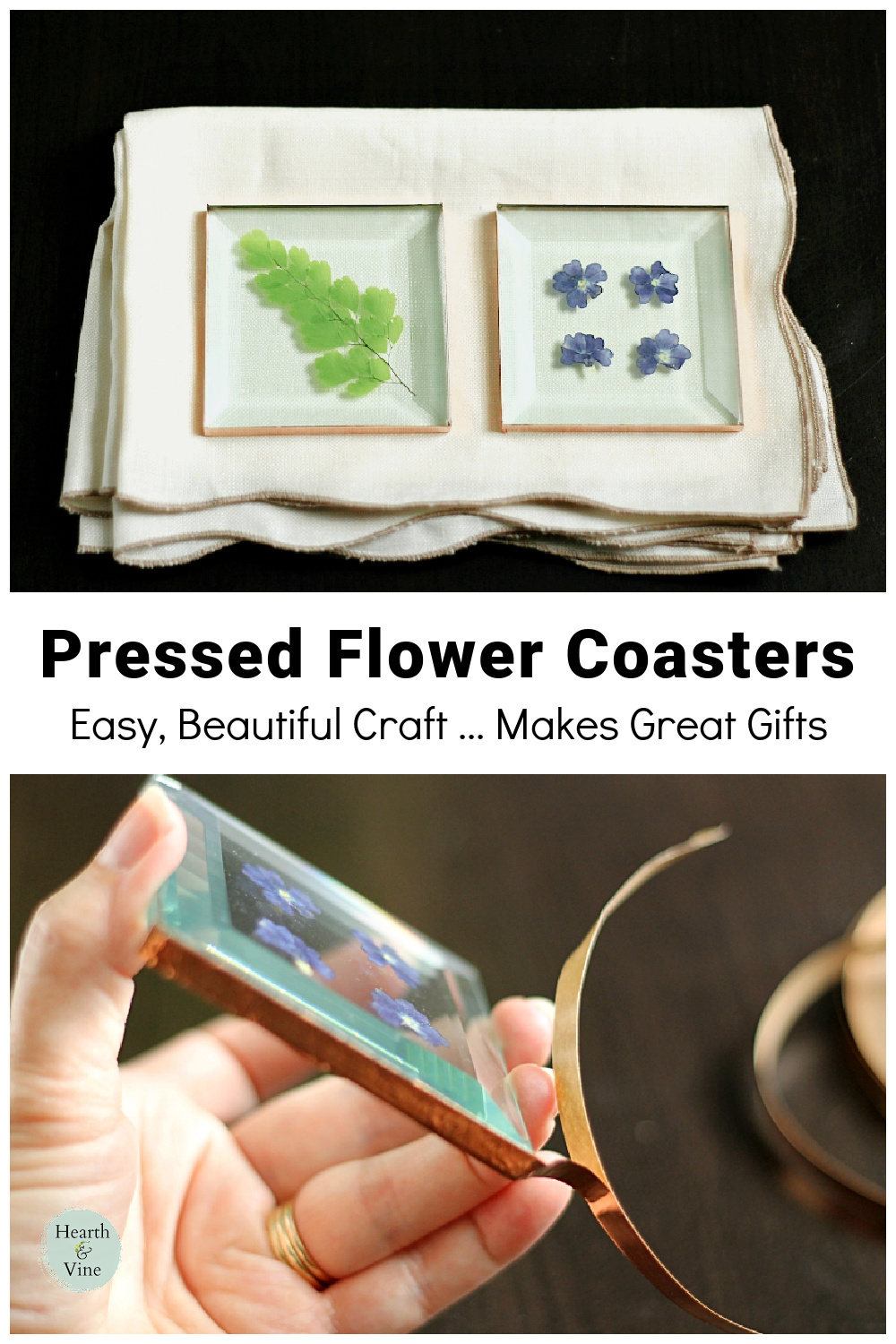 Print
Pressed Flower Glass Coasters Simple Tutorial
These beautiful pressed flower glass coasters are super easy to make! Plus, they would be a wonderful way to preserve a special occasion.
Instructions
Sandwich the plant material between the two squares.

Tape the edges with the copper tape.

Burnish the edges with your fingers.
Notes
You can use tweezers to pick up the delicate petals and move them into place on the glass.