You can make infusions with many different plants and create your own bath and body products. In this post, I'm using the beautiful but weedy wild violet from the garden to make a nice homemade violet lip balm or salve.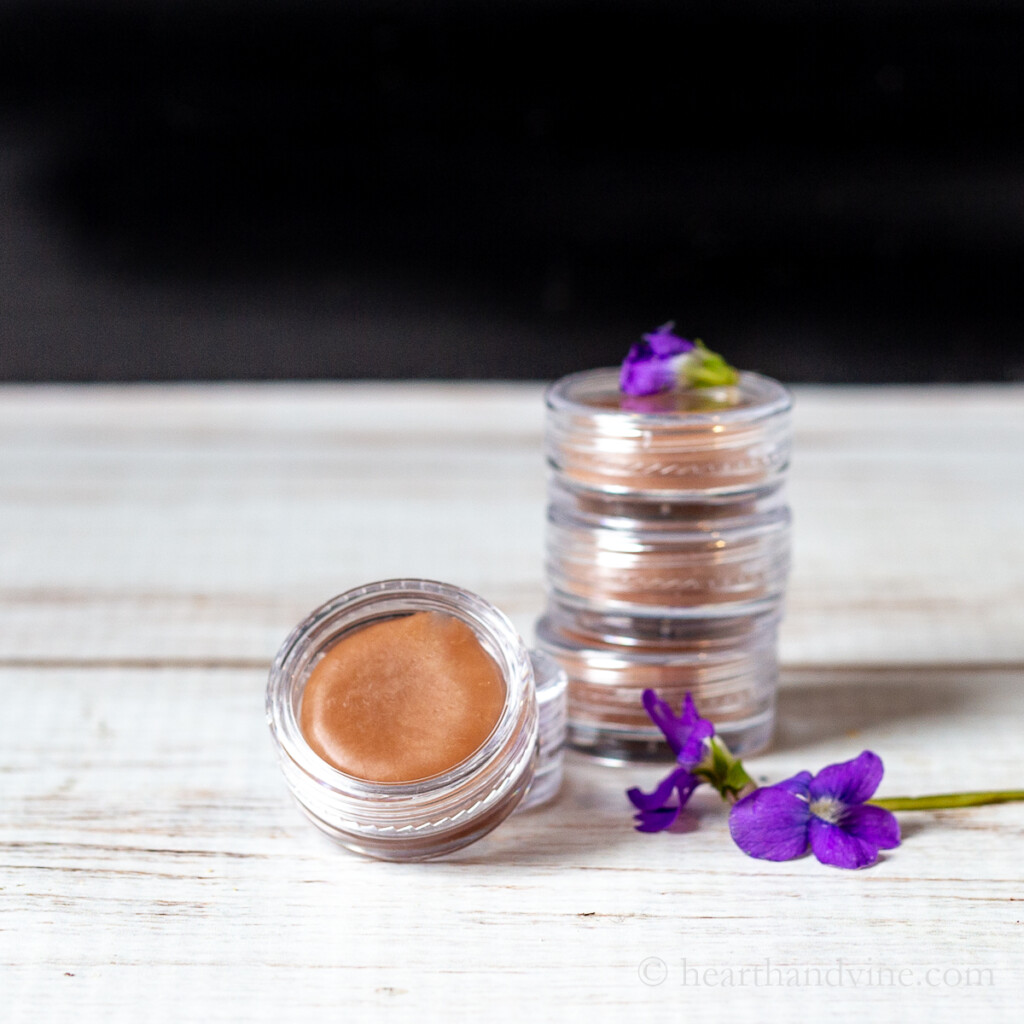 My mother loved wild violets, common blue violets, or scientifically known as Viola sororia. My husband hates them because they grow rapidly through rhizomes in the grass and can be difficult to get rid of. However, I think they look so beautiful in the spring when they flower displaying a mass of purple throughout a sea of green.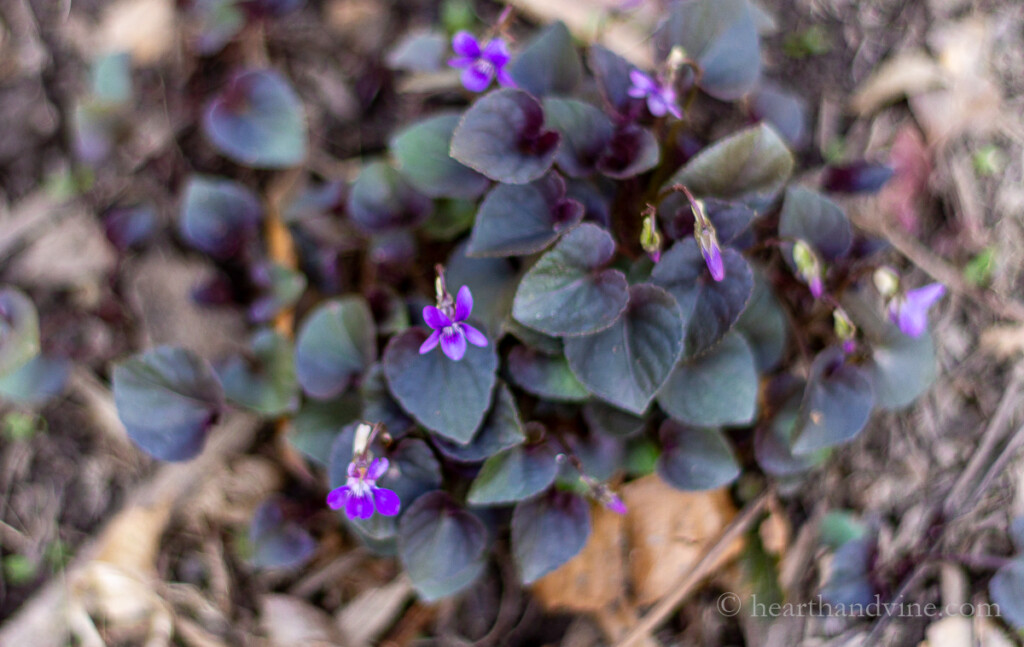 Safety Note:
You should never use violet flowers in areas that have been treated with pesticides or other chemicals. Also, don't harvest flowers growing by the roadside.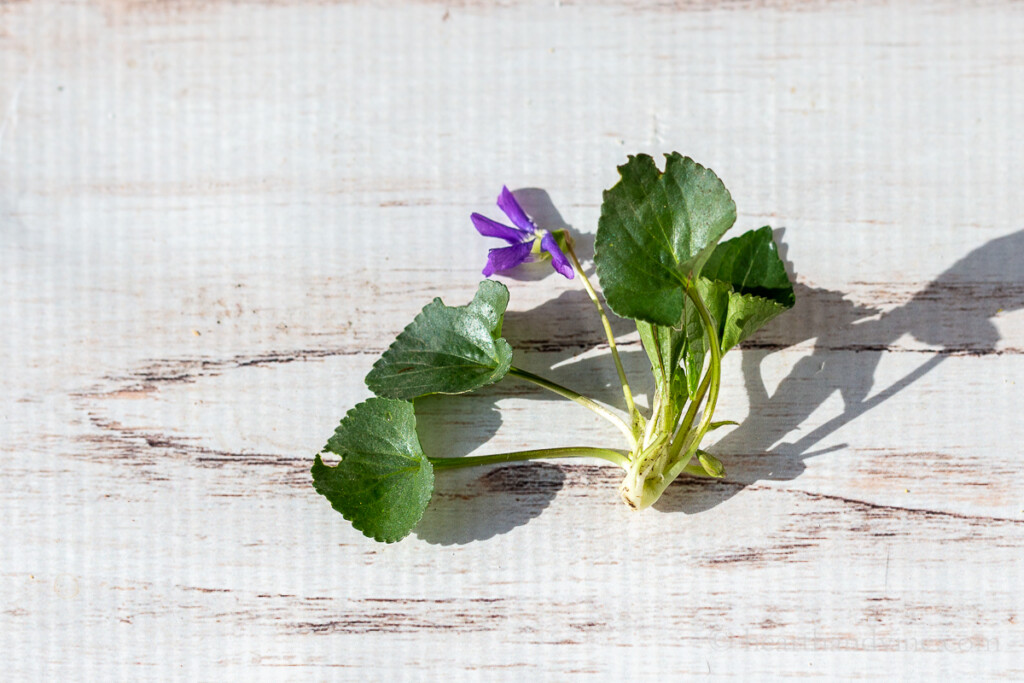 Did you know that these beauties are edible? Last year I made wild violet simple syrup. They also have many medicinal properties. Supposedly this plant is good for eczema, among other things. Since I suffer from eczema on my nails I decided to try to make a wild violet lip balm and salve and I plan to use it as a cuticle cream.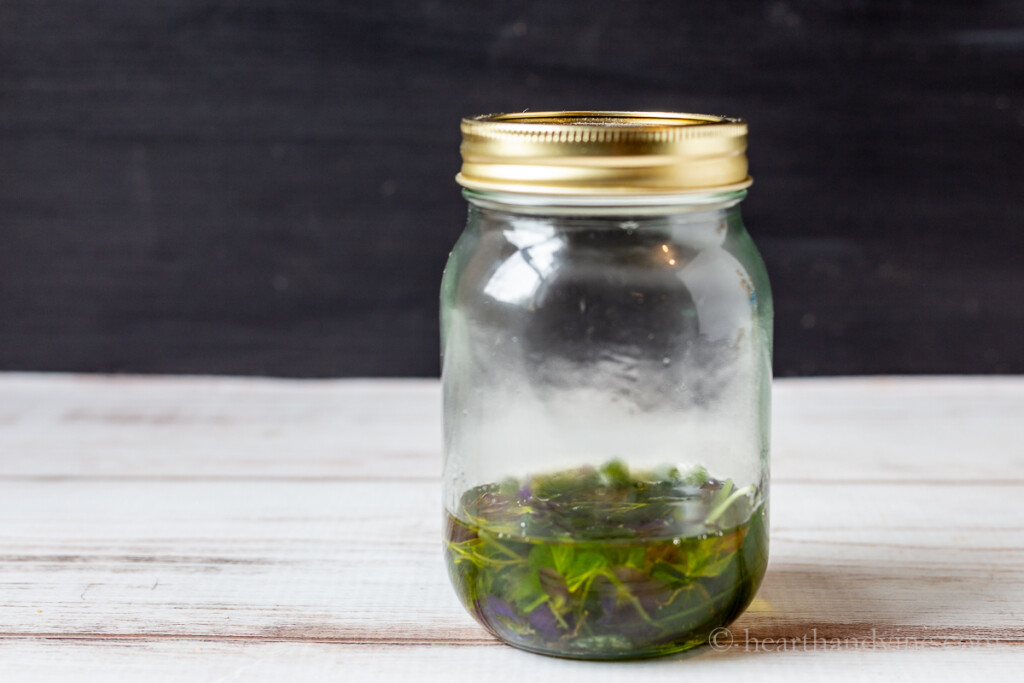 Making Violet Salve or Lip Balm
It starts with an oil infusion. Infusions are plants that are steeped (soaked) or heated in oils or water (tea).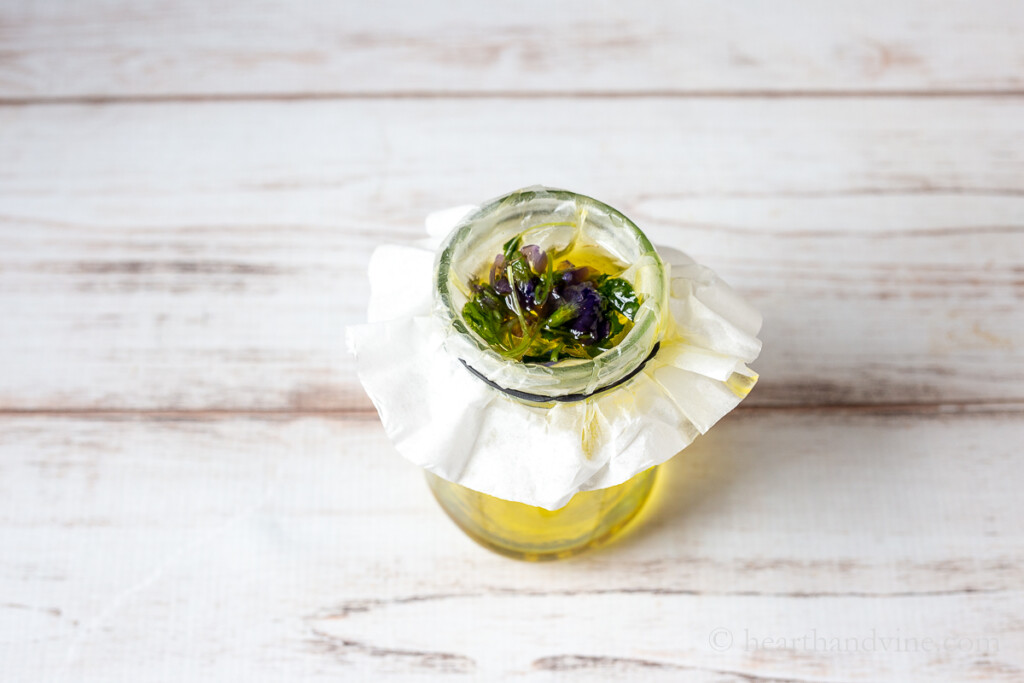 The plant material is then strained out and the resulting oil is used to make balms and salves. In this example, I used jojoba oil. It's more of a wax and does not go bad for a long time. However, you could use olive oil or something like grapeseed oil which is much lighter, but their shelf life is shorter.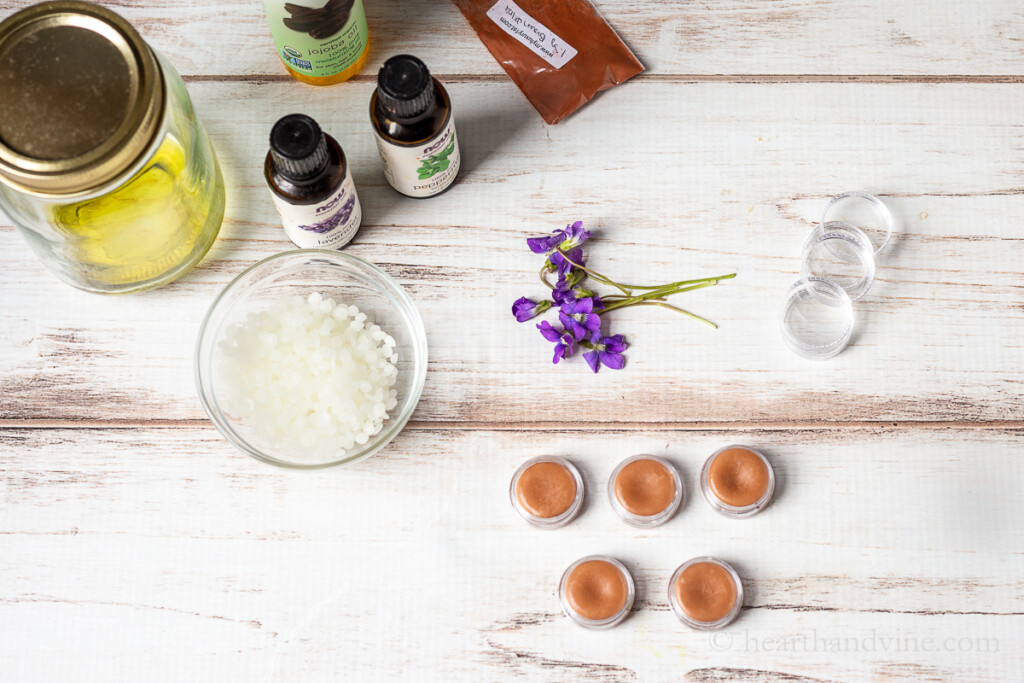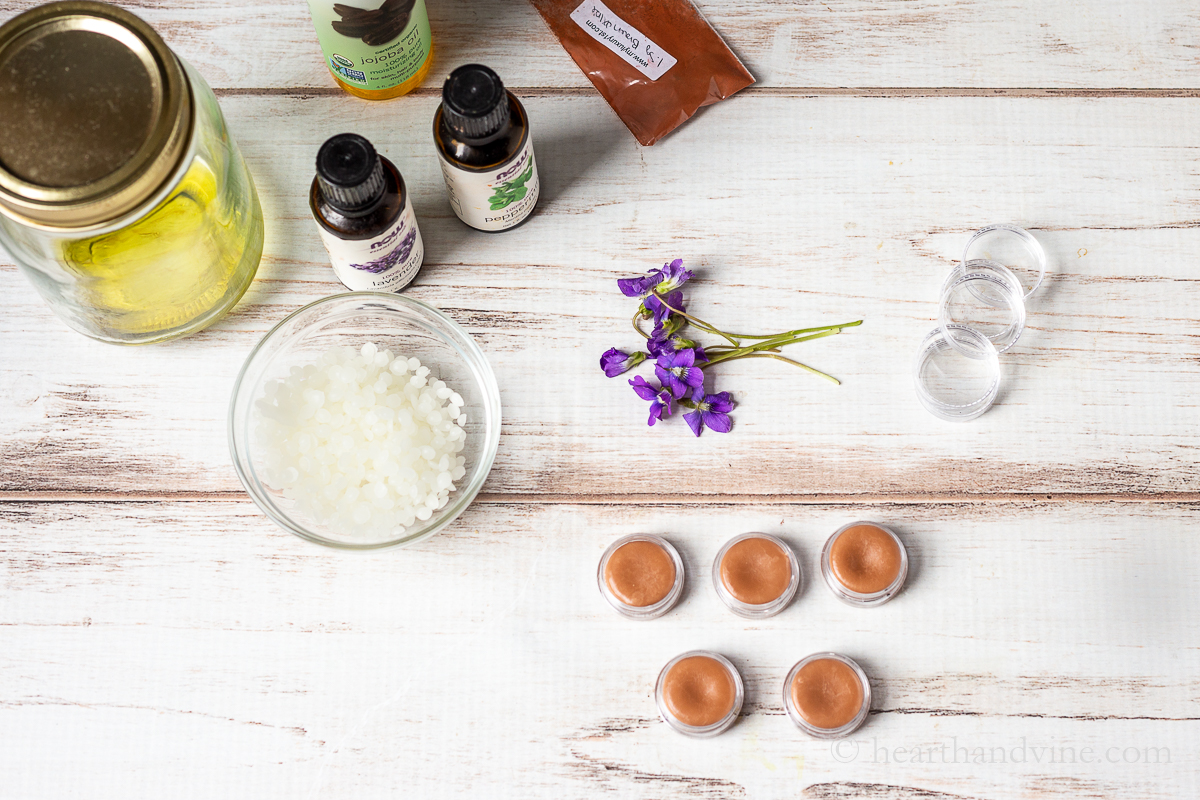 How Long will the Balm Last?
The question of how long a homemade salve will last is a difficult one. On the one hand, this is made with jojoba oil which is actually a wax and doesn't really turn rancid. Other oils do have a shelf life and will start to smell bad after a while. However, there is also the issue of bacteria. When we put our fingers into a salve they may have bacteria on them contaminating the balm. Washing your hand beforehand helps but isn't practical.
Some people add a little vitamin E into their salves to act as a preservative but others say that though it may help prolong the oils it does nothing to preserve the product from microbes.
This is why I often make homemade cosmetics in very small batches and place them into small containers. The idea is to use them up before there is a problem.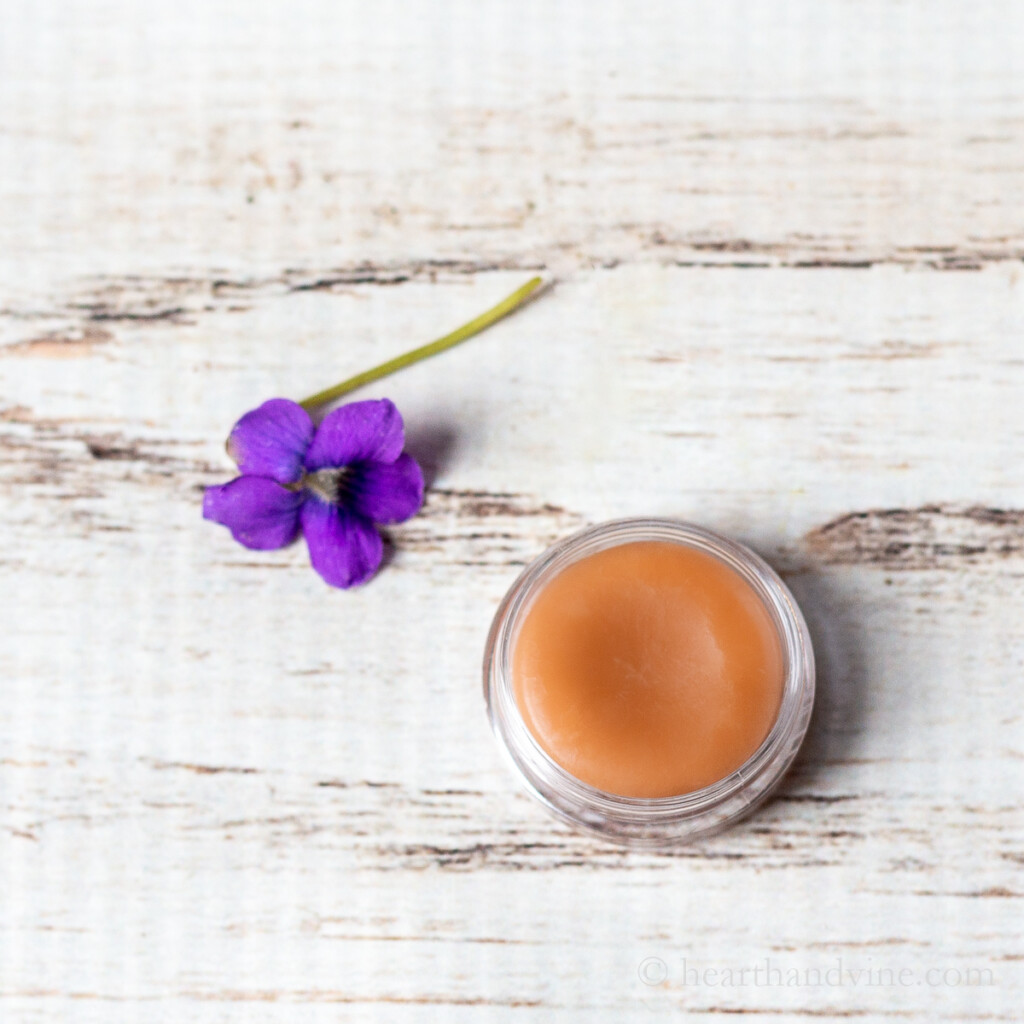 On a final note, I added a tiny amount of peppermint and lavender essential oil to my balm because the infusion did not smell great. This is totally optional and the amount is small enough that there should not be any issues. Still, if you are concerned you can leave out the essential oils or do some research on the best essential oil for your skin.
More Flower Crafting Ideas
Print
Wild Violet Lip Balm and Salve
Use wild violets from the garden to make a nice homemade violet lip balm or salve.
Materials
4

tablespoons

jojoba violet infused oil

2

tablespoons

beeswax pellets

2

drops of lavender essential oil

3

drops of peppermint essential oil

mica powder for color

optional
Instructions
Pour infused oil and wax into a strong plastic cup.

Microwave until the wax is melted stirring with a plastic spoon every 30 seconds. (about 2 - 4 minutes depending on the oven)

Add 3 drops of peppermint oil and 2 drops of lavender oil and mix well.

Add a bit of mica powder for color if desired.

Pour into small containers.
Notes
Jojoba oil doesn't go rancid but there are no preservatives so it is best to make this in small batches and use the product quickly.
You can use whatever essential oils you like or none at all. However, some oils are not good for skin applications so check them out ahead of time.
The mica powder is just a fun natural way to color the balm and is not necessary.
You can use an old pot with water on the stove to set a cup in instead of a microwave.
Never use flowers that have come in contact with chemicals.