Here's a list of low light indoor plants that will bring natural beauty and happiness into your home. They are also so easy that even the brownest of thumbs can grow them.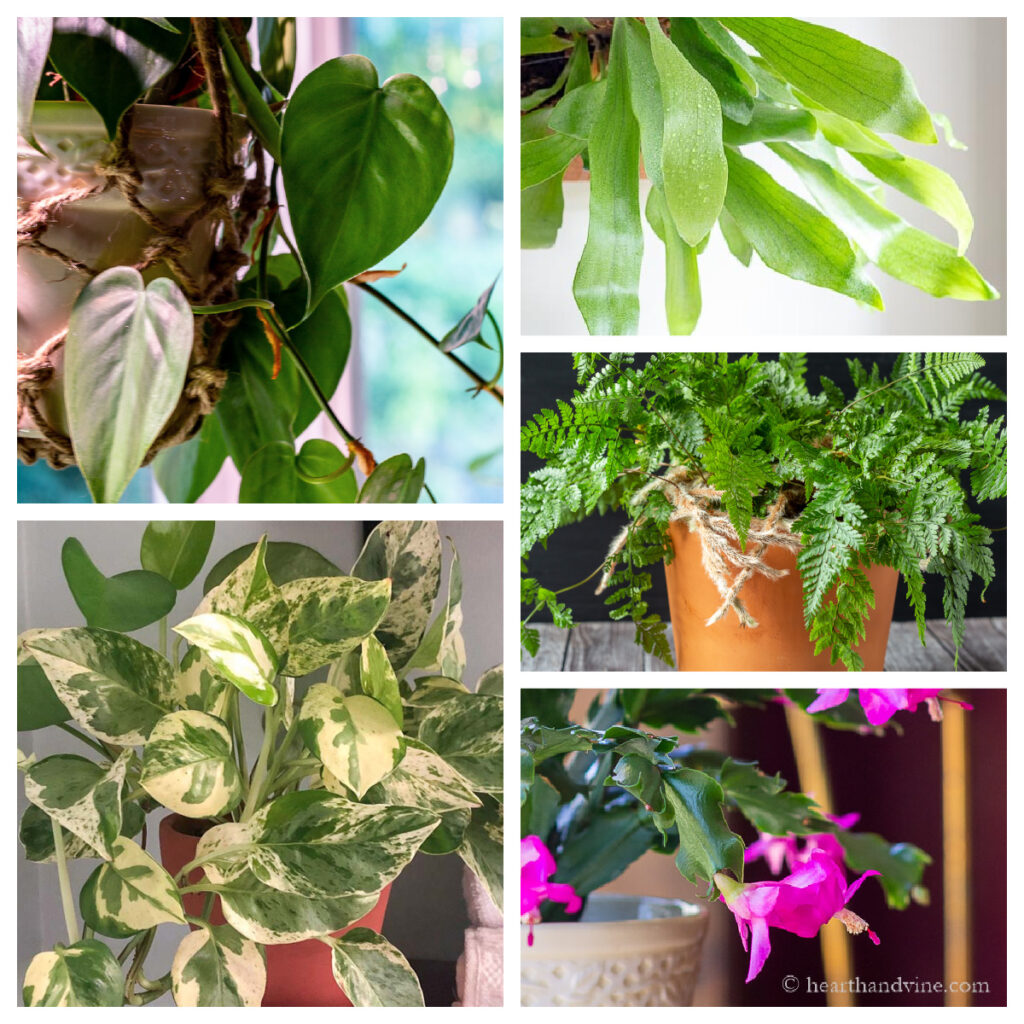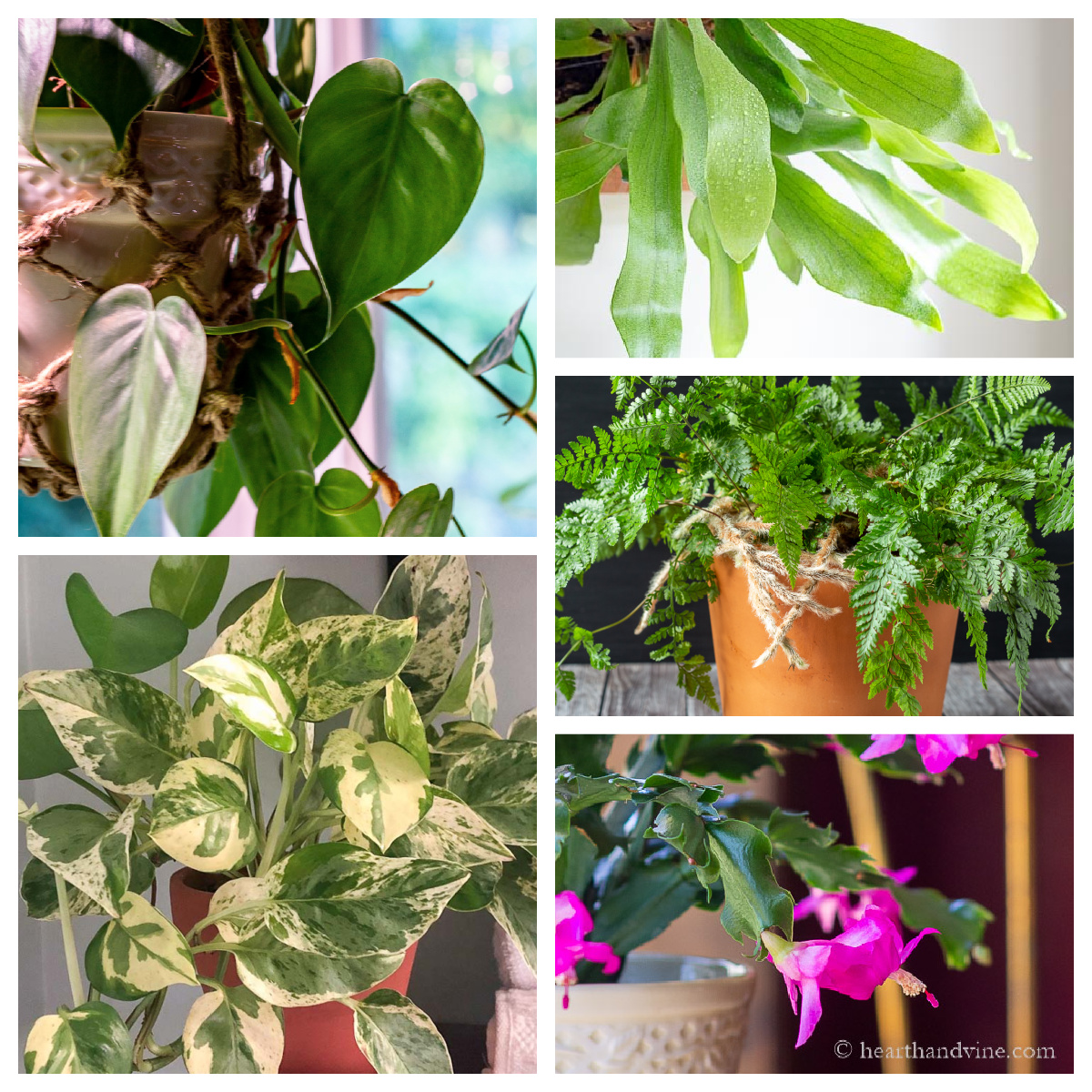 Many people want to grow plants indoors as they offer natural beauty and there is some speculation that they are good for your health. I have loved growing houseplants since I was a child and continue to grow many to this day.
However, many people also get discouraged because some plants require a lot of light that most homes cannot offer. Still, most houseplants do not like bright light or direct sun either but prefer indirect sunlight.
So today I'm sharing a group of plants that grow well in low-light conditions. Of course, all plants need some light but you'd be surprised that many can live well with just a small amount of light.
This post contains some affiliate links (that means if you make a purchase after clicking a link, there's no additional cost to you, but I will earn a very small commission. ) i.e. as an Amazon Associate, I earn from qualifying purchases. Click here to read my full disclosure policy.
Very Tolerant Low Light Indoor Plants
This first group thrives or seems happy with very little light. They cannot grow in the dark but they are some of the easiest plants I've ever grown.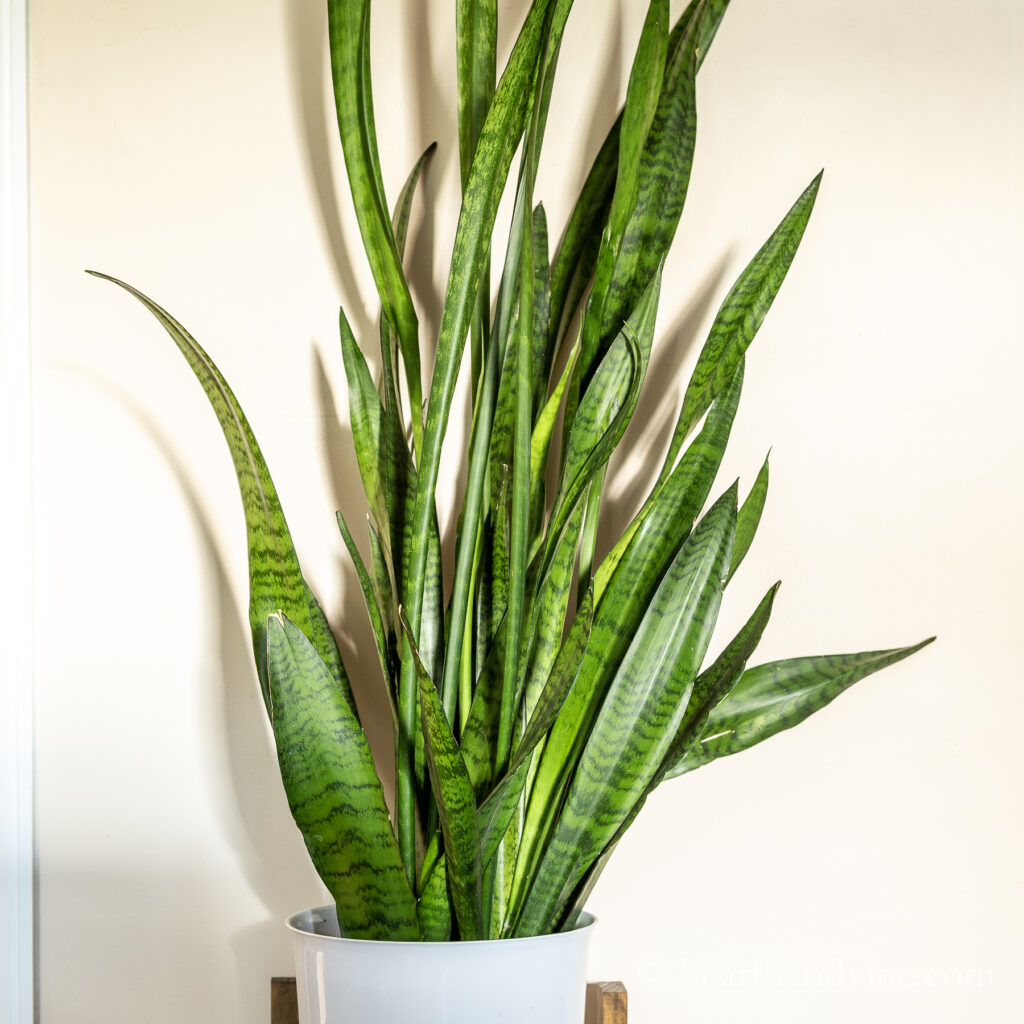 The Snake Plant is super easy to grow.  Also known as Mother In Law's Tongue, it was recently reclassified as a Draecena so you may see that on the label instead of Sansevieria. It also doesn't need much water. In fact, the one way to kill this plant is by overwatering it. It comes in many varieties, however, the basic green is the easiest and most tolerant of low lighting.
The lovely vining plant is often one of the first plants people try to grow and it's a good one because it's a very low-maintenance houseplant. It has pretty heart-shaped leaves that grow just about anywhere. Yes, more light will make it grow faster but if you don't have a lot of light it will still be happy.
The ZZ plant grows well in lower light conditions. It grows from rhizomes that can store water and the leaves are thick and glossy. Such a pretty unique plant.
Pothos 'Pearls and Jade'
Pothos plants aka Devil's Ivy are also very popular beginner plants and it's no wonder. They come in a ton of different varieties and are very easy to grow. The one shown above is a cultivar called 'Pearls and Jade.' It sits on a shelf in our guest bathroom. There is a window in the bathroom but the plant is over in the corner and it looks great.
Hoya
This pretty vining plant has thick waxy leaves and is sometimes referred to as the Wax Plant. It doesn't need to be watered often in fact, it's pretty sensitive to overwatering so wait until it's dried out a bit before watering.
Partially Tolerant Low Light Plants
This list gives you more plants that can survive low lighting situations. However, they are slightly more particular and though they will likely not die, they may grow slower. Also, in the case of variegated or multi-colored foliage, the leaves may tend to lose some of the variegation and return to mostly green.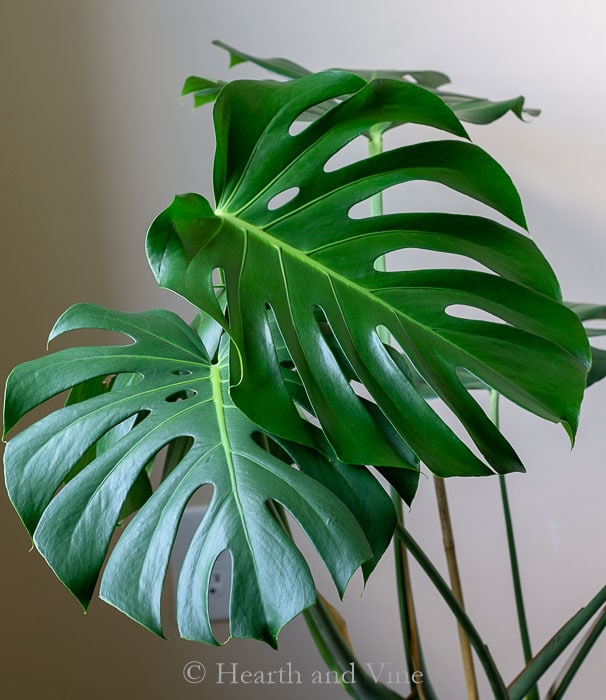 A monstrous beauty aka Swiss Cheese Plant. Mine is in the corner of our living room. There is a window nearby but it's obstructed by trees and doesn't get much light. I recently had to move it into a larger heavy pot as it has grown so large.
The cousin of deliciosa, commonly called Monkey Mask, the leaves tend to stay smaller in low light but that's ok with me. They are still very pretty with little vines that grow quite long.
While most of the low-light houseplant plants on this list have beautiful green foliage, Schlumbergera also has pretty pink flowers. This one is typically labeled as Christmas Cactus and blooms around Thanksgiving in the US. It does grow pretty well in lower lighting and like many succulents needs less water than most houseplants.
This well-known plant for sympathy is often used as a funeral gift. Its beautiful dark green leaves and interesting white flowers look great in offices and other places where there is not much light. It may not bloom in very low light but it will continue to grow well.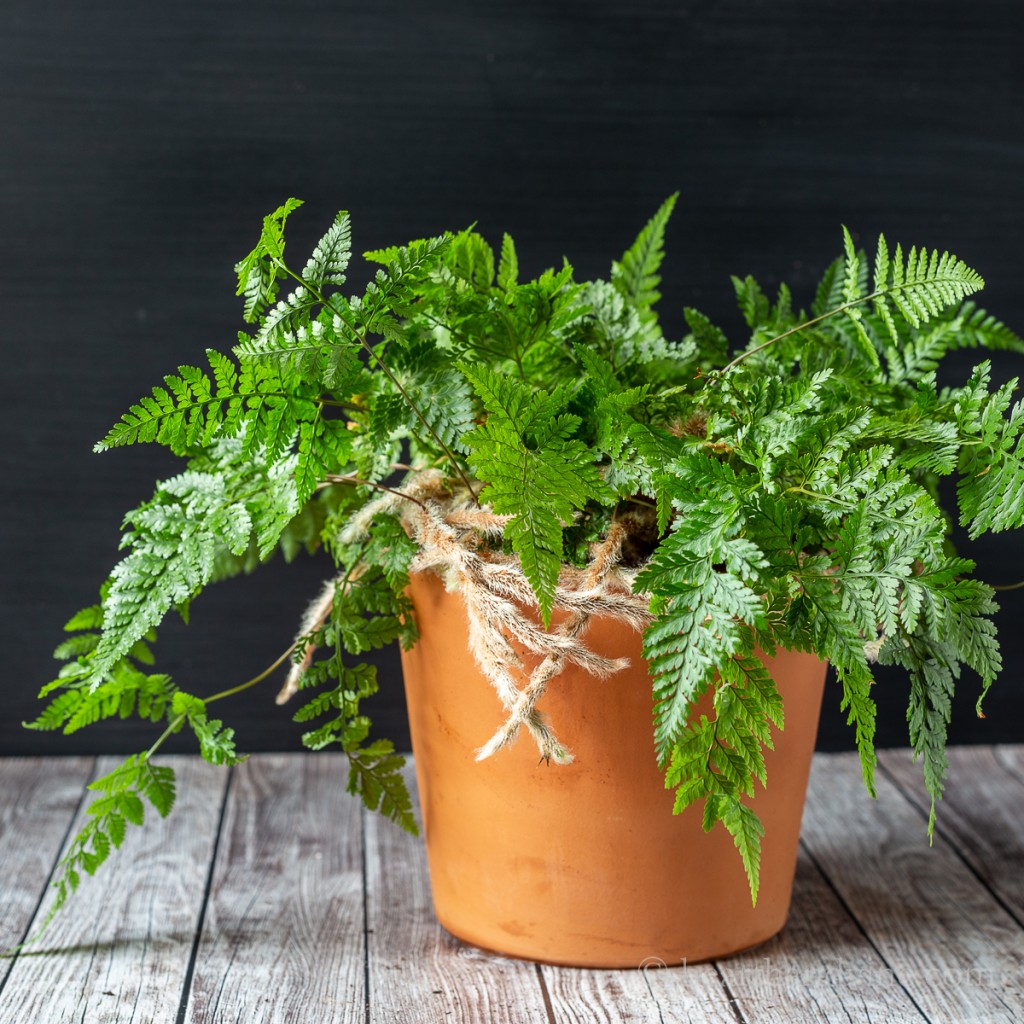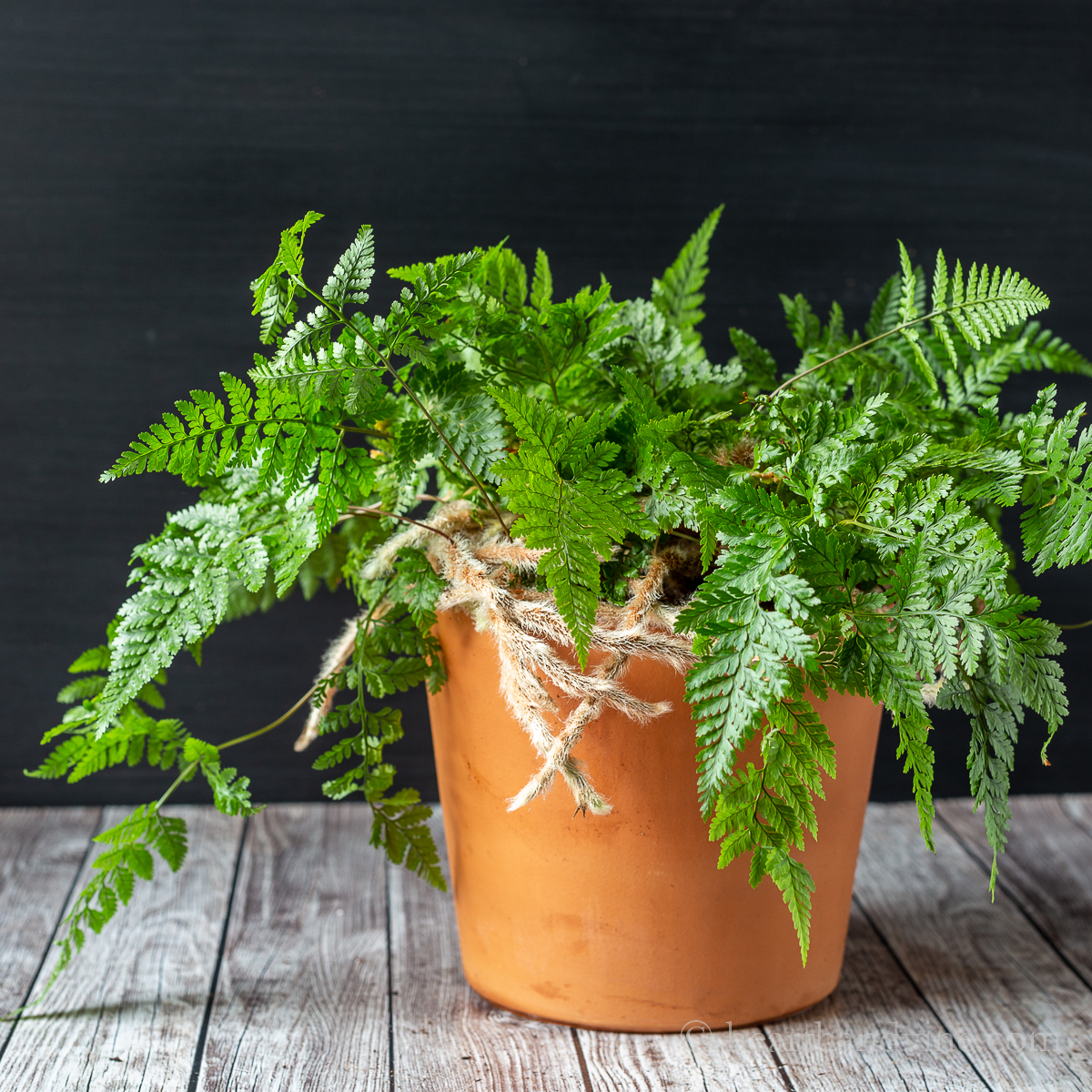 As you may know, many ferns prefer shade. Perhaps that's why the next few plants grow well indoors with little light. Rabbit's Foot Fern is a good grower for me in my office. It sits near a window but depending on the time of day there is not much light coming in. Unlike some other ferns this one doesn't seem to need high humidity but it probably wouldn't hurt to give it a good misting from time to time.
This mounted Staghorn Fern is near the Rabbit's Foot Fern on a wall. It is reaching a little towards the window but overall it looks great.
Adiantum capillus-veneris aka Maidenhair Fern
Many people complain that Maidenhair ferns are hard to grow. I think it has more to do with watering and humidity than light. I've seen mine grow well in low light levels as well as bright shade outdoors.  I love the black wiry stems with delicate green leaflets. This is one plant that seems to love water more than most. And it has the amazing habit of growing back. If you notice dead or brown fronds just cut them back to the base and watch for new growth.
Rex Begonia
The last plant on the list is Rex Begonia. This is a very showy plant and can grow pretty large. There are also tons of different varieties with fancy leaves in different colors and patterns. I'd say it likes at least a thorough weekly watering but the attractive foliage is well worth the effort. It prefers bright indirect light but will still thrive in lower light conditions.
Are you already growing one or more of these indoor plants for low light? Or have I convinced you to try some of them? I think you will find that growing houseplants is not difficult.
Just remember every gardener, including me, has killed their fair share of plants. Don't give up based on just one experience. Experiment and you will find the right plants for your space.